College Football Schedule 2019: Week 7 Games, Where to Watch, Live Stream
Week 7 of the college football has all the makings of a blockbuster, with the top two teams in the country set to return to action after a week 6 bye.
There are four meetings between Top 25 teams on Saturday, with No. 1 ranked Alabama returning from its bye to face No. 24 Texas A&M on the road, while No. 6 Oklahoma also travels to the Lone Star State to take on No. 11 Texas.
No. 5 ranked LSU, meanwhile, welcomes No.7 Florida, while No. 8 Wisconsin hosts Michigan State and No. 2 Clemson returns from its bye to play Florida State at home.
LSU's offense continued to roll as the Tigers thrashed Utah State 42-6 on Saturday, with Joe Burrow completing 27 of his 38 passes for 344 yards and five touchdowns. The senior signal caller has now amassed 1,864 passing yards so far this season at an average of 11.5 yards per play, with 22 touchdowns and just three interceptions.
Florida, meanwhile, was the big mover in the Associated Press rankings in Week 6, climbing three spots after beating Auburn 24-13 at home on Saturday. Kyle Trask went 19-of-31 for 234 yards and two touchdowns and Lamical Perine rushed for 130 yards and one touchdown over 14 carries as the Gators improved to 6-0, while the Tigers slipped to 5-1 and dropped from five slots in the rankings to 12th.
Florida wasn't the only team to climb up the rankings, as Ohio State moved up a spot to tied third alongside Georgia after beating Michigan State 34-10 courtesy of a monster performance from J.K. Dobbins.
The Buckeyes running back rushed for 172 yards and one score over 24 carries as Ohio State improved to 6-0, while the Spartans slipped to 4-2 and dropped out of the Top 25.
Along with Auburn and Southern Methodist University, Ohio State won't be in action in Week 7.
Previously unranked SMU was arguably the story of the weekend, forcing its way to No. 21 after coming back from 30-9 with one quarter left to beat Tulsa 43-37 in triple overtime to improve to 6-0.
Elsewhere, No. 6 Oklahoma beat Kansas 45-20 on the road to move to 5-0, the same record held by No. 3 ranked Georgia, who thrashed the Volunteers in Tennessee 43-14.
The Bulldogs host South Carolina in Week 7, while No. 9 ranked Notre Dame welcomes Southern California. A week after beating then-No. 20 ranked Virginia, the Fighting Irish put 52 unanswered points past Bowling Green.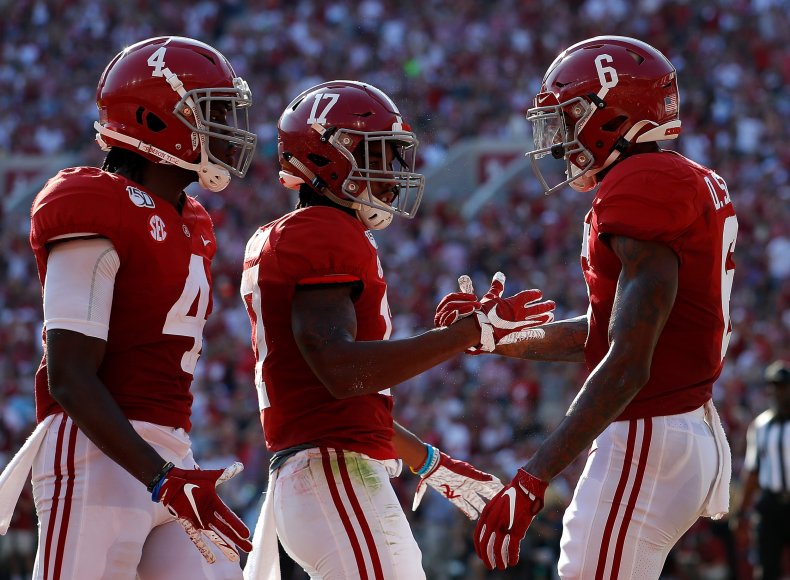 When does Week 7 start?
Week 7 begins on Wednesday, October 9, when Appalachian State travels to Louisiana. Two games are on the slate for Thursday with Syracuse taking on North Carolina State on the road, while Texas State hosts UL Monroe.
Friday sees two Top 25-ranked teams in action as No. 20 Virginia takes on the Hurricanes in Miami, while No. 13 Oregon hosts Colorado.
There are no fewer than four meetings between Top 25 teams on Saturday, including two huge matchups in Texas as No. 1 Alabama faces No. 24 Texas A&M and No. 6 Oklahoma takes on No. 11 Texas.
No. 8 Wisconsin welcomes Michigan State, while No. 10 Penn State takes on No. 17 Iowa on the road and No. 5 LSU welcomes No. 7 Florida.
TV coverage
As usual, coverage of the college football season is to be split across a variety of networks. ABC broadcasts games in the ACC, American, Big 12, Big Ten and Pac-12 conferences.
Games in the latter three conferences will also be broadcast on FOX and ESPN, with ESPN carrying matchups from the ACC, American, Mountain West, SEC and Sun Belt conferences.
CBS broadcasts SEC conference games, while NBC retains exclusive broadcasting rights to Notre Dame's home games.
Live stream
Live streams throughout the season will be available via the broadcasters' digital platforms, as well as fuboTV and DirecTV.
Week 7 TV schedule for college football Top 25 teams (All times ET)
Friday, October 11
Virginia @ Miami—8 p.m., ESPN
Colorado @ Oregon—10 p.m., FS1
Saturday, October 12
South Carolina @ Georgia—12 p.m., ESPN
Oklahoma @ Texas—12 p.m., FOX
Michigan @ Illinois—12 p.m., ABC
Memphis @ Temple—12 p.m., ESPN2
Cincinnati @ Houston—3:30 p.m., ESPN2
Florida State @ Clemson—3:30 p.m, ABC
Alabama @ Texas A&M—3:30 p.m., CBS
Michigan State @ Wisconsin—3:30 p.m., Big Ten Network
Washington State @ Arizona State—3:30 p.m., Pac-12 Network
Texas Tech @ Baylor—4 p.m. FS1
USC @ Notre Dame—7:30 p.m., NBC
Penn State @ Iowa—7:30 p.m., ABC
Louisville @ Wake Forest—7:30 p.m., ACC Network
Florida @ LSU—8 p.m., ESPN
Utah @ Oregon State—8 p.m., Pac-12 Network
Hawaii @ Boise State—10:15 p.m., ESPN2