2019 College Football Schedule: Latest AP Rankings, Week 9 Games, Where to Watch, Live Stream
Ohio State was the big winner in Week 8 of the college football season, climbing up one spot to No. 3 in the Associated Press Top 25 poll, its highest ranking this year.
The Buckeyes improved to 7-0 after crushing Northwestern 52-3 on the road on Saturday. Justin Fields finished 18-of-23 for 194 yards and four touchdowns, while J.K. Dobbins rushed for 121 yards over 18 carries.
Ohio State can further consolidate its College Football Playoff credentials this weekend, when it hosts No. 13 Wisconsin, who were defeated 24-23 on the road by Illinois.
The Badgers' dropped to 6-1 after their first defeat of the season and slipped seven spots in the ranking.
Alabama and LSU retained the first and second spot in the nation respectively. The Crimson Tide defeated Tennessee at home 35-13, with Tua Tagovailoa completing 11 of his 12 passes for 155 yards and a touchdown before hobbling off the field with an injury.
Alabama confirmed the Heisman Trophy favorite suffered a high ankle sprain and will miss Saturday's home game against Arkansas.
LSU, meanwhile, strengthened its grip on the No. 2 spot after winning 36-13 on the road against Mississippi State, with Joe Burrow delivering another superb performance as he finished 25-of-32 for 327 passing yards and four touchdowns.
LSU hosts No. 9 Auburn on Saturday in the biggest matchup of the weekend, which could have huge implications for both. Auburn moved up two spots in the rankings after routing Arkansas 51-10 on the road on Saturday to put itself firmly back in contention for playoff spot.
Clemson, meanwhile, fell down the rankings for the third consecutive week after it was leapfrogged in third place by Ohio State.
The reigning national champions thrashed Louisville 45-10 on the road but now find themselves as the No. 4 ranked team in the country, despite extending their winning run to 22 games.
While the gap between the No.1 and No. 4 in the latest Top 25 poll is the smallest it has been all season—just 78 points—Clemson is the first preseason No. 1 to fall so far without losing since Oklahoma fell from No. 1 to No. 5 in 1977.
Clemson will be hoping to halt the slide when it hosts Boston College in Week 9, while No. 5 Oklahoma travels to Kansas State looking to improve to 8-0.
Penn State and Florida both gained ground in the rankings, with the Nittany Lions climbing up a spot to No. 6 after beating Michigan 28-21 and securing a second win against a ranked team in as many weeks.
The loss dropped the Wolverines down from No. 16 to No. 19, while Florida jumped from No. 9 to No. 7 after winning on the road against South Carolina 38-27.
Notre Dame and Georgia round up the Top-10. The former travels to No. 19 Michigan when it returns from a bye in Week 9, while the Bulldogs put a shock loss against South Carolina behind them with a 21-0 win over Kentucky.
Here's all you need to know about Week 9.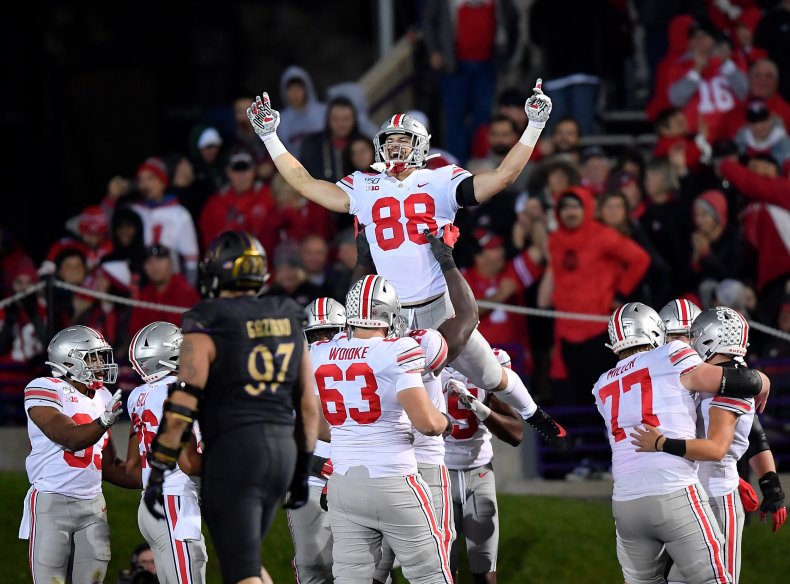 When does Week 9 start?
Week 9 begins on Thursday, October 24, when No. 19 ranked SMU travels to Houston, while Colorado hosts University of Southern California a day later.
There are three Top 25-matchups on Saturday, with No. 2 LSU hosting No. 9 Auburn, while No. 4 Ohio State welcomes No. 13 Wisconsin and No. 8 Notre Dame travels to No. 19 Michigan.
TV coverage
As usual, coverage of the college football season is to be split across a variety of networks. ABC broadcasts games in the ACC, American, Big 12, Big Ten and Pac-12 conferences.
Games in the latter three conferences will also be broadcast on FOX and ESPN, with ESPN carrying matchups from the ACC, American, Mountain West, SEC and Sun Belt conferences.
CBS broadcasts SEC conference games, while NBC retains exclusive broadcasting rights to Notre Dame's home games.
Live stream
Live streams throughout the season will be available via the broadcasters' digital platforms, as well as fuboTV and DirecTV.
Week 9 TV schedule for college football Top 25 teams (All times ET)
Thursday, October 24
SMU @ Houston—7:30 p.m., ESPN
Saturday, October 26
Wisconsin @ Ohio State—12 p.m., FOX
Oklahoma @ Kansas State—12 p.m., ABC
Iowa @ Northwestern—12 p.m., ESPN2
Appalachian State @ South Alabama—12 p.m., ESPNU
Auburn @ LSU—3:30 p.m., CBS
Penn State @ Michigan State—3:30 p.m., ABC
Texas @ TCU—3:30 p.m., FOX
Maryland @ Minnesota—3:30 p.m., ESPN
Oklahoma State @ Iowa State—3:30 p.m., FS1
Arkansas @ Alabama—7 p.m., ESPN
Arizona State @ UCLA—7:30 p.m., Pac-12 Network
Boston College @ Clemson—7:30 p.m., ACCN
Notre Dame @ Michigan—7:30 p.m., ABC
Missouri @ Kentucky—7:30 p.m., SEC Network
California @ Utah—10 p.m., FS1
Washington State @ Oregon—10:30 p.m., ESPN