College Football's Opening Weekend Has an Outstanding Lineup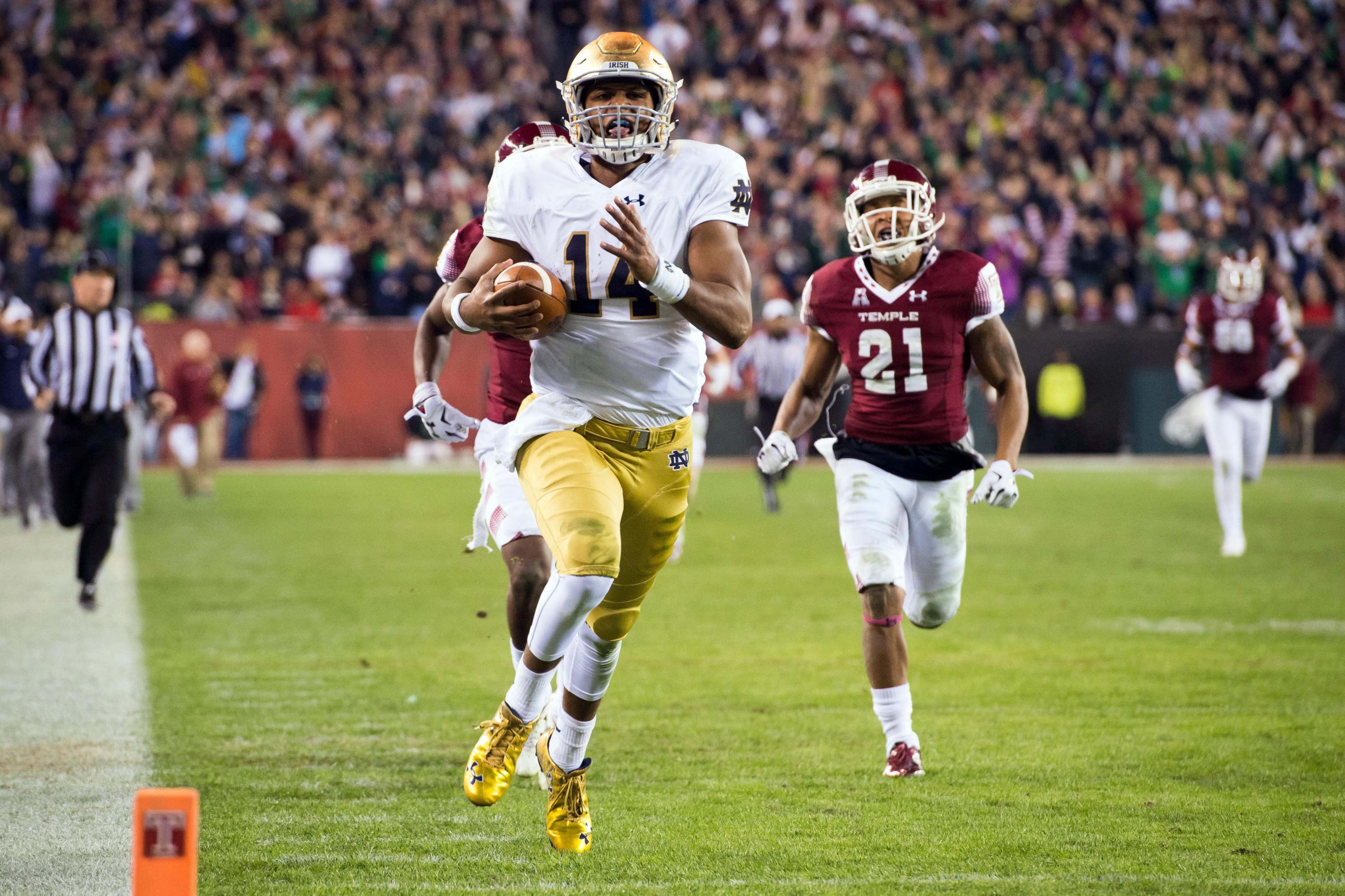 The upcoming weekend in college football is going to be bigger than the Weeknd (ask your college-aged family member). An opening slate that in decades past was awash in body bag games—mismatches between national contenders and I-AA (now FCS) schools serving as sparring partners that were only too happy to collect a visitor's paycheck—is now fully lit.
Starting Saturday at noon and extending through Monday evening, ESPN will air four contests pitting teams ranked in the preseason Top 25. Two other schools in the Top 10 with college football playoff aspirations, Clemson and Notre Dame, will venture into hostile territory for non-conference games against Auburn and Texas, respectively. Though currently unranked, the Tigers and Longhorns have each won a national championship in the past dozen years. If you think of a college football season as American Ninja Warrior (and why would you not?), a surplus of schools are taking on the salmon ladder as their first obstacle.
"The Labor Day weekend is the one weekend where we don't have to compete with the NFL," says ESPN's vice president of college football programming, Nick Dawson. "It is our imperative to make it as much about college football as possible. It's how we talk about it, and how it should be."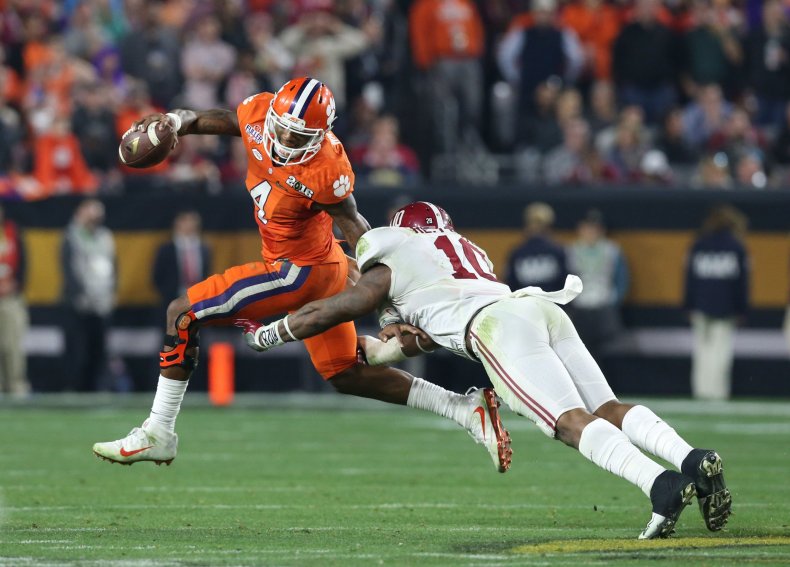 College football's debut weekend is looking more and more like a New Year's Day bowl slate, with glamour programs squaring off at neutral sites and/or in iconic venues. All four matchups between Top 25 foes will be played off-campus, while No. 5 LSU will venture to the state of Wisconsin to play the Badgers, albeit in the most iconic of NFL stadiums: Lambeau Field.
The idea of opening the season with the fanfare of rush week as opposed to the somnolence of a philosophy lecture is not new. From 1983 through 2002, a "Kickoff Classic" game was played at Giants Stadium in East Rutherford, New Jersey, far from the spiritual epicenter of college football. That contest, staged in the era of the 11-game season, died when the NCAA eliminated waivers allowing a limited number of schools each year to play a 12th game.
Four years later, in 2006, the NCAA expanded the regular season to a dozen games. Suddenly, schools were searching for an extra non-conference game, preferably early in the season. Two years later, the Chick-fil-A Kickoff was launched in Atlanta, and one year later the Cowboys (now Advocare) Classic made its debut in Arlington, Texas. Both contests are staged in NFL venues located in major cities that happen to also be airline hubs. That's no accident.
"Part of the allure is to make these early-season games accessible to fans and alumni," says Dawson.
College football coaches, and their team's fan bases, are inordinately self-interested creatures. In past years, before the advent of the four-team College Football Playoff in 2014, the dread of an early-season defeat far outweighed the potential boon of a signature out-of-conference victory. There was far more valor in discretion than in courage.
That's no longer the case. The first two national champions in the playoff era, Ohio State and Alabama, each lost before the autumnal equinox. One loss, particularly to a ranked opponent and especially in the opening week of the season, is no longer a barrier to a national championship. The playoff selection committee does its own version of extreme vetting, and what it has emphasized in its first two seasons is that strength of schedule is a most relevant metric.
"Every college coach is different," says Dawson, "but this lineup of games is not happening without a coach seeing value in his team playing on national TV in these games."
The season actually begins in earnest on Thursday night (at least domestically; Cal and Hawaii played last Friday night in Australia), but the first matchup of ranked teams kicks off at noon on Saturday.
Here are the 10 most compelling games to watch. That an opening weekend has a decade of intriguing contests may be a first.
No. 18 Georgia vs. No. 22 North Carolina (Atlanta)
Saturday
5:30 p.m. ESPN
If not for the state of South Carolina, the Tar Heels would have been undefeated heading into the Citrus Bowl last season. North Carolina lost its opener, by four, to South Carolina and the ACC Championship Game, by eight, to national runner-up Clemson (both games were played at the same neutral site in Charlotte). The Bulldogs, after 15 seasons of Mark Richt, welcome former Alabama defensive coordinator Kirby Smart, an alum, as their head coach. Per usual, Georgia is loaded at running back, as both Nick Chubb and Sony Michel are 1,000-yard backs. Chubb rushed for 13 consecutive 100-yard games before incurring a season-ending knee injury last October.
Pick: Georgia minus 3
Headline: Chubb Runs Wild
Kansas State at No. 8 Stanford
Friday
9 p.m. FS1
Cardinal running back Christian McCaffrey deserved to win the Heisman Trophy last season after setting the NCAA single-season all-purpose yards mark (3,864) as a sophomore (consider me a McCaffrey surrogate this autumn). He finished second to Derrick Henry of Alabama. As if to accentuate the snub, on the first play from scrimmage in the Rose Bowl, McCaffrey caught a short pass out of the backfield, juked future NFL first-round pick Desmond King of Iowa and scampered 75 yards untouched for a score.
Stanford stumbled out of the gate last season, losing its opener at unranked Northwestern, 16-6. The Cardinal open 2016 against another Wildcats team from the Central Time Zone that favors the color purple, but the outcome will be markedly different.
Pick: Stanford minus 14.5
Headline: Christian Shows No Mercy
Hawaii at No. 7 Michigan
Saturday
Noon ESPN
One week ago, the Rainbow Warriors opened their season in Sydney, Australia (a 51-31 loss to Cal), a mere 9,500 miles and two seasons away from Ann Arbor. Even if jet lag were not a factor, Hawaii would be meat in the Big House. This game is all about assessing what Wolverines coach Jim Harbaugh has assembled in his second year back at his alma mater, and who he will start at quarterback (Captain Khaki has been mum on the subject). Wolverines tight end Jake Butt is a potential first team All-American, while linebacker/returner/flanker Jabrill Peppers is the most versatile player the Big Ten has seen since Michigan Heisman Trophy winner Charles Woodson.
Pick: Michigan minus 40
Headline: Over the Rainbows
No. 2 Clemson at Auburn
Saturday
9 p.m. ESPN
Clemson came up a few points short (45-40 was the final score) in an exciting national championship game versus Auburn's hated rival, Alabama, last January. The Tigers (yes, they're both Tigers) lose seven defensive starters from that team, but quarterback Deshaun Watson, who finished third in the Heisman balloting, returns. Auburn coach and Waffle House regular Gus Malzahn is just 15-11 in two seasons following a magical 2013 debut season in which he guided his Tigers to the national championship game (a loss to Florida State).
Pick: Auburn plus 8
Headline: Watson, Come Here!
No. 16 UCLA at Texas A&M
Saturday
3:30 p.m. CBS
As a true freshman last season, Bruins quarterback Josh Rosen started all 13 games, set a school record with 245 pass attempts without an interception and posted Instagram photos of himself and a UCLA coed canoodling in a hot tub—which Rosen had installed in his dorm room. That's good, but two years ago Aggies quarterback Trevor Knight, then enrolled at Oklahoma, received a shoutout on national TV from Katy Perry urging him to phone her.
UCLA is a popular sleeper pick to win the Pac-12 and perhaps even advance to the college football playoff, but Rosen has yet to play in an atmosphere as raucous as Kyle Field. "After about 50,000 people, it all sounds the same," says the precocious sophomore from Manhattan Beach, California. We'll see about that. Kyle Field is the renowned home of "the 12th Man" (i.e., the Aggies faithful).
Pick: UCLA plus 3
Headline: Rosen Rises to the Occasion
No. 5 LSU at Wisconsin (Green Bay, Wisconsin)
Saturday
3:30 p.m. ABC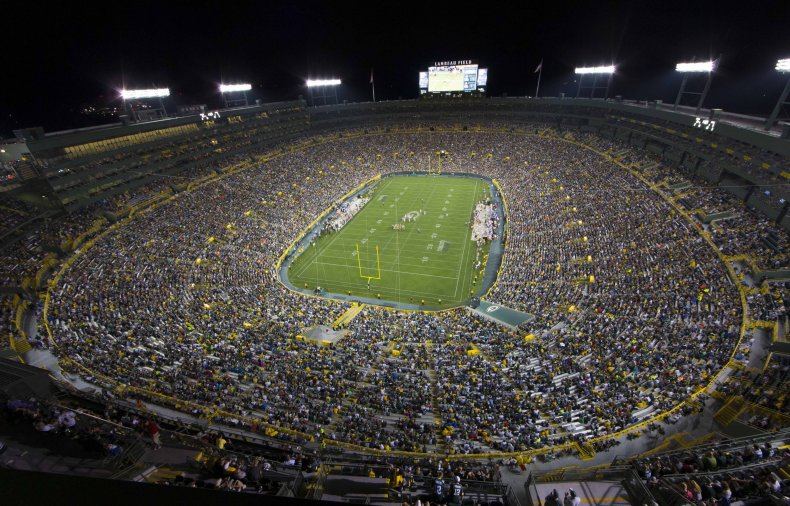 College football finally makes its debut at the NFL's most revered stadium, Lambeau Field (named after a former Notre Dame football player, Curly Lambeau). Green Bay has long been the NFL's closest thing to a college atmosphere, which is why ESPN's College GameDay will be here. The Tigers have won 52 consecutive games versus non-conference foes, which says as much about their scheduling as it does their talent. Still, LSU running back Leonard Fournette is a beast who will be playing all of his games in NFL stadiums next September.
Pick: Wisconsin plus 10.5
Headline: Lambeau Field Trip for LSU
No. 10 Notre Dame at Texas
Sunday
7:30 p.m. ABC
Sunday is ordinarily a day of rest for Catholics, whereas Friday, August 19, was a day of arrest: Six players were 'cuffed in two separate incidents. Coach Brian Kelly booted starting safety Max Redfield, a senior, off the team after he was arrested for illegal possession of a handgun after being stopped for speeding. Notre Dame has announced that two quarterbacks, DeShone Kizer and Malik Zaire, will play in this matchup between two schools that have the second- and third-most victories (899 for the Irish; 886 for the Longhorns) in college football history.
Pick: Texas plus 4
Headline: Bummed Steers: Irish Win Squeaker
No. 3 Oklahoma vs. No. 15 Houston
Saturday
Noon ABC
Talk about an early wake-up call. The Sooners advanced to the college football playoff last season, but the Cougars finished 13-1, their lone defeat a three-point loss at Connecticut. Houston is the nation's top team from outside a Power 5 conference, while Oklahoma is stacked with Baker Mayfield at quarterback and Samaje Perine, who two years ago rushed for an NCAA-record 427 yards in one game, at running back. The game will be played at Reliant Stadium in Houston, technically a neutral site.
Pick: Houston plus 11.5
Headline: Sooners Survive
No. 11 Mississippi vs. No. 4 Florida State (Orlando, Florida)
Monday
8 p.m. ESPN
The Rebels are 2-0 versus Alabama the past two years—the Crimson Tide is 22-0 in the regular season versus everyone else—so their talent is legit, as is quarterback Chad Kelly. The Seminoles are 8-0-2 playing in Orlando dating back to 1952, and they have the nation's best defense outside of Tuscaloosa. FSU running back Dalvin Cook storms through defenses with such fury that Jim Cantore should be the sideline reporter when he plays.
Pick: Seminoles minus 4.5
Headline: Too Many Cook
No. 20 Southern Cal vs. No. 1 Alabama (Arlington, Texas)
Saturday
8 p.m. ABC
Between them, the Trojans and the Tide have accounted for six national championships in the past 13 years while not meeting once in that time. Alabama is currently on a different plateau than the Trojans, who are breaking in a new quarterback in Max Browne and are extremely thin on the defensive line. The Tide has a new starter at QB too—either Cooper Bateman or Blake Barnett, both of whom sound like hedge funds—but that never matters to Bama coach Nick Saban. Like the summer heat in Tuscaloosa, Alabama's defense is downright oppressive.
Pick: Alabama minus 12
Headline: Tide Rolls Troy
College Football's Opening Weekend Has an Outstanding Lineup | Sports