College Freshman Saira Blair On Becoming West Virginia's Youngest Lawmaker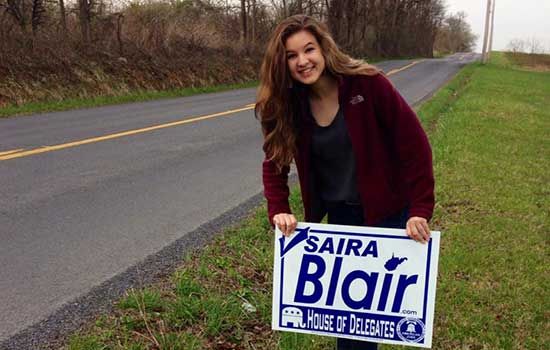 Some 18-year-olds proudly exercised their right to vote for the first time during Tuesday's midterm elections, but Saira Blair wouldn't settle for just casting a ballot. Instead, having already beaten 66-year-old Republican incumbent, Larry Kump, in a primary election this past spring as a high school senior, Blair swept her district to take a seat in West Virginia's House of Delegates.
A freshman at West Virginia University studying economics and Spanish, Blair will defer her next semester so that she can attend the House of Delegates's 60-day session in the spring as its youngest member. She'll resume her coursework in the summer.
"I am honored & humbled to have been elected the youngest member to ever serve in the WV House of Delegates," Blair wrote in a statement on her campaign's Facebook page after her victory Tuesday night. "History has been made tonight in West Virginia, and while I am proud of all that we have accomplished together, it is the future of this state that is now my singular focus."
Blair's win also makes her the youngest state lawmaker in the country.
Blair, who began her campaign while a student at Hedgesville High School in Hedgesville, West Virginia, beat out her Democratic opponent Layne Diehl to take 63 percent of the vote to Diehl's 30 in District 59 in West Virginia's eastern panhandle. She will represent roughly 18,000 people.
Blair was at a thank you dinner with her family, friends, and campaign volunteers at a Buffalo Wild Wings when the results came in around 9:30 p.m, she tells Newsweek.
"It was really exciting because I had a lot of my family and friends with me," she says.
At 18, she will become both the youngest to serve in West Virginia's House of Delegates and the youngest state lawmaker out of the more than 7,000 in the U.S. once she is sworn in, according to the National Conference of State Legislatures' records, Morgan Cullen, a senior policy specialist at the conference, tells Newsweek. The NCSL follows state races and ballot measures and keeps data on lawmakers.
Blair—whose father, Craig, is a state senator and her campaign manager—says she wants to represent her own generation in a political process that's too often left to the weathered and white-haired, she explained in an interview with Teen Vogue in June.
"The average age in Congress is 57, and the average age in the U.S. Senate is 62, but with all of that experience, we've only gotten more debt and less jobs," she told the magazine. Her campaign focused in part on the exodus of educated young people out of West Virginia in want for jobs.
As a result, one of her most pressing goals, she tells Newsweek, is to create jobs and to make West Virginia a right-to-work state, which means employees can make their own decision about whether to join or support a union. She also wants to repeal the Unfair Trade Practice Act, which makes it hard for West Virginia's gas prices to compete with those in bordering states, she says.
"When I made the decision to run for public office, I did so because I firmly believe that my generation's voice, fresh perspective and innovative ideas can help solve some of our state's most challenging issues," she said in her statement Tuesday.
But a glance at her campaign website makes it clear that her position on some hot issues like abortion and same-sex marriage do not align with those of all of her fellow millennials, a majority of whom support both, according to data published by the Pew Research Center in the spring of this year.
"I'm pro-life and proud of it," Blair writes on her campaign website, explaining that she believes life begins at conception and therefore abortion is an act commensurate with taking human life. Tax dollars should not be used to fund such procedures, she says. She also believes that "marriage is the holy union of a man and a woman as husband and wife under God."
In her district, however, Blair thinks many other members of her generation do agree with her on same-sex marriage and abortion, but are hesitant to be open about their views because millennials as a group tend to react negatively. "A lot of it is geographical, based on where you grew up," and it's most important to her, she says, to stand as close as possible to the views of her constituents.
Blair is also pro-gun, pro-business, and opposed to the Common Core education standards. She supports voter ID requirements and drug testing for welfare recipients and says she realizes she is more staunchly conservative than most people her age.
One of her goals, she says on her campaign website, is "to demonstrate to younger people that we shouldn't wait until we're 40, 50 or 60 to understand that conservative values and principles are the way to prosperity and success."
She didn't want to wait until she was older to run for office, but she also doesn't believe in being a career politician, Blair tells Newsweek. She hopes to eventually become a financial adviser.
Between now and the start of her term, Blair is looking forward to speaking with other newly elected delegates and preparing for their first legislative session. She might be working with politicians who are two or three times her age, but she's not worried about not being taken seriously.
"It's my job to prove to them that I'm mature and capable of the job," she says. "I don't want them to treat me like an 18-year-old girl."
College Freshman Saira Blair On Becoming West Virginia's Youngest Lawmaker | U.S.