When It Comes to Protests, It's Like the 1960s for College Freshmen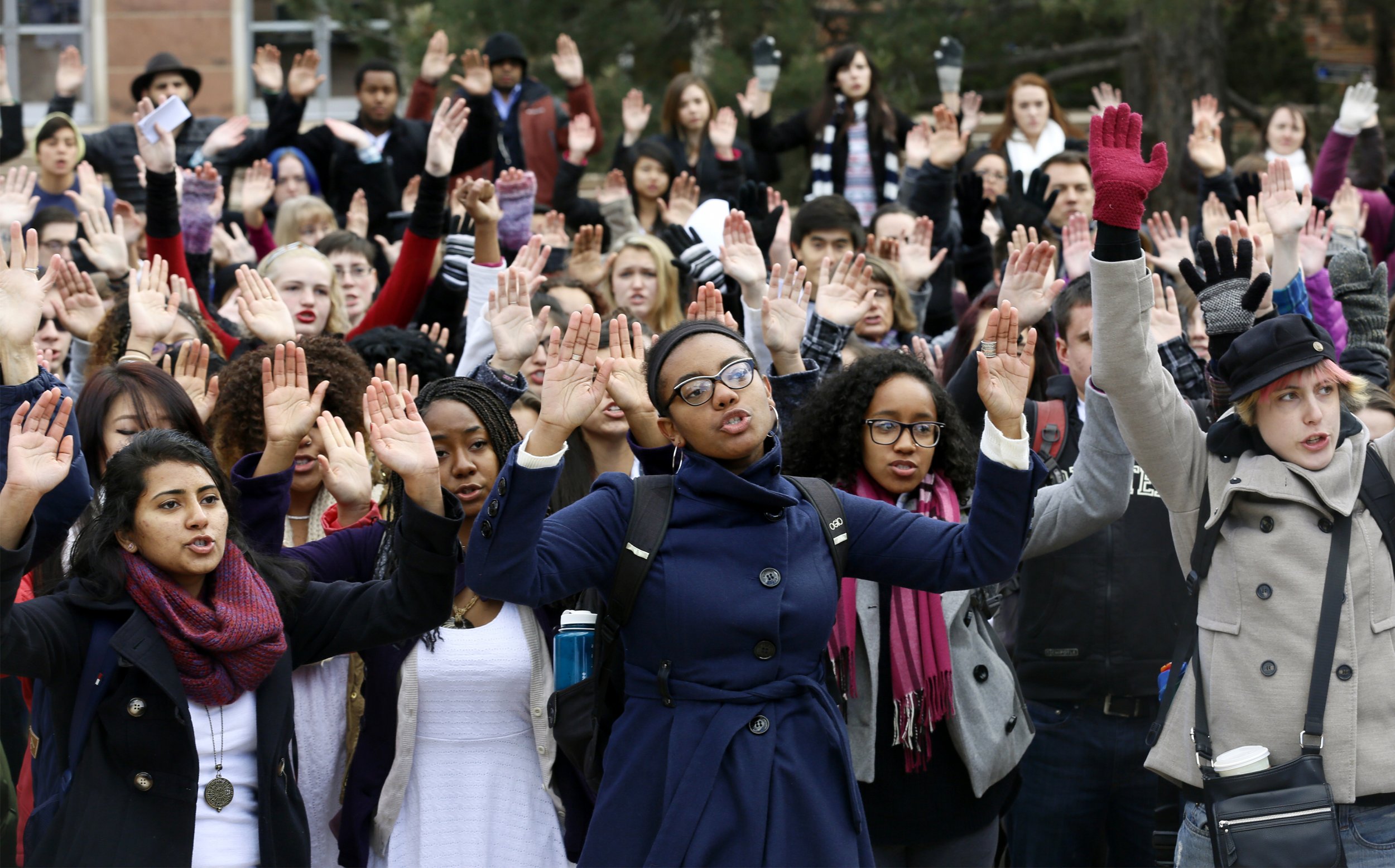 A new survey report shows that 8.5 percent of current college freshmen expect to participate in a student protest while in college. That figure is up 2.9 percentage points from 2014, and it is the highest percentage to respond that way in the annual survey since 1967.
For students who identified as black, the survey numbers were even higher: 16 percent said they would likely participate in a protest, up 5.5 percentage points from 2014.
The Higher Education Research Institute at the University of California, Los Angeles, released the report on Wednesday. It was based on a survey of 141,189 full-time college students at 199 four-year colleges in the United States. The results come at an intense time in academia, when students at numerous schools are demonstrating against what they feel are injustices—especially involving race—and are issuing demands to college administrators.
As The Washington Post has pointed out, a website called The Demands keeps a list of what the student groups are seeking. As of early December, when the list was last updated, students at 76 schools had issued demands.
"Students across the country have become, we use the term 'woke,'" says Samuel Sinyangwe, a recent Stanford graduate who runs The Demands and describes himself as an activist. "This is in many ways the culmination of so much of the activism that we've seen across the country, not just on campuses."
The results also indicate that more college freshman identify as liberal than they have in decades, which perhaps explains why polls indicate that Senator Bernie Sanders is a top choice for president among college students. According to the report, 33.5 percent of college freshman identified as liberal or as belonging to the far left. The Higher Education Research Institute says that is the highest percentage since 1973.
The percentage of freshman who said they were conservative or belonging to the far right was 21.6 percent, down 4 percentage points from a decade ago.
As the Post and free speech advocates have noted, the results also seem to illustrate a contradiction: While 80.6 percent of respondents said "tolerance of others with different beliefs" was important, and 63.7 percent said they had an "openness to having my own views challenged," 43.2 percent said "colleges have the right to ban extreme speakers from campus" and 70.9 percent said "colleges should prohibit racist/sexist speech on campus."
"I think it shows a real disconnect in students' understanding of what free speech does and the guarantees of the First Amendment...that so many more of them would say, 'Yes, I'd like to protest, but also would support the regulations that would absolutely be used and always have been used in the past to shut down protest,'" Robert Shibley, executive director of the Foundation for Individual Rights in Education (FIRE), tells Newsweek.
"I think there is a real lack of awareness that it's the very protections and the culture of free speech and the First Amendment that is allowing this student protest movement to really flourish and to happen on so many campuses," he adds.
One case that the FIRE has monitored was at Yale, where students last fall called for the resignation of Erika Christakis, an administrator, after she sent an email in which she seemed to defend culturally insensitive Halloween costumes as free speech. Students called for her husband, also an administrator, to resign as well.
The controversy gained attention after a video surfaced that showed students confronting Christakis's husband. The confrontation grows heated, and at one point, a student says loudly to him, "Be quiet!" Later, using an expletive, she yells, "Who hired you?! You should step down!"
Christakis announced her resignation soon afterward.
Meanwhile, students at Brown University last fall confronted administrators about what they said were racial injustices. When the provost asked if they could have a conversation, students responded, "No." When he asked why not, a student responded, "Heterosexual white males have always dominated the space." The provost said he was in fact not heterosexual, to which the student responded that he was still part of the "cisgender" hierarchy.
And at the University of Missouri, where recent protests led to the resignations of the president and the chancellor, protesters attempted to bar media from covering their public demonstrations. Assistant Professor Melissa Click said to a photojournalist, "You need to get out.... Who wants to help me get this reporter out of here? I need some muscle over here." Click was later charged with assault, and the school said in January it would suspend her.
Shibley, of the FIRE, says he also finds troubling the survey results indicating that nearly half of freshmen support banning "extreme" speakers. "Students think that they'd be better off not actually having to hear the message that these people are sending," he says, likening contemporary speaker bans to those put in place in the 1950s and 1960s against accused communists.
The FIRE maintains a database of 286 "disinvitation attempts" since 2000. The speakers include Henry Kissinger, Madeleine Albright, George W. Bush and Condoleezza Rice.
Shibley says he expects students on all sides of the political spectrum to increasingly label others as "extreme" in attempts to silence them. "That's not good for the campus culture. It's not good for American democracy. If we're going to hash out issues, we actually need to hash out the issues rather than argue with one another about who shouldn't be allowed to be heard."
But Sinyangwe, of The Demands, says campus activists do not intend to squash free speech. "I think this is a challenge to other students and to the university to better understand that while students have a right to free speech, they need to be made conscious of the ways in which that speech can be harmful," he says.