College Funding for Military Families Brings Republicans, Democrats Together
In a time when it seems the only thing Republicans and Democrats can agree on is to agree to disagree, legislators in Pennsylvania proved working together to improve the lives of their constituents is still possible.
On Monday, Pennsylvania Governor Tom Wolf, flanked by members of both sides of the aisle, signed a bipartisan bill into law that expanded higher education opportunities for military families. In exchange for re-enlisting for six years, spouses and children of National Guard members could attend college for free or at a low cost.
"I can't think of a better way to show our appreciation for that sacrifice than to provide education benefits to their families," Pennsylvania Senator Lindsey Williams, the bill's co-sponsor, told Newsweek. "I myself know what it's like to struggle under massive student loan debt and I don't want that for anyone, let alone those who are sacrificing to keep us safe."
Williams, a Democrat, co-sponsored the Senate bill with Pennsylvania Senator Mike Regan, a Republican. Regan told Newsweek that it was important to him that the bill's proposal be a joint effort and credited the bipartisan sponsorship for showing other Senators that it was an initiative both Republicans and Democrats could support.
"I think this showed Pennsylvanians that there are no party lines when it comes to supporting our military personnel," Regan said.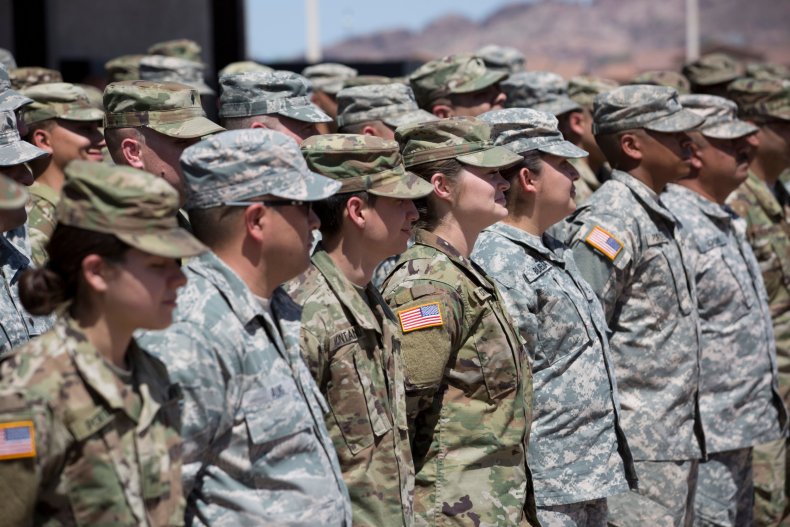 The bill's signing came at a tumultuous time in Harrisburg, Pennsylvania, because of budget negotiations. While it's no secret that parties clash, particularly over budget and taxes, Regan said both sides agreed the bill not only gave back to military families but also strengthened the state's National Guard by providing an incentive for members to reenlist.
"They are protecting our freedoms. While we may endure negativity and uphill battles in our work within the legislature, it is nothing compared to the battles being fought on the frontlines or the sacrifices made by service members and their families," Regan said.
Williams agreed that supporting the military shouldn't be a partisan issue and as someone who's both pro-education and pro-working families, she said supporting bill was a "no brainer." As a freshman State Senator, Williams said the experience helped her establish great working relationships and called it a "good first step."
Regan, on the other hand, has been around the legislative block, and said he drew on lessons learned about debate and negotiation to help get the bill passed and signed into law.
"The key to delivering results is constant communication and being willing to not let egos get in the way," Regan said.
Although Williams was confident the bill would have become law because of its broad support, she credited Wolf prioritizing education for why it passed quickly. Moving forward, she's hopeful there will be additional bills to offer education support for the families of other people in the state, including teachers and first responders.
Now that the bill was signed into law, both Williams and Regan expect to see other states replicate the bill and Regan's office has already received inquiries about it.