Which Players Have Declared for the NFL Draft? Tua Tagovailoa Latest Star to Make Himself Eligible
Tua Tagovailoa became the latest underclassman to declare for the NFL draft on Monday, when he announced he will forego college eligibility for his senior year and enter the class of 2020 instead.
The Alabama quarterback joins Crimson Tide teammates Henry Ruggs III, Xavier McKinney, Terrell Lewis, and Jerry Jeudy in the draft. He is the most high-profile player to declare for the NFL draft, along with Ohio State star Chase Young and the Georgia duo of running back D'Andre Swift and offensive tackle Andrew Thomas.
In each of the last three years, at least 100 underclassmen have declared for the NFL draft—students who have completed their four-year collegiate career such as Heisman Trophy winner Joe Burrow and Oregon quarterback Justin Herbert do not have to declare for the draft—and the trend looks set to continue this season.
Here's a round-up of the most high-profile players who have made themselves eligible for the NFL draft.
Chase Young—DE, Ohio State
Considered a potential first overall pick until Joe Burrow's emergence, the Ohio State edge-rusher declared for the NFL draft last week and is widely expected to be selected by the Washington Redskins with the second overall pick.
This season Young finished with 46 tackles, six forced fumbles and led college football with 16.5 sacks, despite missing two games due to an eligibility issue.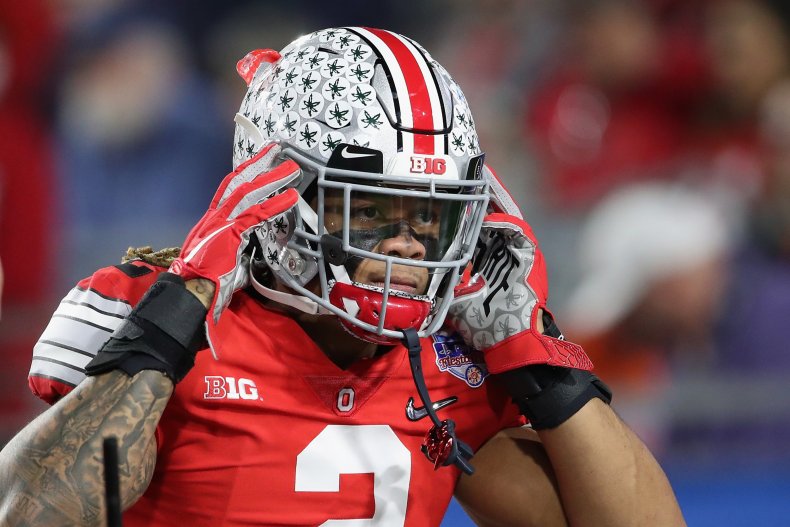 Tua Tagovailoa—QB, Alabama
Considered the top prospect of the class of 2020 before the season began, the emergence of LSU quarterback Joe Burrow and Ohio State defensive end Chase Young threatened Tagovailoa's status as No. 1 overall pick-in-waiting.
A season-ending injury suffered against Mississippi State on November 16 heightened concerns over Tagovailoa's fitness record—he has undergone "tightrope" surgery to address high-ankle sprains on both ankles over the last two seasons—but he remains a consensus top-five prospect.
In three seasons with Alabama, Tagovailoa has thrown for 8,078 yards and 87 touchdowns, with just 11 interceptions.
Andrew Thomas—OT, Georgia
A unanimous All-American in 2019 and the recipient of the Jacobs Blocking Trophy, the Bulldogs offensive tackle declared for the NFL draft in December and will have no shortage of suitors in April.
Jeff Okudah—CB, Ohio State
Another member of Ohio State's excellent defensive unit, Okudah developed into one of the most dominant cornerbacks in football this season, racking up 29 tackles, three interceptions and two forced fumbles.
CeeDee Lamb—WR, Oklahoma
Arguably the most exciting receiver in college football, Lamb finished with 14 touchdowns and 1,327 receiving yards over 62 catches. With the Arizona Cardinals picking at No. 8, he could be reunited with former Oklahoma teammate Kyler Murray.
Isaiah Simmons—LB, Clemson
The recipient of the 2019 Butkus Award, Simmons has been a crucial cog of Clemson's defense since making his debut as a safety in 2017 and then switching to cornerback a year later. Simmons racked up 61 tackles, six sacks and three interceptions this year and could add a second national title to the one he won last year.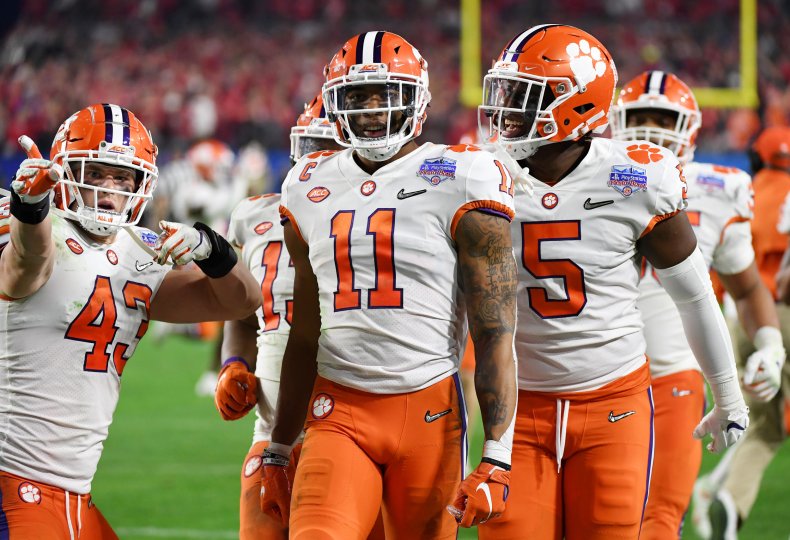 Tristan Wirfs—OT, Iowa
A rock-solid option for the Hawkeyes during his three years in Iowa, Wirfs' versatility makes him at ease at both left and right tackle, a trait that will not be lost on NFL teams looking to beef up their offensive lines.
Wirfs was named the Big Ten Offensive Lineman of the Year in 2019 and is expected to be a top-15 pick this year.
Jerry Jeudy—WR, Alabama
One of six Alabama underclassmen to have entered the draft, Jeudy caught the eye this season as he finished with 1,163 receiving yards and 10 touchdowns over 77 receptions. A versatile playmaker, the junior wide receiver is expected to be a mid-first round selection.
D'Andre Swift—RB, Georgia
Considered a potential Heisman Trophy winner at the beginning of the season, Swift didn't quite reach such lofty heights but had a solid year nevertheless, finishing with 1,218 rushing yards and seven touchdowns at an average of 6.2 yards per carry.
J.K. Dobbins—RB, Ohio State
A key component of Ohio State's high-octane offense, the junior running back provided the perfect foil for Buckeyes quarterback Justin Fields. Dobbins finished with 2,003 rushing yards and 21 rushing touchdowns—both figures joint-third best in college football.
Henry Ruggs III—WR, Alabama
One of the six members of the Crimson Tide to have foregone their final year of college, Ruggs declared for the NFL draft on Monday.
The junior wide receiver finished with 746 receiving yards, seven touchdowns and 75 rushing yards this season.
C.J. Henderson—CB, Florida
Along with linebacker Jonathan Greenard, Henderson is the only other Gator to have entered the NFL draft. One of the most reliable cornerbacks in college football, the junior finished with 26 tackles this season.