83 Percent of Republican College Students Favor Requiring Universal Background Checks for Gun Purchases
While United States college students were still split along political party lines regarding firearm magazines and concealed carry, they overwhelmingly agreed it was time to implement universal background checks for gun purchases in a recent poll.
The topic of gun control is present in American political discourse on a nearly continuous basis, often most loudly after a shooting. Most recently, Representatives Dan Crenshaw and Alexandria Ocasio-Cortez debated universal background checks on Twitter after seven people were killed and 25 were wounded during a shooting in Texas on Saturday.
Crenshaw claimed it would prevent him from loaning a firearm to a friend for self-defense purposes. Ocasio-Cortez argued gun owners shouldn't be loaning firearms to anyone because the owner could never be certain of the borrower's background.
Gun control is a top concern for college-aged voters, so College Pulse, a survey and data analytics company, polled students from across the country to gain insight into their thoughts on firearms.
Released on August 28, the poll found the vast majority of students, 93 percent, favored requiring universal background checks for all gun purchases. At times, the general majority of a poll can be swayed if one demographic heavily sides a certain way. However, in this case, political persuasion made little difference.
Out of the Republican college students that were polled, 83 percent favored background checks with 49 percent saying they strongly favored the measure. Only seven percent strongly opposed.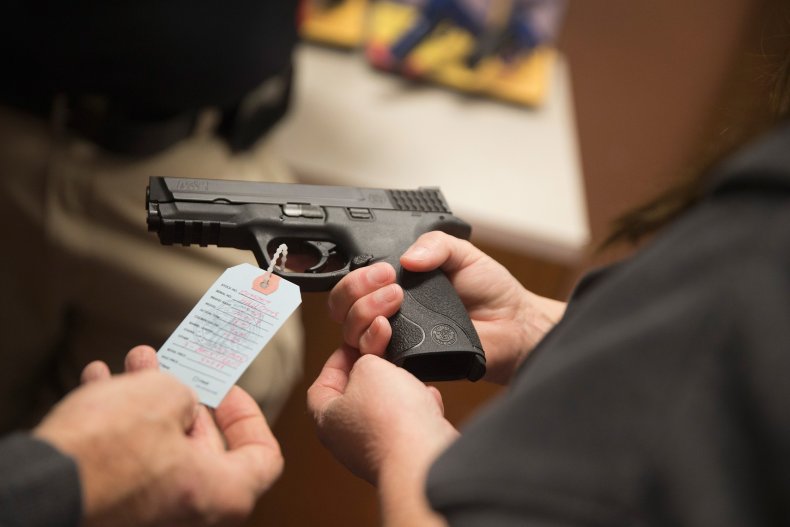 As would be reasonable to expect, support for background checks was higher among students who identified as Democrats. Virtually all – 99 percent – Democrats polled favored the measure and zero percent strongly opposed.
Universal background checks were also popular among Independent college students, with 93 percent responding that they favored the measure.
While students were largely in agreement on universal background checks, opinions diverged somewhat over the question of whether to extend waiting periods for the checks to be completed from three days to 10 days. Only 56 percent of Republican students endorsed the increased wait time, while 83 percent of Independents and 96 percent for Democrats did.
Democrat and Republican students were also divided when it came to banning high-capacity ammunition magazines, which hold more than 10 rounds. Responses to questions about assault-style weapons and allowing people to carry concealed guns without a permit were also split.
Supporters of increasing restrictions on firearms cite it as a solution to people losing their lives. Critics argue it infringes on the Second Amendment and will do little to solve the problem of gun violence, as people could still obtain guns illegally.
In preventing mass shootings, college students didn't come to a majority consensus on the best solution.
The majority of Democrats polled called for stricter gun control laws and enforcement and no single solution gained support from the majority of Independents or Republican students. The most popular solutions among Republicans were better mental health screenings and support and allowing more private citizens to carry guns. Independent students opted for improvements to mental health and stricter gun control.
83 Percent of Republican College Students Favor Requiring Universal Background Checks for Gun Purchases | U.S.