College Rankings 2012: Top Sororities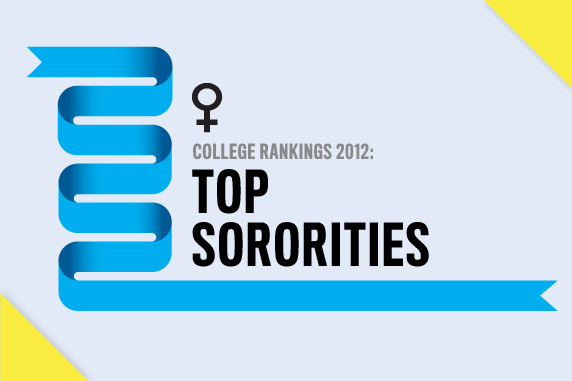 There are 26 organizations in the National Panhellenic Conference, with reputations and memberships that vary by campus. To analyze which sororities have the largest national footprint, most devoted sisters, and greatest philanthropic footprint, we compared the 26 Panhellenic Conference sororities based on the number of active collegiate chapters, the number of Twitter followers and Facebook fans (to measure alumni and member interest) and the amount of money the sorority's non-profit fund donated to 501(c)(3) organizations according the most recent public filing (funds were normalized using a per-chapter ratio). Funds donated to individual chapters, classified as a 501(c)(7) non-profit social club, were not considered for this aspect of the ranking.
We attempted to get an accurate count of the current number of active collegiate chapters from a variety of sources, and contacted all sororities to verify. Several sororities and The National Panhellenic Conference declined to participate or comment for this article due to their governance policies.
25. Theta Phi Alpha
Active Collegiate Chapters: 94
Twitter Followers: 1,831
Facebook Fans: 5,122
Funds donated through the Theta Phi Alpha Foundation to 501(c)(3)s: $6,761
24. Alpha Epsilon Phi
Active Collegiate Chapters: 45
Twitter Followers: 3,103
Facebook Fans: 1,290
Funds donated through the Alpha Epsilon Phi Foundation to 501(c)(3)s: $23,571
23. Sigma Delta Tau
Active Collegiate Chapters: 61
Twitter Followers: 3,281
Facebook Fans: 4,120
Funds donated through the Sigma Delta Tau Foundation to 501(c)(3)s: $13,250
22. Alpha Sigma Alpha
Active Collegiate Chapters: 86
Twitter Followers: 3,640
Facebook Fans: 11,553
Funds donated through the Alpha Sigma Alpha Foundation to 501(c)(3)s: $10,375
21. Alpha Sigma Tau
Active Collegiate Chapters: 80
Twitter Followers: 3,567
Facebook Fans: 6,379
Funds donated through the Alpha Sigma Tau Foundation to 501(c)(3)s: $54,340
20. Phi Sigma Sigma
Active Collegiate Chapters: 109
Twitter Followers: 3,347
Facebook Fans: 12,908
Funds donated through the Phi Sigma Sigma Foundation to 501(c)(3)s: $78,675
19. Sigma Sigma Sigma
Active Collegiate Chapters: 108
Twitter Followers: 4,479
Facebook Fans: 16,514
Funds donated through the Sigma Sigma Sigma Foundation to 501(c)(3)s: $40,600
18. Alpha Xi Delta
Active Collegiate Chapters: 116
Twitter Followers: 6,792
Facebook Fans: 16,569
Funds donated through the Alpha Xi Delta Foundation to 501(c)(3)s: $47,200
17. Alpha Gamma Delta
Active Collegiate Chapters: 112
Twitter Followers: 7,090
Facebook Fans: 13,581
Funds donated through the Alpha Gamma Delta Foundation to 501(c)(3)s: $234,765
16. Sigma Kappa
Active Collegiate Chapters: 112
Twitter Followers: 8,900
Facebook Fans: 21,572
Funds donated through the Sigma Kappa Foundation to 501(c)(3)s: $67,070
15. Phi Mu
Active Collegiate Chapters: 115
Twitter Followers: 10,043
Facebook Fans: 24,369
Funds donated through the Phi Mu Foundation to 501(c)(3)s: $77,000
14. Gamma Phi Beta
Active Collegiate Chapters: 125
Twitter Followers: 6,892
Facebook Fans: 20,829
Funds donated through the Gamma Phi Beta Foundation to 501(c)(3)s: $497,675
13. Alpha Chi Omega
Active Collegiate Chapters: 133
Twitter Followers: 8,684
Facebook Fans: 28,918
Funds donated through the Alpha Chi Omega Foundation to 501(c)(3)s: $106,675
12. Delta Zeta
Active Collegiate Chapters: 158
Twitter Followers: 9,332
Facebook Fans: 14,986
Funds donated through the Delta Zeta Foundation to 501(c)(3)s: $281,668
11. Kappa Alpha Theta
Active Collegiate Chapters: 129
Twitter Followers: 8,344
Facebook Fans: 19,218
Funds donated through the Kappa Alpha Theta Foundation to 501(c)(3)s: $695,242
10. Alpha Phi
Active Collegiate Chapters: 157
Twitter Followers: 11,065
Facebook Fans: 13,915
Funds donated through the Alpha Phi Foundation to 501(c)(3)s: $342935
9. Alpha Omicron Pi
Active Collegiate Chapters: 191
Twitter Followers: 7,938
Facebook Fans: 15,401
Funds donated through the Alpha Omicron Pi Foundation to 501(c)(3)s: $521,380
8. Delta Delta Delta
Active Collegiate Chapters: 138
Twitter Followers: 11,133
Facebook Fans: 21,600
Funds donated through the Delta Delta Delta Foundation to 501(c)(3)s: $264,508
7. Kappa Delta
Active Collegiate Chapters: 142
Twitter Followers: 12,789
Facebook Fans: 13,492
Funds donated through the Kappa Delta Foundation to 501(c)(3)s: $414,793
6. Pi Beta Phi
Active Collegiate Chapters: 135
Twitter Followers: 8,900
Facebook Fans: 27,585
Funds donated through the Pi Beta Phi Foundation to 501(c)(3)s: $522,696
5. Chi Omega
Active Collegiate Chapters: 174
Twitter Followers: 10,189
Facebook Fans: 35,569
Funds donated through the Chi Omega Foundation to 501(c)(3)s: $85,971
4. Alpha Delta Pi
Active Collegiate Chapters: 142
Twitter Followers: 11,217
Facebook Fans: 34,945
Funds donated through the Alpha Delta Pi Foundation to 501(c)(3)s: $120,957
3. Kappa Kappa Gamma
Active Collegiate Chapters: 138
Twitter Followers: 12,039
Facebook Fans: 31,602
Funds donated through the Kappa Kappa Gamma Foundation to 501(c)(3)s: $624,500
2. Delta Gamma
Active Collegiate Chapters: 147
Twitter Followers: 11,835
Facebook Fans: 32,717
Funds donated through the Delta Gamma Foundation to 501(c)(3)s: $792,499
1. Zeta Tau Alpha
Active Collegiate Chapters: 159
Twitter Followers: 11,995
Facebook Fans: 40,647
Funds donated through the Zeta Tau Alpha Foundation to 501(c)(3)s: $384,039