College Removes Nike Logo From Uniforms to Protest Colin Kaepernick Ad
A college in Missouri has removed Nike logos from its sports uniforms in response to the apparel and shoe company's new advertising campaign with former San Francisco 49ers quarterback Colin Kaepernick.
The College of the Ozarks in Point Lookout, Missouri, released a statement on Wednesday announcing that due to the new Nike ad with Kaepernick, student-athletes at the college will no wear the logo on their sports uniforms.
The college's new change comes a few days after the former NFL quarterback was made the face of Nike's new marketing campaign for the 30th anniversary of the "Just Do It" campaign. The company's decision sparked outrage from political commentators and some Nike customers, who accused the former quarterback of disrespecting the country by kneeling during the national anthem on the field.
"In their new ad campaign, we believe Nike executives are promoting an attitude of division and disrespect toward America," said College of the Ozarks President Jerry C. Davis in a statement. "If Nike is ashamed of America, we are ashamed of them. We also believe that those who know what sacrifice is all about are more likely to be wearing a military uniform than an athletic uniform."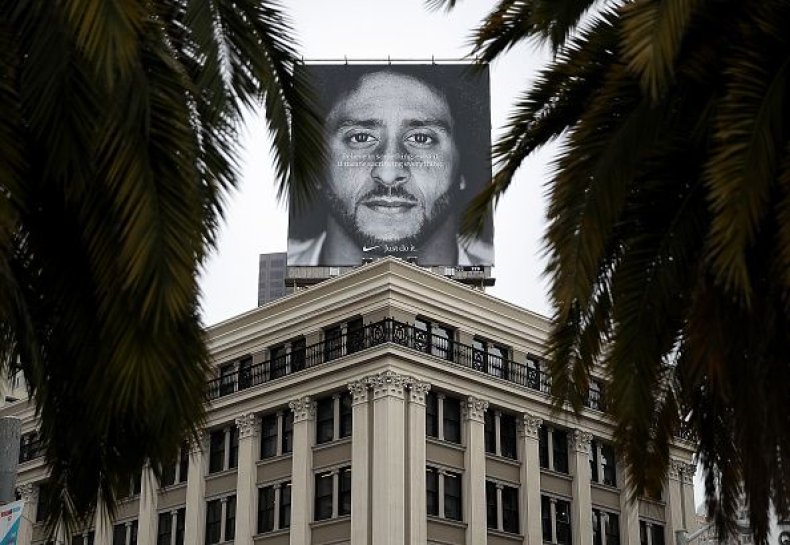 Marci Linson, vice president for patriotic activities and dean of admissions at the college, also stood with the college's decision to remove the logo from the uniforms.
"Nike is free to campaign as it sees fit, as the college is free, and honor-bound by its mission and goals, to ensure that it respects our country and those who truly served and sacrificed," Linson said.
The campaign has sparked many people to boycott the company, with some people burning their shoes and apparel in protest of the decision. Nike released Kaepernick's commercial on YouTube on Wednesday and aired it on Thursday during the NFL season-opening game between the Philadelphia Eagles and the Atlanta Falcons.
President Donald Trump, who has been vocal about the protests on the field, weighed in on the sport's company decision on Twitter on Friday.
"What was Nike thinking?" Trump tweeted on Friday.
During an interview with Fox and Friends recorded during Trump's political rally in Montana and aired on Friday, Trump said he does not "like what Nike did."
"I don't think it's appropriate what they did," he said. "I honor the flag. I honor our national anthem, and most of the people in this country feel the same way."
On Wednesday, the president's oldest son, Donald Trump Jr., also weighed in on the conversation by replacing the photo of Kaepernick with a photo of his father on his Instagram, along with the caption "There, fixed it for you."