College Soccer Champion Eric Birighitti Found Drowned and Eaten By Sharks in Australia
A shark-battered body found in Australia on Tuesday has been identified as that of missing soccer player 21-year-old Eric Birighitti, who has not been seen since January 2.
Birighitti's body was found near Twilight Beach in Western Australia, roughly 370 miles from Perth, during a dive to retrieve the body of Gary Johnson. This search followed reports the 57-year-old had been attacked by a great white shark.
A father and daughter spotted sharks attacking a body and initially thought it belonged to Johnson. However, police have since confirmed it was Birighitti.
"My sister and my father saw the sharks attacking the body and it was quite a big one they say,"
Alison Walker told 9 News Perth, following reports of a shark "feeding frenzy" just 115 meters from the beach.
Esperance Police closed Twilight Beach on January 7 following a shark sighting, requesting locals avoid attending beaches in the area.
Birighitti was a Melbourne native and promising sportsman who has been playing college soccer in the U.S.
Australian papers report the student was swept out into the ocean on January 2 after slipping on some rocks. A life preserver was thrown but it was not enough to save Birighitti, who was dragged into the water by the swell.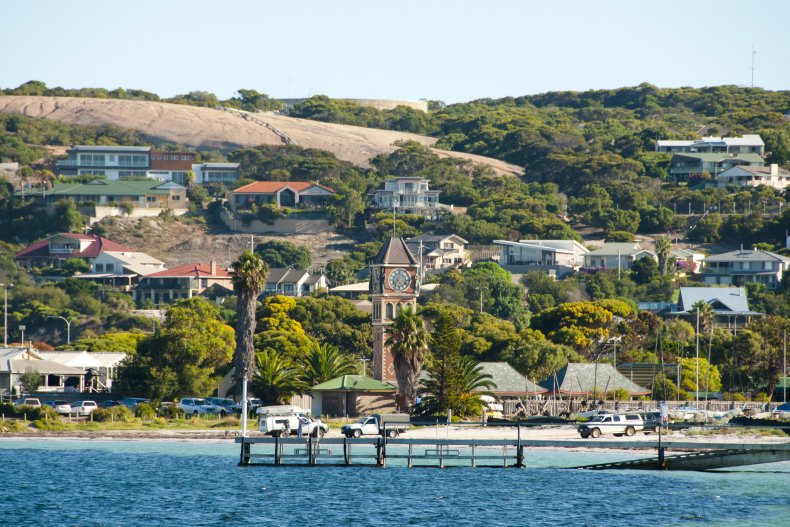 Shortly before the accident, Birighitti had been playing for St Thomas Aquinas College in New York, where he was majoring in Business Management.
He joined the east coast team from Hastings College in Nebraska, who had given Birighitti a scholarship after the "grind, effort and hard work" he displayed at Football West's Perth Soccer Club, WA Today reports.
The press release that accompanied his move to the team in 2016 described Birighitti "a very dynamic, predominant Right Wing Back, who can play Right Back and Left Back, as he can play both feet with solid technical ability." The college coach described him as a player with "All-American potential."
During his time at Hastings, he played for the 2016 and 2017 season and won a national title for his contribution.
"The bronco family are saddened to hear about the sudden passing of Eric Birighitti," said Hastings MSOC. "He will be truly missed and our thoughts are with his family during this difficult time."
Birighitti was described as "unique" by family members.
"I'll never forget that moment you arrived at our place, a mere six months ago. You were brimming with an energy that would make lightning jealous," James Kouzinas, Birighitti's New York-based cousin, wrote in a social media post cited by the Australian Associated Press.
"In all aspects of your life, from your interactions with people and the deep love for your family, to your success on the football pitch - you were a true champion in every sense of the word."
Kouzinas described his cousin as a talented sports player who was "ready to launch into 2020 and take this continent by storm."
In a final Instagram post, Birighitti wrote: "As we finish off 2019, I hope everybody finds peace and is filled with love as the new year begins. Shout out to all those who cannot be with us for whatever reason. Remember to love always, be appreciative and smile."
News of Birighitti and Johnson has put focus on shark-related safety in the area around Esperance, which has been described by locals as a safe haven for the species thanks to the bay's clear entry and exit points, 9 News Perth reports.
While fisheries in the area are trying to tag and track individual sharks to keep beachgoers safe, there may be as many as 1,600 in the seas around Western Australia and Victoria, says 9 News Perth, and so far 105 have been tagged.
College Soccer Champion Eric Birighitti Found Drowned and Eaten By Sharks in Australia | News