College Sports Teams Power Through Snow Storms and 'Frozen' on Repeat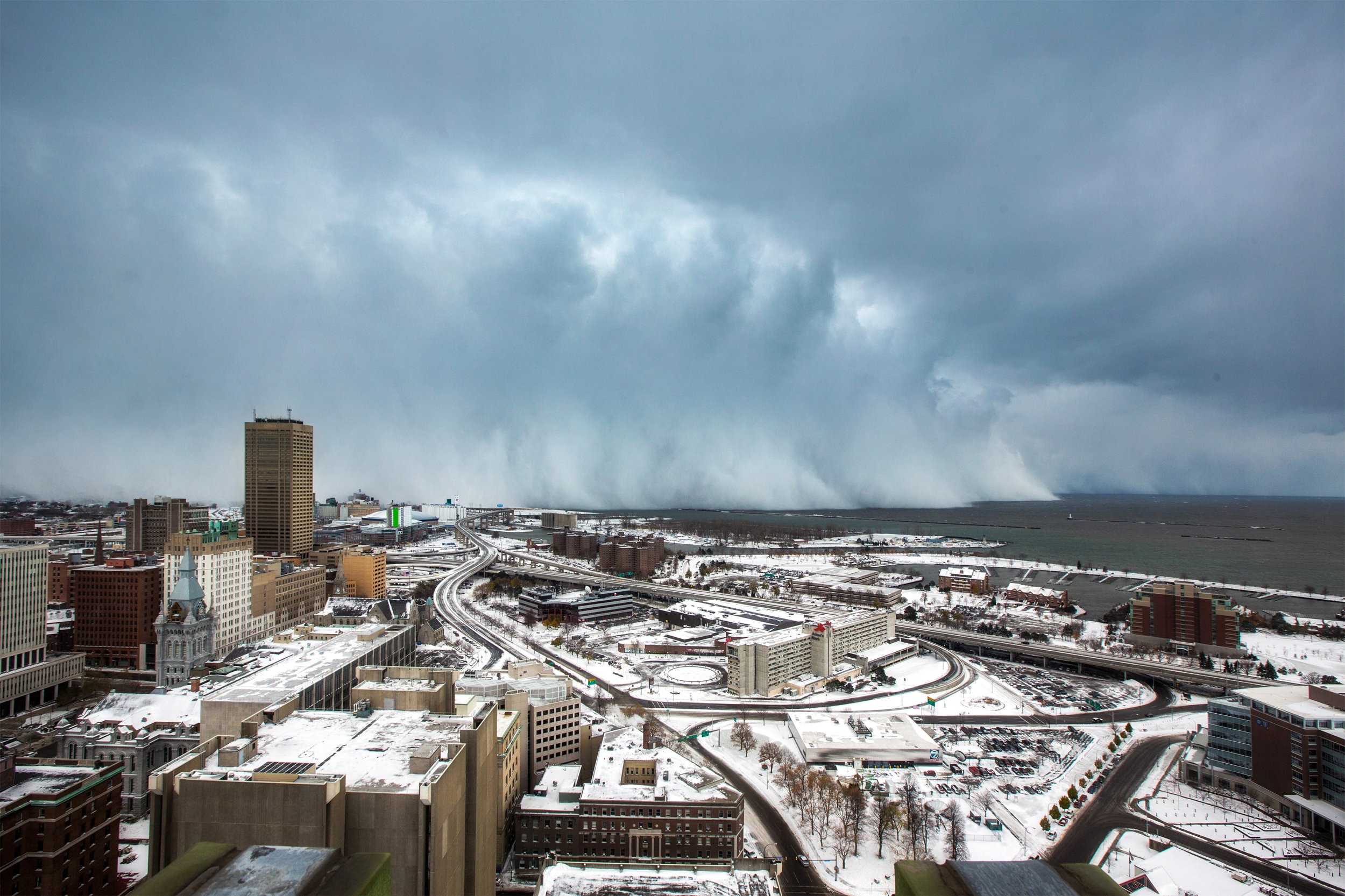 The hours limped by, each one passing with more interminable and frigid futility than the one before. Darkness turned to daybreak and then sunset with no hope of rescue. The coaches and players of the Niagara University women's basketball team, whose bus was stranded on the New York State Thruway just 30 miles from campus, could at least grin at the irony of the title for the only film DVD on hand. "We must have watched Frozen at least eight times," says Purple Eagle coach Kendra Faustin of her team's 30-hour odyssey last November. "It was fitting."
After a loss at the University of Pittsburgh on the evening of November 17, Niagara's staff and players, as well as Faustin's two toddlers and her parents, boarded the team bus at approximately 10 p.m. The northbound journey ordinarily lasts four hours. Shortly after 1 a.m., just before the Lackawanna toll booth exit, the bus's progress was halted due to an accident ahead. As its occupants waited for the road to clear, an autumn blizzard that would drop as much as seven feet of snow south of Buffalo, New York, raged. "I grew up in the Upper Peninsula and I've never seen anything like it," says Faustin, who just wrapped up her eighth season as Niagara's coach. "We were trapped. The other irony of it all is that our campus…was located north of the snow belt. There was no snow on the ground back at school."
Niagara's tale of snow and woe is one of many college sports teams endured over the past four months. It has been a season in which saturated travel itineraries sailed directly into the headwinds of a relentless barrage of storms across various latitudes. Canisius men's basketball coach Jim Baron spent three nights in a Buffalo hotel after he was unable to return to his Orchard Park, New York, home after a game at Lehigh the week Niagara got stranded. In February the University of Connecticut men's golf team bussed home to Storrs, Connecticut, from Tampa, Florida, a 25-hour trek up I-95, after storms canceled flights and put them in a three- to four-day holding pattern.
Old Man Winter has displayed an utter disregard for latitudinal logic. The Texas Christian (TCU) men's basketball team opted to travel by train from Fort Worth, Texas, to Stillwater, Oklahoma, after a late February snow-and-ice storm made roads impassable (and the 2-hour rail journey took nearly eight hours to complete). That same weekend, the University of Albany and Cornell University, two schools located three hours apart in upstate New York, staged a men's lacrosse match in…Dallas. What had sounded like a shrewd plan to avoid snow-blanketed turf back home devolved into a comedy of mishaps. "The game was scheduled to be played at SMU's football field on a Saturday," says Albany coach Scott Marr, "but when we arrived to practice on Friday afternoon, the field was covered in eight inches of ice. And it's Dallas. It's not just like you can go to Home Depot and buy two dozen snow shovels."
The two squads, both currently ranked in the Top 12 nationally, used their cleats and a few shovels to break up their ice. After a Saturday afternoon game played in freezing rain and in front of just a few hundred hearty souls ("It wasn't any fun," says Marr, whose squad lost 16-9), the Albany squad learned that most of the Sunday morning flights out of Dallas-Fort Worth International Airport had been canceled (Cornell was able to evacuate on Saturday evening). "We were told that the earliest we'd be able to get everyone out was Tuesday," says Marr, who was in charge of a traveling party of 54. "That's when our bus driver suggested that we just bus all the way home."
While greyhounds are usually the canines associated with extended bus travel, the Albany Great Danes owned the open road for a 30-hour trek. "We had two rules," says Marr, who enlisted three drivers to ferry the team home on the first day of March. "One, you had to take off your shoes as soon as you boarded the bus. And two, you had to sit down when using the bathroom."
The Great Danes used social media both to pass the time and chronicle their lacrosse-country voyage. At the outset the mood was buoyant and adventurous: "People from home always said lacrosse could take me places," sophomore defenseman James Burdette tweeted, "I just never realized they meant a Golden Corral in Little Rock, Arkansas."
As the bus headed north, though, the mood and aroma turned south. "What smells worse," tweeted redshirt junior defenseman Tyler Fahey, "retweet for the bus bathroom or favorite for my farts?"
"It was just an unfathomable amount of time," recalls senior midfielder Matt Bertrams, one of the bus's 40 passengers. "Toward the end of the trip, people just started to get irrationally angry."
Eleven of Bertrams's Great Dane teammates had been able to make their flight out of Dallas and avoid the bus trip. "That's the funny part," Bertram says. "We were sleep-deprived and foul smelling, and those guys were experiencing a severe case of FOMO."
FOMO?
"Fear of missing out," says Bertrams.
The young women who play basketball for Niagara endured a bus ride as long as the one endured by the Great Danes, but nearly all of that travel time was spent going nowhere. Nor did the Purple Eagles have the opportunity to eat at a Golden Corral in Little Rock (or a Cracker Barrel in Columbus, Ohio), as their male counterparts did. "That first morning we had leftover pizza for breakfast," says Faustin. "Then we started rationing out brownies and granola bars."
Because the team bus never lost power, Faustin's ferry became a homeless shelter of sorts. The team took in a stranded motorist, a man who was driving back from Florida and wearing shorts. "He still has my favorite pair of sweatpants," says Faustin.
The journey presented all manner of bizarre problems for Faustin. At one point the coach turned to a player to ask with whom she was on FaceTime. "Inside Edition," the player answered.
On the second night, as frustration grew, the Purple Eagles rallied by praying for those in less fortunate predicaments (two dozen people would perish in the storm). Later that evening the Niagara County Sheriff's Office dispatched a Sno-Cat, a machine that grooms ski runs, to evacuate a staffer with a medical emergency, Faustin's two children, ages 2 and 3, and her parents. "There were four or five more spaces available on the machine," says Faustin, "so I made an announcement that if anyone wanted to go, no one would think any less of them. There were a few players who were under some extreme anxiety, and I hoped they would volunteer."
No one did. Every player remained on the bus until a rescue vehicle arrived at 5 a.m., some 28 hours after the bus had first stopped.
A few days after the ordeal had passed, Faustin was talking to a senior official in her department who was aglow over all the media attention Niagara had garnered due to the misadventure. "We should have something like this happen every year," the official suggested facetiously.
"We should have charter flights," Faustin replied.