GoFundMe Page For San Diego State University Student Dylan Hernandez Reaches $25,000
A GoFundMe page set up for an "outgoing and light hearted" San Diego State University student who died after reportedly attending a fraternity event has amassed more than $25,000 in donations in less than a day.
Dylan Hernandez, 19, was taken to hospital early on Thursday morning after university police were called to a residence hall in the 6100 block of Montezuma Road in San Diego, California.
He died at Alvarado Hospital on Friday after being found "pulseless and apneic" by his roommate, according to a report by the San Diego County Department of the Medical Examiner. A cause of death was not given.
The GoFundMe page set up Carly Bernardo, a friend of the Hernandez family, was set up on Monday. Bernardo, who goes to Bishop Kenny High School in Jacksonville, Florida, said Hernandez graduated from the same school. In a post on the GoFundMe page, she described him as an "outgoing, light hearted and goofy person who had so much love to give to everyone he met."
She added: "He never failed to make everyone in the room smile and his laugh was infectious. He was a first semester student at San Diego State University. This is being created to raise money to help to create memorials for family and friends as a way to grieve, and remember Dylan for all the lives he was able to touch."
Hernandez was a freshman pledging the Phi Gamma Delta fraternity, The Daily Aztec student newspaper reported. A close friend of Hernandez's, who was not named, told ABC 10 that Hernandez's roommate had contacted her after he fell off his bed on Wednesday night and hit his head.
CBS17 reported that Hernandez fell off a bunk bed and it was a 6 foot drop that caused his head injury.
The friend said she helped put him back in his bed. When she checked on him the following morning, she said his lips were purple, his mouth was foaming and his skin was yellow. She told ABC 10 she performed CPR until medics arrived
SDSU president Adela de la Torre announced Hernandez' death in a statement on Monday. "It is with a heavy heart that I am writing to say that Dylan Hernandez, the student who was hospitalized last week, has passed away. His family gave their goodbyes late Sunday night," she said.
"As a mother, nothing can replace the profound loss of a child, and the devastating heartbreak the family and their loved ones are experiencing. All of us in the Aztec family are sending our prayers."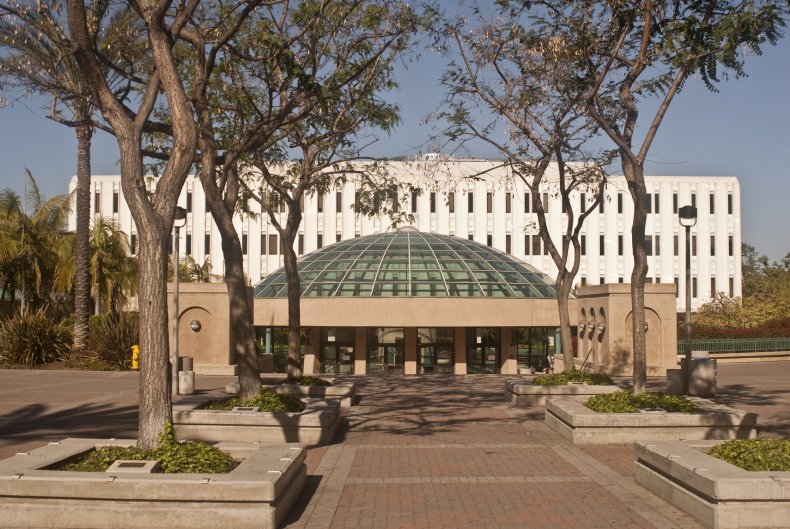 In a previous statement, Torre said the San Diego University Police Department (UPD) is investigating the circumstances of Hernandez's death after uncovering information that alleges "a fraternity was involved in possible misconduct." She did not identify the fraternity in question.
As a result, she announced that 14 fraternities under the Interfraternity Council (IFC) would be suspended.
"The university will keep the organizations under suspension while it considers next steps. Each of us, including our students, must uphold the highest standards that do not put the health and safety of anyone at risk," she said.
Torre added that six IFC fraternities were already suspended and another four were already under investigation before the decision was made to suspend all IFC-affiliated chapters.
The university has 46 recognized fraternities and sororities with more than 3,600 student members, according to a university website.