College Student's Dorm Room Goes From 'Prison to Palace' in Makeover Video
A college student's dorm room is the talk of TikTok after a video showcasing the space undergoing a dramatic makeover went viral.
When Alethea Jay, from New York, decided to share footage of the facelift she gave to her younger sister's new living quarters, she could never have imagined the response it would get.
At the time of writing, the clip showcasing the room before and after Jay decided to spruce things up has been viewed 7.2 million times. It can be watched here.
College can be a daunting experience for those living away from home for the first time. In 2015, researchers from the University of Washington conducted 34 in-depth interviews with students to try and identify what people missed most when feeling homesick.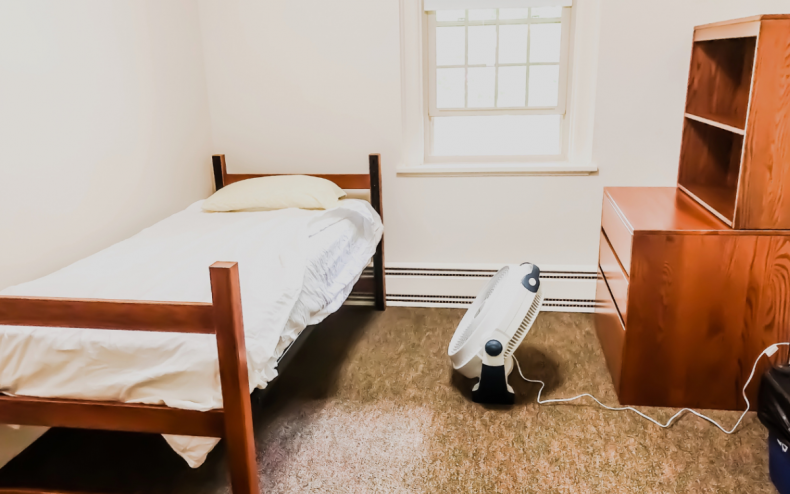 The results showed that activities (100 percent), family (97 percent), feelings (100 percent), and places (97 percent) ranked highest for those feeling homesick. A wider thematic analysis of the responses also concluded that the concept of "home" was synonymous with a "comfortable and safe environment."
In that sense, Jay's makeover couldn't be more welcome with the clip showing how she was able to turn a functional living space into a home away from home, complete with a comfortable-looking bedspread, pillows and bedside table.
There's a distinctively cool and calming color scheme to her sister's new room, which features a variety of wall adornments, including most notably some diamond-style picture frames.
Given the contrast, it's clear Jay went to a lot of effort for her younger sister and while her sibling's feelings on her new abode are not known, the result has earned plenty of plaudits among those watching the footage on social media.
Yannay Tay said the room went from "prison to palace" thanks to the makeover with sheiilz echoing that sentiment, writing that the space went "from prison room to 5 star hotel." Koolkalmkelle also commented: "This is the best I've seen." And lordkierra said: "[T]he best dorm I've seen in my whole life."
Some were quick to point out one potential problem with the setup—her roommate.
Khrys_e said: "I hope it's a single room lol cause WHAT?" Elissa A Rodriguez added: "Her roommate awkwardly having to stare at pictures every morning lmaoo." Shelly agreed, writing: "I would be furious if I had the other half." And Leahhhh commented: "I want to see her roommate's side."
Others, meanwhile, couldn't help but notice that the room featured lots and lots of pictures—of Jay's sister. Fairyprincessqueenstar said: "I could not have pictures of myself on my wall hahaha." Danielle Prescod agreed, writing: "I need to understand more about these photos."
Angham18 added: "I would think my roommate is weird as hell if she had her portrait everywhere to stare at but rest is cute."
Newsweek has contacted Jay for comment.
If you have a similar family dilemma, let us know via life@newsweek.com. We can ask experts for advice, and your story could be featured in Newsweek.