College Student Group Un-PAC Organizes Nationwide Hunger Strike in Defense of Voting Rights
The college student-run advocacy group Un-PAC is planning to restart its Washington, D.C., hunger strike on Thursday in support of voting rights legislation getting passed.
The hunger strike is being rebooted in an effort to get Congress to pass the Freedom to Vote Act by Jan. 17, Martin Luther King Jr. Day. The act would work to roll back a slate of restrictive voter laws passed in a number of states by thwarting voter suppression and ending partisan gerrymandering,
While President Joe Biden has urged Congress to pass the Freedom to Vote Act as soon as possible, the GOP's use of the filibuster, a longstanding debate aimed at delaying a vote on legislation, will likely make that prospect an uphill battle. This remains the case even as the bill sees strong support from Democratic senators, as well as pressure from the president to abolish the filibuster.
As a result, Un-PAC is moving forward with a hunger strike that took to the streets of Washington, D.C., at the beginning of December. Members of the group met with conservative Democratic Senator Kyrsten Sinema, and they ended their hunger strike when Senate Majority Leader Chuck Schumer pledged that a vote on the act would come by Martin Luther King Jr. Day, a sentiment that was echoed by Biden.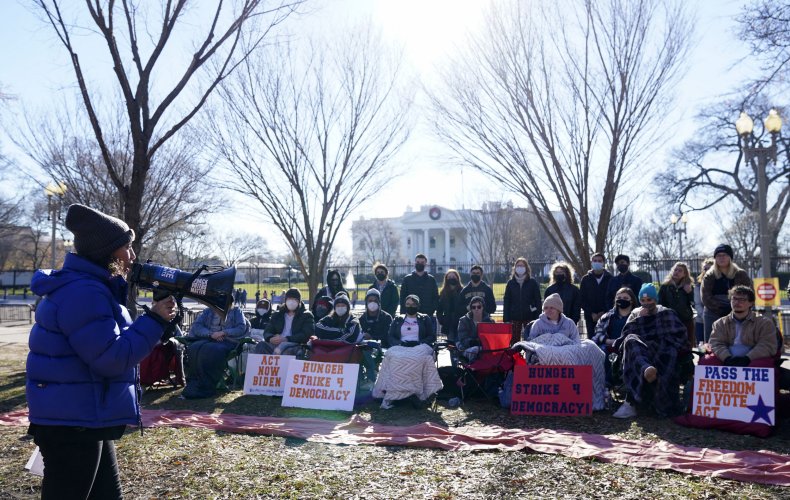 However, as the battle to abolish the filibuster and pass the Freedom to Vote Act heats up, Un-PAC declared that they would once again take up their hunger strike.
"Protecting our democracy is NOT a partisan issue, and ALL of our voting rights are under attack by dark money and a broken, outdated voting system," Un-PAC stated on its website. "Conservatives, independents, moderates, liberals, and progressives are coming together to plead for federal intervention. President Biden and the US Senate must prioritize saving our democracy and passing the Freedom To Vote Act this year."
This concern for getting the act passed seems to be paralleled by many liberals across the country, including some Democratic politicians. Notably, voting rights activist and former Georgia gubernatorial candidate Stacey Abrams chose to skip a speech on the subject that was given by President Biden on Tuesday.
A number of voting rights activism groups also boycotted the speech, with one coalition in Georgia calling the president's speech an unnecessary "photo op."
As some Democrats begin to show their frustration with the roadblocks seen by the bill, Un-PAC's hunger strike looks primed to get underway, and it could be for the long haul. An Un-PAC spokesperson told Newsweek that the group's hunger strike will be "indefinite" until the Freedom to Vote Act is passed.
Additionally, the group provided Newsweek with a message that it had for senators: "The overwhelming majority of Americans agree that we should get dark money out of politics, ban partisan gerrymandering, and protect our freedom to vote, and we cannot let the broken filibuster, which was not a part of the original Constitution and has been changed over 160 times in US history, stand in the way of that."
"We are restarting our Hunger Strike for Democracy to plead that our Senators share our sense of urgency and pass the Freedom To Vote Act, before it's too late. Our futures hang in the balance of their decision, and our Senators have a responsibility to represent their constituents and pass this legislation, rather than be skewed by the broken, partisan divide in the US Senate," the statement continued.
Hunger strikes have often been used by activist groups in the past to generate awareness on a variety of issues, and Un-PAC does not appear to be alone.
At least two dozen Black pastors began a hunger strike on Monday, The Independent reported, in a similar effort to urge Congress to pass voting rights legislation by the end of the month.