College Student Who Battled Coronavirus for 29 Days Graduates Top of Class
University of Victoria student Chelsea Kutyn finished top of her class, despite contracting coronavirus and having to fighting off the disease for weeks.
Talented operatic soprano vocalist Kutyn was enrolled in UVic's bachelor of music program, and living at home in British Columbia, Canada, when she felt coronavirus symptoms in mid-March. The student immediately quarantined herself in her bedroom to keep her fellow students and family safe.
Kutyn's symptoms proceeded to worsen over the next few days. "It felt like when you get your blood pressure taken and they put that band around your arm and it puffs up, that immense sense of pressure. It felt like that around my entire chest cavity," she told CHEK News 10.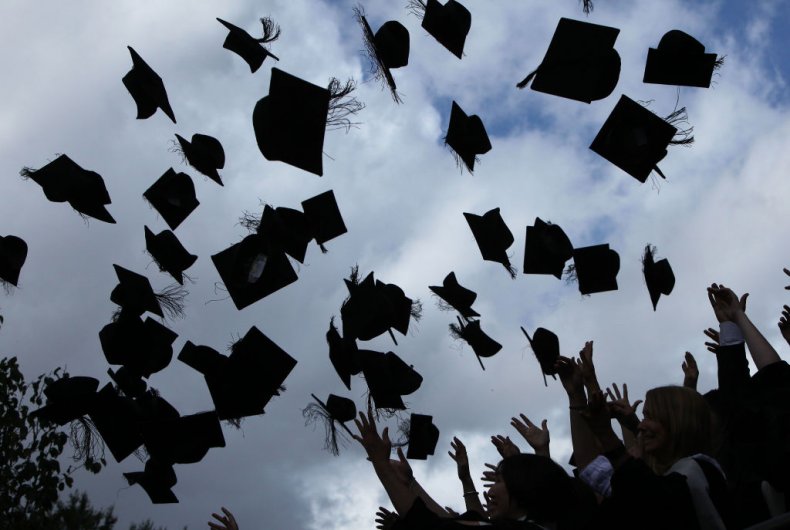 Kutyn's only contact with the outside world for 29 days was speaking to her family and her boyfriend on the phone, and looking through her glass sliding doors. Her mom would set food out for her in front of her room and leave before she opened the door.
"I'd have to stop to take a breath and sit down even between my bed and the doorway, which is five feet maybe? It was just that difficult to breathe," said Kutyn.
The student's mom found it very hard to watch her daughter's heath deteriorating, knowing there was nothing she could do to prevent it. "I was terrified, absolutely terrified," said her mom Cindy.
"I thought being young, 27, relatively fit, and with a super, super fit respiratory system because of all of my singing, I thought I would not catch it, but I was seriously sick in bed," she said.
The graduate is hoping to continue her academic studies this fall, in a voice performance course in Winnipeg.
People in the 20- to 40-year-old demographic now make up the most coronavirus cases in a particular age bracket in British Columbia, according to the B.C. Centre for Disease Control.
BCCDC advises people to remain vigilant, keep social distancing, regularly wash hands and wear face coverings while in public. That said, advice has been ignored recently, with mass gatherings like the one on Vancouver beach last week, which saw around 100 people taking part in a party of live drumming and dancing.
"Outside is less risky but not zero risk so we're appealing to people to remember that and keep your group small, keep safe distance from other small groups, then you can enjoy the beaches and the sunsets and the water," said B.C. Provincial Health Officer Dr. Bonnie Henry, reported local news outlet CHEK News 10.