College Students Blast Online-Only Tuition Fees, Accuse Schools of Being 'Capitalist Business'
Students at colleges across the U.S. are petitioning their schools to reduce tuition costs for online-only courses, accusing administrators of exploiting unused fees and operating more like "capitalist businesses" than centers for education.
Dozens of petitions signed by university students, graduate assistants and parents are demanding U.S. colleges stop floating "safe reopening" COVID-19 pandemic plans which they view as unlikely, if not just a tactic to delay talks on tuition refunds.Tens of thousands of students ranging from the University of Maryland to Michigan State to the University of Southern California have signed petitions demanding a reduction in tuition prices as their schools have pushed back or canceled in-person campus classes due to coronavirus pandemic concerns. Students say remote learning, video lectures and zero on-campus interaction with their peers should not equal full-price tuition.
Only a handful of private and public schools have reduced tuition by between 10 to 15 percent, as administrators say their "world-class" faculty and online services justify traditional tuition costs.
"You're paying that price tag because colleges bring students from all over the country together, to experience different cultures," MSU senior Tyler Weisner, who started a petition seeking mandatory tuition fee reductions told the Associated Press. "People don't just choose strictly off education or the professor. They want a nice place to live and a new experience."
"The administration appears to have no contingency plan for if we do go entirely online this fall - the educational experience is simply not the same," said Callie Struby, a graduate student at the University of Maryland, who started a petition alongside several of her peers demanding the school, "Reduce UMD Student Fees for the Remainder of the COVID-19 pandemic!"
Struby told Newsweek Saturday she just wants to hear a solid timeline from Maryland administrators about "here's what you'll get back," should they decide to go all-online after September 14. Currently, UMD has delayed all in-person instruction through that date. Struby joined college students and teaching assistants across the U.S. who say administrators have been ambiguous about whether mandatory fees for things like parking and athletics will be refunded, particularly given the Big Ten canceled its entire 2020 football season.
"There's a pattern of exploitation in shifting the burden to students," Struby told Newsweek. "Particularly in fees you wouldn't benefit from because things like athletics are not happening ... I have my doubts about whether administrator's reopening plans will work."
"I think it's ridiculous," said Mackenzie Holland, a freshman at the University of North Carolina, in an interview with the AP Saturday. "All of those funds go to things that are specifically on campus, and I can't utilize any of those things."
Some students have taken to social media to criticize their university leadership for what they see as capitalizing and cashing in on the pandemic.
"Hey Kent I have a few questions so why did parking passes increase when we have mostly remote classes? Also why did tuition increase and why are we paying a distance learning fee as if any of us chose to be remote? Making college kids pay more during a pandemic," asked Ryan Leflar, a student at Kent State University in Ohio. "[It] shows you aren't truly about education or the bettering of your students. You're just a capitalist business trying to make money by treating your students like numbers."
Lawsuits emerged last spring from students seeking partial refunds over online-only courses, which began in March after the onset of the coronavirus pandemic. Many schools teaching online-only, remote courses such as Harvard and Michigan State University have outright refused to lower tuition costs.
"Regardless of the format of instruction, MSU is delivering what students pay for: courses taught by high qualified and world-class faculty, tutoring services, office hours, academic advising and access to our libraries," spokeswoman Emily Guerrant told the AP, defending the current prices of tuition at Michigan State.
"The faculty are working very hard whether they are teaching in person or an online class," Illinois State University spokesman Eric Jome told The Pantagraph newspaper. "It's the same amount of work, and in many cases more work, to prepare an online class."
An Indiana University spokesman told Newsweek Tuesday the school's budget is approved by the Trustees and set into law two years in advance - although state legislators can always cut the budget back. But in spite of this, IU offered cost reductions to all students who signed up for online-only courses given they won't be utilizing campus resources.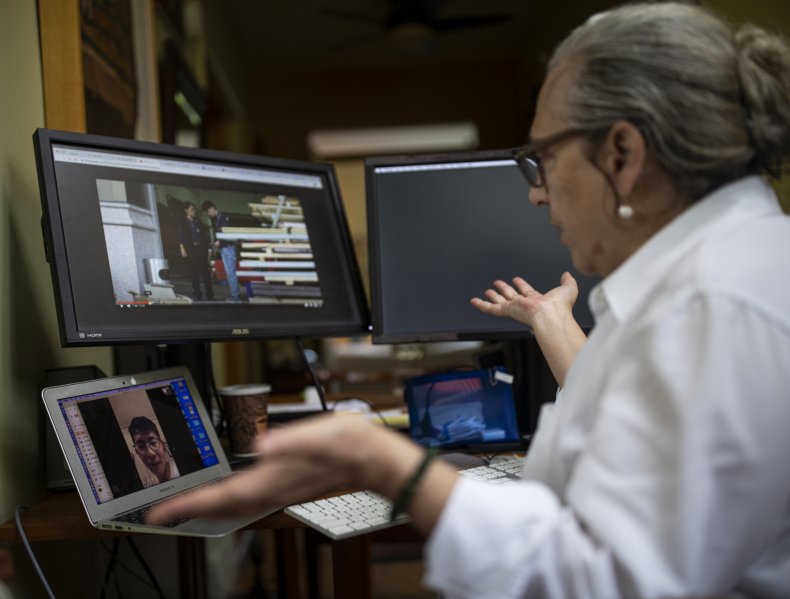 Only a few top-tier private institutions including Princeton University and Georgetown University have instituted 10 percent tuition cuts, although these schools already charge in excess of $50-70,000 a year. Many schools say tuition and fee cuts would force colleges to draw from already depleted state budget funds - adding to an already massive loss in housing revenue.
"Room and board is a significant piece of our revenue for the year, but this decision was really driven by putting the health and safety of our students first," said Laurie Koehler, vice president for marketing and enrollment strategy at Ithaca.
ISU's website bluntly states the school's stance on pandemic costs: "Tuition and fees will not be refunded in the event instruction occurs remotely for any part of the 2020-21 academic year."