Through the Education at Work program, students working 16 hours a week can earn up to $21,000 to put toward their college tuition.
Education at Work (EAW), a nonprofit organization, aims to bridge the gap between higher education institutions and companies. By serving as a liaison of sorts between the two entities, EAW helps businesses fill employment needs and gives students an opportunity to work at resume-building positions while receiving tuition assistance.
For some higher education institutions, the past 30 years have resulted in a double or triple increase in costs for students. The financial burden associated with getting a degree has caused an estimated 45 million people to accumulate $1.6 trillion in student loans. Legislators at state and federal levels have proposed plans to alleviate the cost associated with higher education. As lawmakers debate the issue, students returning to several campuses for the new fall semester have an established option to meet their financial needs.
To receive tuition assistance through Education at Work, students not only have to work 16 hours a week at their assigned position, but also maintain a quality grade point average (GPA). To receive the full $5,250 per year in tuition assistance, students must have a 3.3 GPA.
"We know that it isn't just about the performance at EAW but it's also important to showcase academic performance and their university studies," Scott Blevins, EAW's Senior Vice President of University Partnerships and Student Success, told Newsweek. "We want students to be high performing and we want students to go on to bigger and better things post their employment at EAW."
Students looking for a way to earn money by working during school and participate in EAW's tuition assistance program fill out an application and go through a series of interviews. Through the interview process, students upload their class schedule, as well as, any extracurricular commitments they have and EAW works to organize their professional responsibilities around their academic ones. It's a process that Blevins credited to being "half art" and "half science."
Depending on the partnership, students either work at the company's facilities or at an on-campus business center. A variety of industries are represented in EAW's pool of Fortune 500 companies, which includes Microsoft and Discover.
"This is true, real-world applicable, entry-level work that a lot of these students are doing," Blevins said. "At the end of the day, this is their chance to audition for those companies and really have an opportunity as a student post-graduation."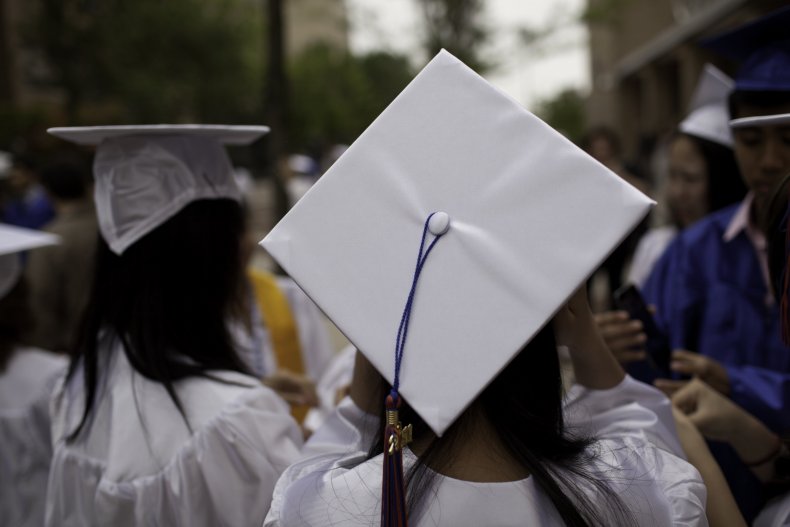 Emily Harris, a sophomore at Arizona State University, told Newsweek that EAW was able to fill the gap in tuition she had after her father lost her job and was no longer able to finance her education fully. Having worked other on-campus jobs, she credited the program with helping her pay for college and also giving her the opportunity to interact with different people.
As a student in the Honors College, she said most of the people she spends time with are in her major and like-minded. At EAW, Harris is around people from different majors who hold different majors, giving her a chance to "grow every day."
Tuition assistance is on a pay forward system, so if a student works over the summer, they receive tuition assistance for the fall semester. Fifty percent of the tuition is awarded on the basis of them following through on their commitment to work when they say they'll work and 50 percent is based on their GPA.
Students fill a variety of customer-facing positions, including technical support and troubleshooting and customer service. While the goal is to have EAW participants work for 18 months or longer, Belvins said there's "no smoke and mirrors" as to how they pay and students can continue in the program for as long as they choose. Currently available at four campuses–Northern Kentucky University, Arizona State University, Mount Saint Joseph University and the University of Utah–Blevins explained the company hopes to keep expanding to provide opportunities to more students.