College Umpire Suspended Over 'Horrific' Game-Ending Strike Call
There are questionable calls by officials in sports, and then there's the downright bizarre like what happened Friday night in a college baseball game. It has the internet buzzing and the umpire on indefinite suspension.
The game between Mississippi Valley State University at the University of New Orleans came down to the top of the ninth. The UNO Privateers led Valley, 7-3, with two outs. MSVU left fielder Davon Mims was at the plate to keep any potential Delta Devils hopes alive.
Mims had a count of one ball and one strike. UNO pitcher Trey Usey fired a pitch that was a low, borderline ball or strike, in which home plate umpire Reggie Drummer called a strike. Mims, clearly upset at the call, began jumping up and down in frustration.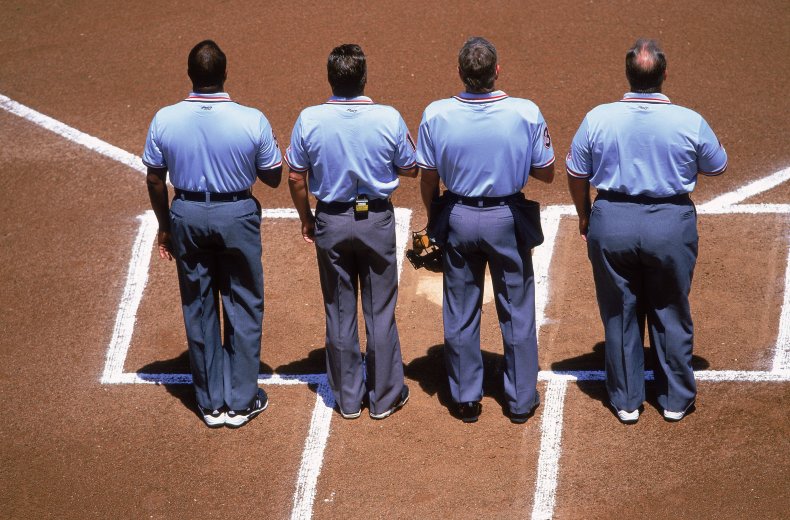 With a 1-and-2 count, Usey threw a pitch low and outside, clearly a ball and wanting Mims to chase it, which he didn't.
Drummer rung him up on a called third strike and Mims lost it. UNO catcher Jorge Tejada looked like he was about to throw the ball back to Usey before realizing the game ended. Tejada then went to calm down his opponent as Drummer briskly departed the field. Here's the video seen more than 3.8 million times so far.
Even the announcer heard on the video was in disbelief.
"That's down — oh my gosh! Wow, he got rung up on ball two and the game is over! Oh my goodness, that is horrific," the announcer said.
The Southland Conference, to which the umpires are associated with, issued a statement Saturday evening saying that Drummer has been suspended.
"After a thorough review of the New Orleans and Mississippi Valley State baseball contest on March 10, 2023, the Southland Conference confirmed the home plate umpire's conduct and actions were deemed detrimental to the Conference and in violation of Section 3 Character and Conduct of the CCA Mechanics Manual for Baseball.
"As a result, the umpire has been removed from the series and has been suspended indefinitely from Southland Conference baseball games."
Usey closed out the game for New Orleans with three shutout innings.
The Privateers won the game Saturday by a football score of 35-3, and Drummer was not listed among the umpires, per the UNO box score from its website. The teams wrap up their weekend series Sunday afternoon at Maestri Field in New Orleans.
Newsweek reached out to the Southland Conference for further comment.