Thousands of Academics Sign Petition Against Trump's Immigration Order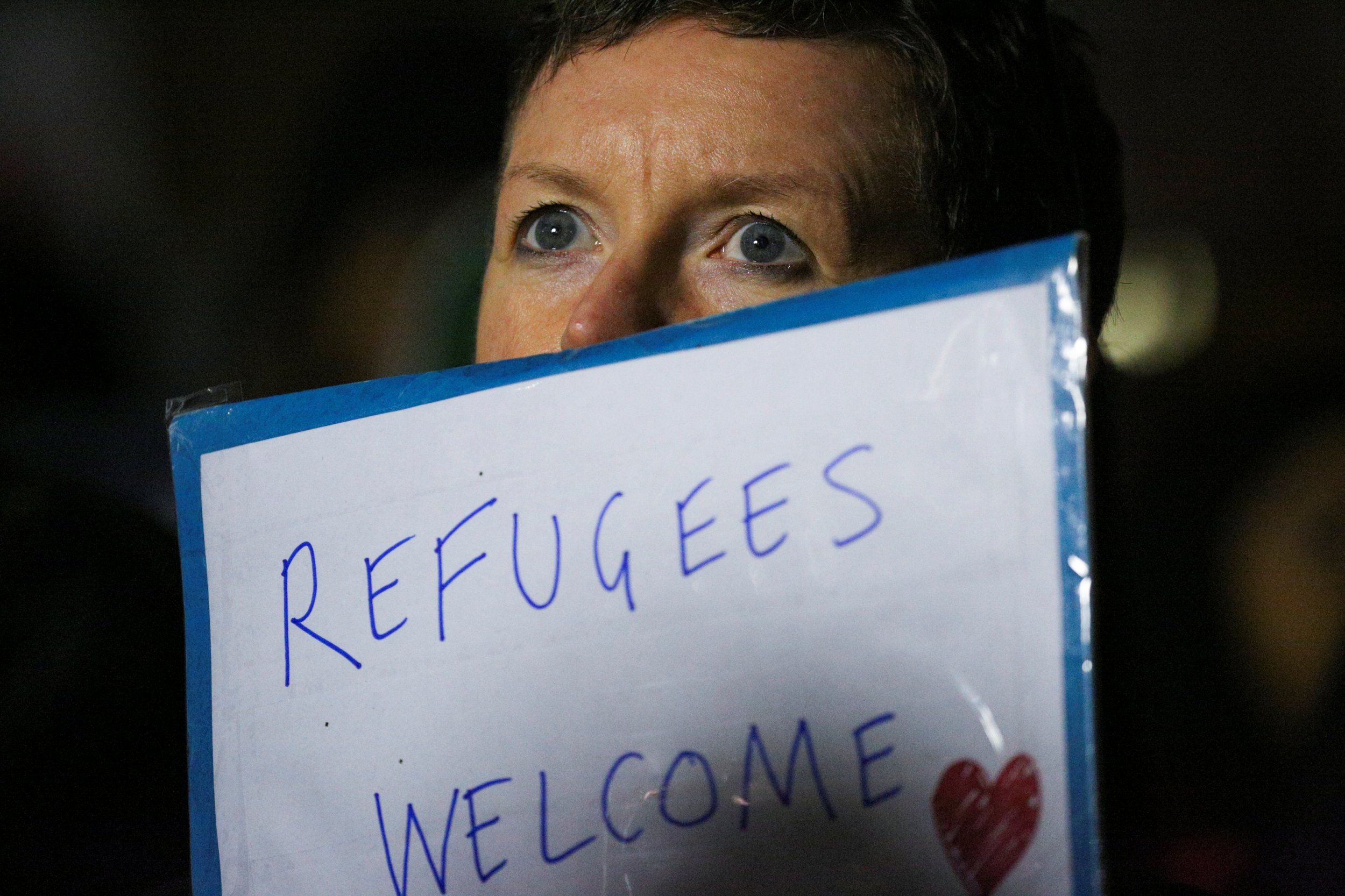 Thousands of elite college professors, Nobel laureates and others in academia have signed a petition against President Donald Trump's executive order that halts the U.S. refugee resettlement program and prohibits people from several Muslim-majority countries from entering the United States.
Organizers announced the petition last Friday, the day Trump signed the order. As of Monday afternoon, the petition had more than 19,000 names. "The Executive Order places a harsh and undue burden on the people affected," the organizers said in a press release. "These are people the letter's signatories are proud to call friends, colleagues and members of their community—what they will be subject to under this Executive Order is inhumane, un-American and entirely disproportionate to the threat it is purporting to address."
Related: What does the stay on Trump's deportation order mean?
"The academic world thrives on free exchange of ideas, the influx of people, of talent and people who want to get an education," says Jonathan Chenette, interim president of Vassar College, who signed the petition while traveling for alumni events in Paris and London. "We have a large number of international students, a large number of international faculty, and the whole way the executive order was rolled out threw people into uncertainty and confusion."
Chenette says concerned faculty members, students and parents of students have inundated him with emails about the executive order. Those included a faculty member who has a green card and is worried about leaving the country to attend a conference, as well as students from predominantly Muslim countries. Some students even asked Chenette if he would make arrangements for them to finish their degrees overseas, should they not be allowed to stay in the U.S.
"That's just a tragedy when we have people feeling like the rug is being pulled out from under them, who are here in good faith, who have a lot to contribute to the educational environments at our schools," he says.
Forty Nobel laureates, 37 winners of awards such as the Pulitzer Prize, more than 7,000 U.S. faculty members and more than 12,000 others in academia had signed the petition as of Monday afternoon.
The academic community is among those protesting Trump's order, which suspends entry to people from Iran, Iraq, Libya, Somalia, Sudan, Syria and Yemen for at least 90 days; suspends the refugee admissions program for at least 120 days: calls for the refugee program to "prioritize refugee claims made by individuals on the basis of religious-based persecution, provided that the religion of the individual is a minority religion in the individual's country of nationality"; and suspends entry to people from Syria indefinitely, among other actions.
The order has already had an impact on college students and others in academia. Iranian scholars Seyed S.S. Saravi and Samira Asgari were prevented from entering the country, upsetting their plans to conduct research at Harvard Medical School, according to The Harvard Crimson. And a Stanford University graduate student who is Sudanese and has a green card was detained at John F. Kennedy International Airport, where she was traveling from Sudan, The Stanford Daily reported.
After Trump signed the order, news spread that authorities were detaining travelers, and demonstrators gathered at airports to protest. On Saturday night, a federal judge in New York City ordered a stay on the deportation of people under the executive order, saying such deportations could cause "irreparable injury" and might be unconstitutional. However, authorities have continued to detain people.
The U.S. Department of Homeland Security responded to the judge's order with a contradictory statement, saying it would "comply with judicial orders" but also noted that "President Trump's executive orders remain in place."
In November, college students demonstrated against Trump's calls for stricter immigration procedures, demanding that school officials designate sanctuary campuses. They cited a 2011 memo by U.S. Immigration and Customs Enforcement saying the agency should avoid arrests, interviews, searches and surveillance at "sensitive locations such as schools and churches," except under certain circumstances. Some college presidents vowed to protect students from such actions, while others said the law did not allow them to do so. Students at nearly 200 schools have made such demands.