Collins, Manchin Will Confirm Xavier Becerra, Likely Ending Debate on Controversial HHS Nominee
Republican Senator Susan Collins of Maine and Democratic Senator Joe Manchin of West Virginia both announced on Thursday they will vote to confirm President Joe Biden's nominee Xavier Becerra as Secretary of Health and Human Services (HHS).
"Although there are issues where I strong disagree with Mr. Becerra, I strong believe he merits confirmation as HHS secretary," Collins said in a statement. "I look forward to working with the Department to achieve bipartisan results on behalf of American people."
Becerra's confirmation process has been lengthy, causing Democrats and advocates to feel increasingly urgent about assigning a leader to address pressing issues such as school reopenings and the worsening immigration situation at the nation's southwest border.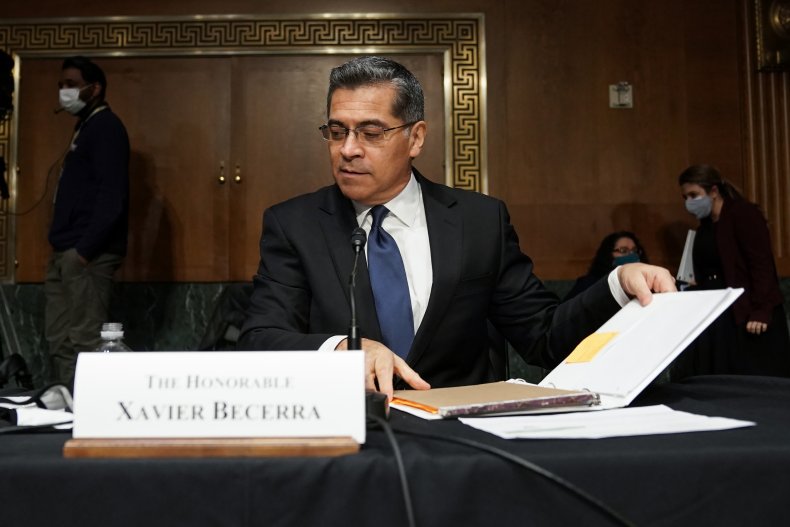 Becerra needed all 48 Democratic senators and two independents who caucus with them to secure the confirmation if Republicans voted unilaterally against him. Controversy marked Beccera's Senate confirmation hearing, prolonging what could have been an easy process given Democrats' slim majority in the chamber. Becerra has received some harsh pushback, and the opposition questioned his credentials, defense of abortion and support of the Affordable Care Act.
Senate Majority Leader Chuck Schumer then used a rule on Wednesday that pushed Becerra's nomination out of the Senate Finance Committee early for a vote on the Senate floor on Thursday, according to Fox News.
Senate Minority Leader Mitch McConnell rebuked Schumer "plucking" Becerra's nomination out of the committee without securing bipartisan consensus first.
"He is such a thoroughly partisan actor with so little subject-matter expertise and such a demonstrated history of hostility toward basic values like the freedom of conscience," McConnell said on the Senate floor on Thursday.
But with Collins' and Manchin's votes now assured, Becerra is virtually certain to get the job.
"While Attorney General Xavier Becerra and I have very different records on issues like abortion and the Second Amendment, he has affirmed to me his dedication to working with members on both sides of the aisle to address the impacts of the COVID-19 pandemic and the numerous needs of our nation in a bipartisan way," Manchin said in a statement.
Despite their support for the nominee, both Collins and Manchin have sticking points with Becerra.
Collins pressed Becerra during his Senate confirmation hearing on the urgency to reopened schools. She stressed that the Biden administration has been too slow to put students back in classrooms and is risking emotional and academic gaps among students.
In her statement, Collins wrote she has continued her conversation with Becerra regarding school reopening, and engaged with him through a one-on-one meeting and subsequent conversations. She said she is "looking forward" to working with him regarding the issue of schools and has shared goals with Becerra on lowering prescription drug prices and reducing dependent on foreign countries for drug manufacturing.
Manchin wrote that he and Becerra have "very different records" on abortion and the Second Amendment, but "he has affirmed to me his dedication to working with Members on both sides of the aisle to address the impacts of the COVID-19 pandemic."
Manchin cited Becerra's "proven record" of support for the Affordable Care Act and effort to address the "drug epidemic" in states like West Virginia as reasons for his support. He added Becerra's commitment to include Hyde Amendment prohibitions on abortion funding in laws contributed to his decision.
Newsweek reached out to Manchin and Collins for comment but did not receive a replied in time for publication.