Federal Judge Orders Oklahoma Company to Stop Selling Colloidal Silver as a Coronavirus Treatment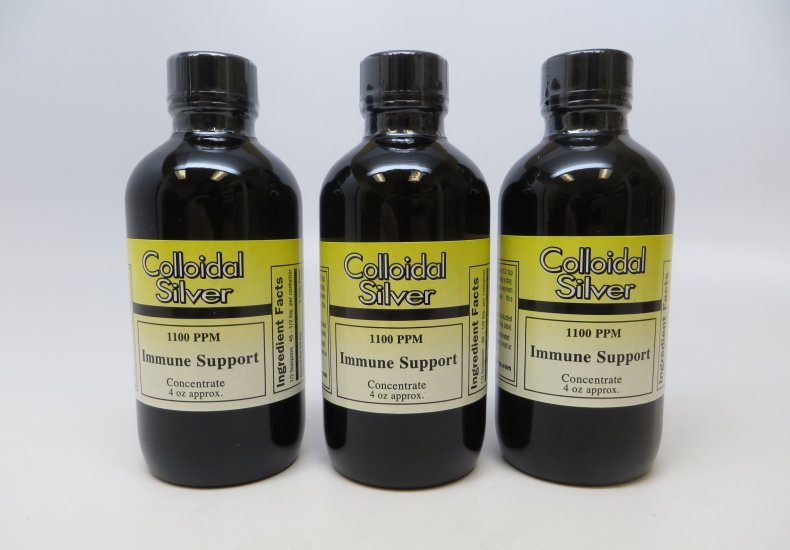 A federal judge has ordered an Oklahoma company to stop selling colloidal silver on its website as a cure for COVID-19, a disease that has "no drugs or other therapeutics presently approved" for treatment or prevention, according to the Food and Drug Administration (FDA).
In March, the FDA sent a warning letter to Brad Brand, Derrill Fussell and Linda Fussell, who prosecutors said own the Oklahoma-based company Xephyr LLC, instructing them to remove false coronavirus-related claims from the company's website, N-Ergetics.
A request for comment sent to an e-mail address associated with Xephyr was not returned.
The Department of Justice says that the South Central Oklahoma retailer marketed colloidal silver to treat the novel coronavirus in violation of the Federal Food, Drug, and Cosmetic Act of 1938.
The law prohibits, among other things, the sale of unapproved or misbranded drugs. By definition, the law deems these products misbranded unless they receive preliminary approval from the FDA, which was not obtained in this case, according to prosecutors.
Until recently, Xephyr marketed colloidal silver as a panacea for various ailments, including the "Wuhan China 2019" novel coronavirus, swine flu, cholera and the bubonic plague.
On the N-Ergetics website, promotional material indicated that these diseases only respond to "non-pharmaceutical" interventions, suggesting they might be cured with an "over the counter supplement." Without specifying what this "supplement" was, the website linked to a separate page where colloidal silver could be purchased.
"If colloidal silver has killed coronavirus strains in past laboratory test, then the current coronaviruses should also be killed," the website stated.
The FDA says that colloidal silver products—essentially, microscopic silver particles suspended in a liquid—are undergirded by "a lack of adequate data" needed to demonstrate their safety and effectiveness in over-the-counter use.
According to the Mayo Clinic, excessive doses of colloidal silver "can cause possibly irreversible serious health problems," such as kidney damage and neurological issues.
Brand and the Fussells were not criminally charged; however, violations of the Food, Drug, and Cosmetic Act could result in a potential one-year prison term for each count, if such a prosecution were to be undertaken.
"The facts leading to this civil action underscore the importance of exercising extreme caution when dealing with people making claims to have a cure-all," Brian J. Kuester, the U.S. attorney for the Eastern District of Oklahoma, said in a news release. "National disasters bring out the best of many Americans. Unfortunately there are those who seek to take advantage of the fear and anxiety caused by widespread disasters, such as the Coronavirus, that may cause people to be more vulnerable to fraudulent claims."
A landing page for N-Ergetics now reads, "due to the FDA and the DOJ's requests, this site has been removed." The site is offering anyone who has placed an order in the last three months a refund.
This is not the first time the Department of Justice has cracked down on false claims involving COVID-19 and colloidal silver. In late April, the department successfully petitioned a federal judge to shut down a Utah-based operation selling silver products allegedly intended to treat COVID-19.
And the FDA frequently moves to restrict sales of a variety of products marketed as coronavirus treatments.
In conjunction with the Federal Trade Commission, the agency sent letters to seven companies, including Xephyr, in March, warning against marketing common products as effective COVID-19 remedies. At least 50 of these warning letters have been sent during the course of the COVID-19 pandemic, condemning sales of items such as cough syrups, essential oils and elderberry tinctures.
The FDA says it considers the sale of fake COVID-19 cures a "threat to the public health."