'Collusion' Among University's Words to Ban in 2019
For the second consecutive year, Lake Superior State University has included a term used by President Donald Trump on its annual list of words to banish.
In its "List of Words Banished from the Queen's English for Mis-use, Over-use and General Uselessness," the Michigan university said "collusion" should be banished from the public's vocabulary in 2019.
Trump has repeatedly tweeted about "collusion" in reference to allegations of Russian meddling in the 2016 election, which special counsel Robert Mueller is investigating. The president has tried to discredit the Mueller probe as a "witch hunt" and said his campaign did not collude with Russia. He tweeted about it on Saturday, writing, "'Absolutely nothing' (on Russian Collusion). Kimberley Strassel, The Wall Street Journal. The Russian Collusion fabrication is the greatest Hoax in the history of American politics. The only Russian Collusion was with Hillary and the Democrats!"
The president posted 310 tweets about the investigation in 2018, Politico reported Monday.
Two other political terms were included on the list: "OTUS" acronyms such as "POTUS" and "FLOTUS," and the "most important election of our time," which was widely used prior to the midterm elections.
The other words and terms nominated were "wheelhouse," "in the books," "wrap my head around," "platform," "ghosting," "yeet," "litigate," "grapple," "eschew," "crusty," "optics," "legally drunk," "thought leader," "importantly" and "accoutrements."
John Shibley, a university spokesman, told the Associated Press that the list was not created to express political opinions.
"It's a raw unpopularity contest. Folks nominate words and phrases for banishment, and whatever floats to the top wins a spot on the final list," Shibley told Newsweek. "We collect nominations all year through our Word Banish Facebook page, and a banishment submission form on LSSU's website." Those seeking to nominate a term can submit it through a Google form that asks for an email address and a word to banish. A reason for banishment and additional personal information can also be included.
The Associated Press reported that last year's list included "covfefe," which came from a Trump Twitter typo.
The list was started by W.T. Rabe, a former public relations director at the university, on New Year's Eve in 1975.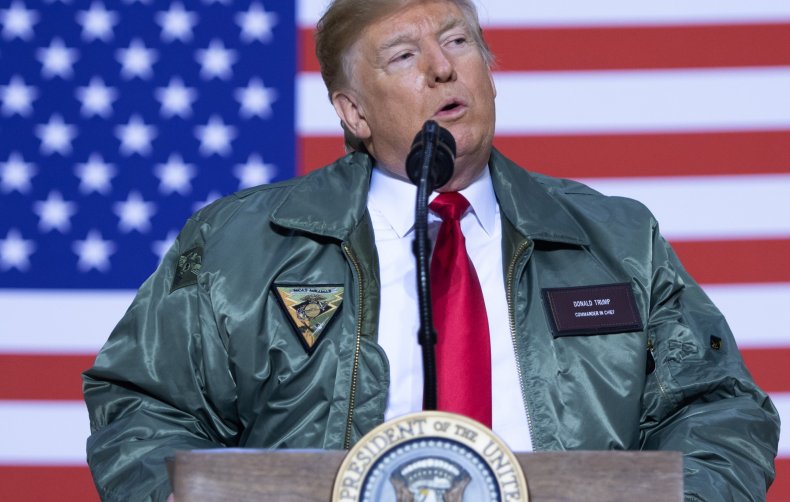 The banishment list is the latest dictionary-related collection to include a political term.
In November, Dictionary.com announced "misinformation" as its word of the year.
In 2017, Collins Dictionary named "fake news" as its word of the year.