On April 28, 2011, Victor Burgos went out after lunch to pick the corns of pepper plants growing on his farm in Putumayo, Colombia, when a plane flew overhead and dumped a fine spray of liquid all over his land. Within a year, he lost more than half of his food crops—primarily peppercorn, but also yucca, pineapple, plantain and more. His yearly income dropped nearly 80 percent, while the soil of his 250 acres overlooking dense tropical forests is now irrevocably polluted. His water sources are contaminated too.
The plane, he later found out, was flown by the counternarcotics division of the Colombian National Police, and the spray was an herbicide meant to eradicate illicit crops like the coca plants used to make cocaine and opium poppy; the fumigations were a part of the notorious—and notoriously ineffective—"Plan Colombia."
Plan Colombia is a joint effort by the Colombian and U.S. governments, initiated in 1999 to end the armed conflict, ongoing since the 1960s, between left-wing guerrilla groups like the Revolutionary Armed Forces of Colombia and governmental forces. The rebels got a lot of their funding from those illegal crops, and the government wanted to cut it off.
But for years, the plan has proved fruitless, according to the Washington Office on Latin America. Though 4.32 million acres have been sprayed since 1994 (when test fumigations began), the program has had very little success in stopping coca production. If anything, it backfired; the coca fields continued to flourish. In 1997, Colombia became the world's primary cocaine producer and held that title for 16 years. According to the United Nations Office on Drugs and Crime, from 2013 to 2014, the total cocaine production in Colombia rose 52 percent, from 290 to 442 metric tons.
Meanwhile, more and more evidence suggests the herbicide used, glyphosate, is toxic. The U.S. Environmental Protection Agency says long-term exposure can cause respiratory problems, kidney damage and infertility; in March 2015, the World Health Organization's International Agency for Research on Cancer ( IARC) put out a report suggesting that it causes cancer. Despite the criticism the report garnered from some (including many inside the agrochemical industry) for relying on relatively thin evidence, Colombia's Narcotics Council agreed to stop the fumigation plan. After nearly 20 years of international and local pressure, Colombia may finally stop spraying carcinogens on its own population in October. Until then, the poison rain continues to fall.
When Plan Colombia was first proposed, 90 percent of the cocaine consumed in the U.S. was from Colombia, and an initial $1.3 billion "aid package" was heartily endorsed by both sides of the congressional aisle during the Clinton administration. For years afterward, Plan Colombia seemed immune to criticism by international human rights and environmental organizations; rejection by the European Union, which in 2001 voted against supporting the plan; and even condemnation by some members of the U.S. Congress. Despite the arguments and data showing that the aerial fumigation at the center of the anti-narcotic strategy was destroying legal crops and causing adverse health effects to innocent people, the program grew. President George W. Bush expanded the plan, and since then even more money flowed in; the total is now close to $9 billion.
Much of that money has been spent spraying the land of innocent farmers. "There is absolutely zero percent coca here," says Burgos, of his farm, "but you'll still find 100 percent poison." After his spraying incident, a major from the anti-narcotics base nearby told Burgos not to worry—the herbicide does no harm, he said, and laughed that soldiers at the base "bathe themselves with glyphosate." Nevertheless, Burgos lodged a legal complaint, and a representative of the Secretary of Agriculture confirmed that his crops had been fumigated. But after five months of fighting for compensation, the departmental judicial authority told him "not to bother."
"Here, you don't have the right to live," says Burgos. "They fumigate you when [you are] in bed. The plane throws chemicals on you if you're outside with your family. They don't respect life and human rights." Colombian locals are often displaced from their homes and communities by the violent regimes, left to fend for themselves, without any help from a state unable (or unwilling) to provide even a basic level of services. Burgos began life as a farmer in the central Colombian department Caldas and was forced to leave decades ago because of conflicts. He started over as a farmer near Puerto Guzmán, in Putumayo, in what has become Colombia's most fumigated area. When the government destroyed his livelihood, he was wrecked, he says, "physically, morally and psychologically."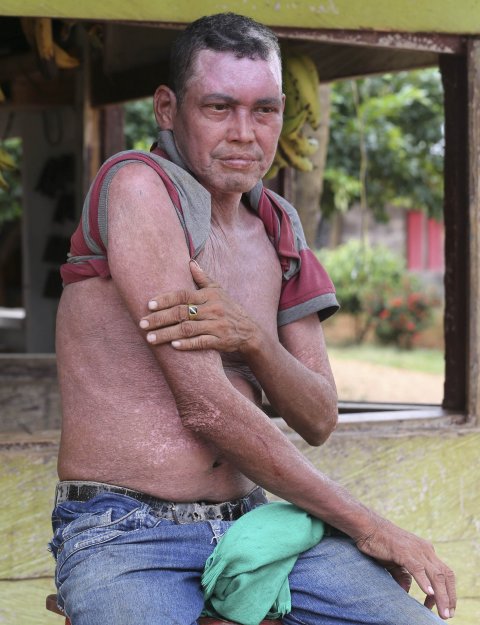 The initial thinking was that by flying through the air, military personnel would avoid the risks (land mines, insurgent troops) that come along with trying to destroy coca fields on the ground. But while aerial fumigation might be safer for the military, it's been a disaster for farmers. Imprecise fumigations of the sort that befell Burgos are common. The people have been "sprayed like cockroaches" says Noel Amilcar Chapuez Guevara, governor of the council of Awa Tatchan, one of the many indigenous farming communities in Putumayo.
Often, wind would carry the pesticides to neighboring Ecuador, which eventually filed a lawsuit at the International Court of Justice in the Hague, arguing that the sprayings had caused serious damage to people, crops, animals and the environment. In 2013, the case was settled out of court for $15 million. But Colombia's citizens and victims have never seen a single peso for the damage done by the fumigations.
The military might tell you that many of these farmers are, in fact, growing coca. But that doesn't necessarily mean they're making cocaine. Some of the indigenous groups in Colombia have a long cultural history with the coca leaf, which in its natural state is not a narcotic, and is used and consumed for religious, medicinal and nutritious reasons. It's not uncommon for subsistence farmers to have a few coca plants next to their food crops. But to those in charge of Plan Colombia, a coca plant is a coca plant, whether it's on a small patch of land cultivated for cultural purposes, or on a massive cocaine-producing plantation meant for shipment north.
Even when the military gets it right and targets criminal cocaine ventures, the effort is often wasted. Coca growers always find solutions to avoid the impact of a glyphosate dousing. Some growers will apply chemicals that neutralize the effect glyphosate would normally have on the plant. Some will wash the leaves after the sprayings. Others have even genetically constructed stronger, more resistant coca plants that stand up to the glyphosate.
Meanwhile, 20 years' worth of damage has been done to Colombian land and to the farming families that used to live off it and are now struggling to survive. In areas of extensive fumigation, death of cattle and crops has created mass poverty (according to the country's National Administrative Department of Statistics, 44.7 percent of rural Colombia lives below the poverty line). And Daniel Mejia, an economist at the University of Los Andes in Bogotá, says that the consequences of glyphosate fumigations range from serious rashes and other dermatological problems to miscarriages, fetal deformities and long-lasting mental health disorders.
For the people of Putumayo, the government's announcement that it will end fumigations this fall was cold comfort, especially while there is no compensation coming their way. And airplanes are still dropping poison from the sky.