Colombia Picks President for More of the Same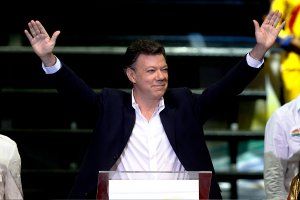 In the increasingly competitive arena of Latin American democracy, electoral landslides are growing rarer. But the crushing victory on June 20 of Juan Manuel Santos, who bested former Bogotá mayor Antanas Mockus by more than two to one in the runoff race for the Colombian presidency, is one for the pundits' seismographs. Santos, a former defense minister, took 69 percent of the ballots to his Green Party rival's 27.5 percent, sweeping voters from the glistening capital to the Andes to the Caribbean coast. With 9 million votes, he eclipsed outgoing President Álvaro Uribe, who set a record in 2006, winning 7.3 million ballots.
On paper, this is hardly a surprise. A former defense minister and scion of an influential family, Santos is not just a political force but something of a Colombian institution. His uncle, Eduardo Santos Montejo, was president from 1938–42. Relatives and immediate allies control the nation's two major news organizations, including Semana, the weekly edited by his cousin Alejandro Santos, and the leading daily, El Tiempo, which the Santos's once owned outright and of which the family are now major shareholders. Most important, the incoming president carried the blessings of President Uribe, whose own bid for an unprecedented third mandate was struck down in February down by the electoral court. Uribe tasked Santos with executing Uribe's successful "democratic defense" policy, cracking down on terrorists and bandits and chasing guerrillas into the jungle. For this nation of 45 million, which just a decade ago was a careening toward the junk pile of failed states, that kind of resume carries clout.
And yet Santos's victory seemed to catch many Colombians by surprise. Political analysts will spend the next days and weeks parsing the vote. The balloting was partially marred by flash floods in the highlands and violent clashes between insurgents and security forces that claimed 10 lives. Nearly half the 29 million registered voters stayed away from the polls, a high but not unheard-of rate of abstention for Colombia. But it doesn't take a political science degree to see what was going on in one of Latin America's most stable democracy.
In the run-up to the elections, Colombians were said to be ready for change. They wanted to preserve the peace and prosperity of the Uribe government, but they pined for something more. Polls showed voters valued the achievements of Uribe's eight-year presidency—a time when kidnappings fell 80 percent, the FARC insurgents were pushed back to the jungle, foreign investment soared, and per capita income more than doubled to $5,700. But the pundits also reported discontent. Weighing against Uribe's bright legacy were a string of scandals, from a rash of illegal wiretaps against government opponents to an attempt by security forces to dress up dead peasants in guerilla uniforms (to burnish the government's war against the FARC). Uribe was faulted for being too loyal to the United States, a relationship that brought plenty of aid but little else. (The proposed binational trade pact with Washington is stuck in the U.S. Congress, hamstrung by protectionist lobbies.) "Colombians are tired of conflict-prone politics," said Michael Shifter of the InterAmerican Dialogue, who watches Colombia closely. "There's fatigue and the desire for a fresh face."
Antanas Mockus seemed perfect for the part. Witty, theatrical, and refreshingly brash, the former math professor had caught the Colombian imagination as mayor of Bogotá with his civic antics, such as climbing into spandex and strutting the streets to exhort his voters to become supercitizens. Here was a compelling backstory: a Green Party David against the Uribe-powered Goliath. Better yet, Mockus boasted solid law-and-order credentials of his own, having slashed street crime and tidied up the chaotic streets of Bogotá. The pundits and the press (this reporter among them) took up the narrative, bolstered by poll numbers that showed Mockus's threatening Santos on the eve of the election.
Now it's clear that the Colombian elections may go down as the race for contrition. Aficionados carped that Mockus was done in by dirty campaigning (orchestrated by Santos's hired gun, Venezuelan spinmeister J. J. Rendón) or the machine-politics bulldozer of Santos's (and Uribe's) powerful U Party. But Mockus, who at times seemed almost surprised by his sudden success, stumbled as he rose. He spurned alliances with traditional political parties for the second round of votes, a posture that won him respect from purists but left his tiny Green Party isolated on the predatory national political chessboard. In an apparent gesture of conciliation, he also raised concerns by professing his admiration for Colombia's archenemy, Venezuelan President Hugo Chávez, who has paralyzed cross-border trade and threatened to declare war on Colombia. And Mockus spooked the middle class when he admitted in a debate that he might raise taxes to pay down the government deficit, which may be good economics but proved fatal on the campaign trail. In the end, perhaps, Colombians voted not so much against Mockus as for Santos—a familiar name in a country where continuity still trumps change.