Colombia's President Says He Was Too Busy Baptizing His Granddaughter to Organize Maduro's Assassination
Venezuelan leader Nicolás Maduro accused Colombia's president of being behind an assassination attempt on Muduro Saturday, but Juan Manuel Santos said he had better things to do than be involved in a murder plot.
Posting on Twitter, Santos wrote: "To President Nicolás Maduro: Don't worry. On Saturday, I was doing more important things, [such as] baptizing my granddaughter, Celeste."
Six people were arrested following the alleged assassination attempt against Maduro. Following the attack, the Venezuelan leader accused right-wing groups and pointed fingers at Santos. He also suggested that Venezuelans living in the U.S. were involved.
"The preliminary investigation indicates that many of those responsible for the attack, the financiers and planners, live in the United States, in the state of Florida," Maduro claimed, according to CNN.
"I hope the Trump administration is willing to fight terrorist groups that commit attacks in peaceful countries in our continent, in this case, Venezuela," he added.
Nobody died in the attack, but seven people were injured. The attack was claimed by a largely unknown group called National Movement of Soldiers in T-shirts. "It was not successful today, but it is just a matter of time," the group's Twitter page noted, but the authenticity of the claim could not be independently verified.
Venezuela's Interior Minister Nestor Luis Reverol said that two drones, each carrying 2.2 pounds of plastic explosives, targeted Maduro as he spoke to soldiers during celebrations marking the national guard's 81st anniversary, CBS News reported. One of the unmanned aircraft was shot down, and the other crashed into an apartment building before exploding on the ground, the minister said.
Video footage of the attack quickly went viral, showing the Venezuelan president and his wife looking to the sky before they were rushed off the stage by bodyguards. Soldiers standing in formation nearby ran for safety.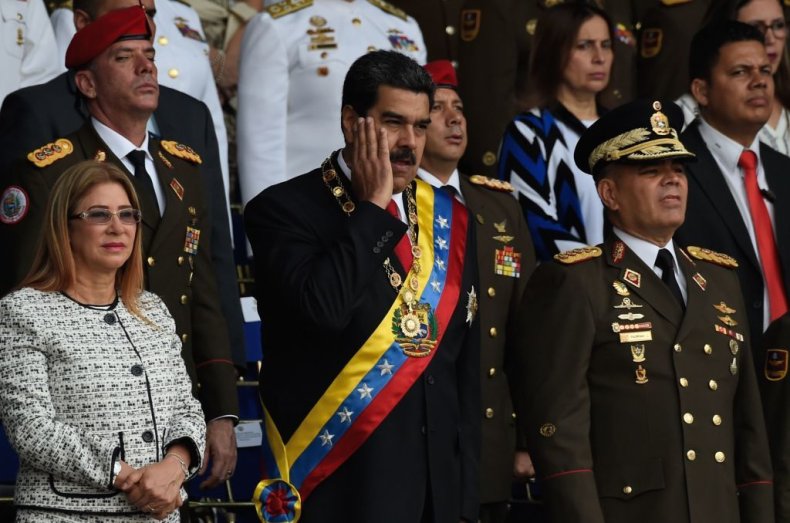 Before Santos's tweet, the Colombian government denied any involvement in the attack. President Donald Trump's National Security Advisor John Bolton said that the U.S. was not involved in the assassination attempt, either.
"I can say, unequivocally, there is no U.S. government involvement in this at all," Bolton told Fox News Sunday during an interview.
Relations between Venezuela and Colombia have been tense for years, with both South American nations' leaders routinely criticizing each other. In July, Santos said "that regime has to fall," referring to Maduro's government and citing high levels of inflation, Agence France-Presse reported. Meanwhile, Maduro accused Santos of being a "lackey" for the U.S. government.
Colombia repeatedly denounced Venezuelan soldiers for illegally crossing its territory last year. Santos has also expressed his anger that Colombian rebel groups have sought shelter in the neighboring nation.