Colombia Presidential Election Results: Meet Iván Duque, The Conservative Who Rose To Power
With 99.9 percent of the vote in, Iván Duque of the center-right Democratic Center party won Colombia's second presidential runoff on June 18 in a postwar electoral process after more than 50 years of internal conflict, defeating left-leaning candidate Gustavo Petro of the Colombia Humana coalition. This is also the first time the South American country has chosen a female vice president.
Duque, alongside running mate Marta Lucía Ramírez, clinched the presidency with more than 10.3 million votes—or 53.98 percent—while Petro and his vice presidential pick, Ángela María Robledo, obtained over 8 million votes, or 41.80 percent.
After both campaigns emerged victorious in the first round of elections on May 27, hundreds of thousands of Colombians who supported losing candidates—such as Humberto de la Calle, Germán Vargas Lleras and Sergio Fajardo—remained undecided and preferred to cast their votes for voto en blanco ("none of the above"), an option that was seen in Sunday's election with more than 800,000 votes, or 4.2 percent.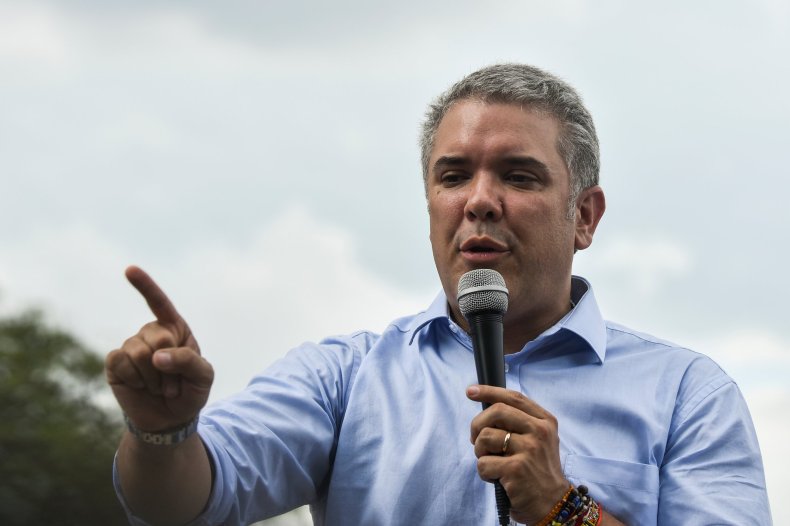 Although Colombians went to the polls in droves this year, compared with previous elections, the results indicate the country's ideological rift. The presidential races were mired in political polarization, fake news and heated exchanges among the candidates. They had different views on the economy, national security and the 2016 peace treaty reached between the Colombian government and the Revolutionary Armed Forces of Colombia (FARC). While Petro pledged to uphold the accord, Duque has become a staunch critic of the agreement because former guerrilla members were allowed to run for office without facing a trial for past crimes.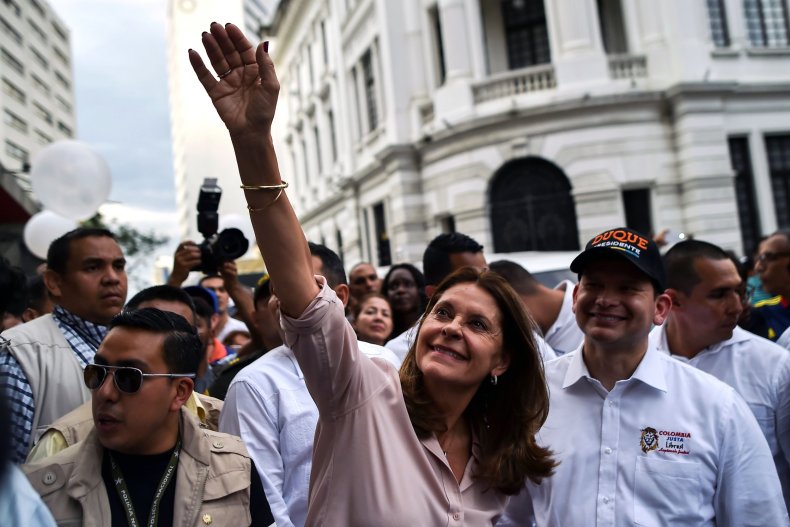 A father of three, 41-year-old Duque has become one of Colombia's youngest presidents. In 1999, he started his professional career as a consultant for the Andean Development Corp. and later became an adviser to then-President Andrés Pastrana's Ministry of Finance. Between 2001 and 2013, he worked at the Washington, D.C.-based Inter-American Development Bank and served as senator from 2014 to 2017. He has written four books and co-authored a fifth publication.
In December 2017, he was elected to represent the Democratic Center party in the presidential race after an internal survey. In March 2018, he consolidated his candidacy after winning a primary election with more than 4 million votes, defeating Ramírez, who gained over 1.5 million votes, and Alejandro Ordóñez, who got 385,000 votes. During the first round of elections last month, Duque became the front-runner with 39.1 percent of the vote, followed by Petro who obtained 25.09 percent. Both candidates received the most votes but did not surpass the 50 percent threshold to win the presidency, meaning they had to compete in a second runoff.
Here are some of the biggest challenges Duque will face when he assumes power on August 7.
Álvaro Uribe Velez: Will He Influence Duque's Administration?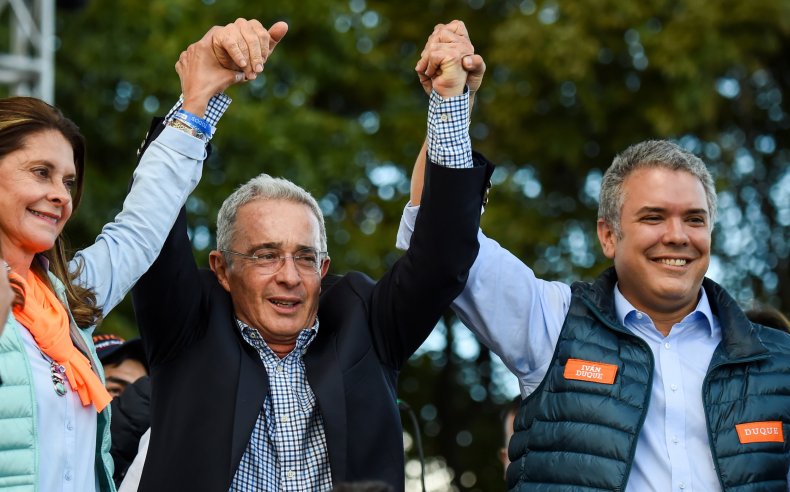 Duque's win is not necessarily attributed to his experience as a politician. Unlike Petro, De La Calle, Fajardo or Vargas Lleras—and even Ramirez—Duque has never led a ministry or assumed the vice presidency or the mayor's office of a large city. Rather, his triumph was highly influenced by the unrelenting support of one of Colombia's most influential political figures in modern history: Democratic Center party founder and former President Álvaro Uribe Velez, who currently serves as senator. In fact, Duque even recognizes Uribe's leadership when he introduces the former leader as the "eternal president " in almost every speech.
Although Uribe is still popular among Colombians, he has been linked to several political scandals. His administration was forced to close the Administrative Department of Security in 2010, following accusations of the wiretapping of journalists and members of the judiciary branch. His democratic security policy, which engaged members of the population to fight crime, reportedly exposed locals to the dangers of an internal conflict and led to the killing of 4,382 civilians, who were later presented as members of organized crime, between 2002 and 2008. These deaths are known as "false positives."
For some, Duque's triumph suggests a return of Uribe's policies. "Iván Duque has two options here: whether he chooses to be Uribe's puppet or stand up to his boss. I don't think it's the latter," Senator Aida Avella, who is part of a coalition that supports Petro, told Newsweek. "Uribe has left a complicated history in Colombian politics, tied to war and extermination. Colombians, and even some Uribe supporters, do not forget the false positives."
Nevertheless, for some analysts, it remains to be seen whether Uribe will wield authority over the Duque administration.
"We really don't know. Remember, [President Juan Manuel] Santos was also a protégé of Uribe and yet broke with him. Duque is a little less of an independent figure up until now, with a more limited political trajectory. But once in power, we never know how someone will grow into the position," Christopher Sabatini, a lecturer in international and public policy at Columbia University, told Newsweek.
Some legislators in the Democratic Center party say Duque will have autonomy in his presidency. "You have to know Duque. He's a man of character who thinks by himself and makes his own decisions," Senator Paloma Valencia told Newsweek. "Uribe is one of the most respectful men I've met in politics, and in the four years I've been working alongside him, he has never given me an order. A Duque government will help Colombians appreciate, in retrospective, how significantly good Álvaro Uribe was for Colombia."
Senator María del Rosario Guerra, also from the Democratic Center party, told Newsweek that "our party's founder is Uribe, so people can't expect a complete breaking off, because Duque belongs to our party. You'll see a man who will respect the principles of his cohort, and I'm sure Duque will consult Uribe with respect to topics he deems important."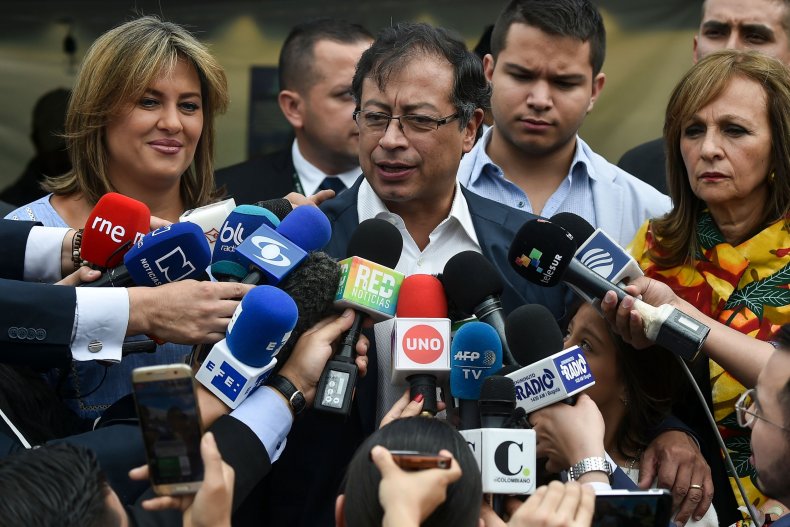 National Security and Drug Production
Duque has previously proposed draconian legislation regarding child abusers and murderers and has pledged to prohibit the possession of drug substances regardless of quantity. Even though he may propose the strengthening of law enforcement in Colombia, internal security is not likely to improve.
"Crime is going to get worse, at least for a while. Homicides were already up 11 percent in the first four months of 2018 over the same period in 2017. A big reason is fragmentation of armed/criminal groups into smaller, competing groups," Adam Isacson, director of offensive oversight for the Washington Office on Latin America, told Newsweek. "Another is the Colombian government's failure to take advantage of the accords, reintegrating ex-fighters and being more present in the countryside. There's still a vacuum in the conflictive and coca-growing areas. I've heard little in Duque's proposals about how he'd fill it, other than an old-school 'iron fist' approach."
Duque has proposed a stronger stance against guerrillas and changes in the 2016 peace treaty. Some of his supporters say this does not necessarily mean he will "tear up" the agreement.
"We can't conceive the idea that a drug trafficker or a rapist will not face justice," Guerra said. "There have to be modifications in the peace treaty to let others know that it doesn't pay off to become a guerrilla member. With respect to a peace accord with the National Liberation Army, they must cease all kinds of criminal activities so that the Duque administration can reach an agreement."
For Valencia, coca production control should be one of Duque's main priorities. According to the Los Angeles Times, production has increased 50 percent in each of the past two years, and nearly 247,000 acres have been used for crops. "A lot of regions depend on the business of illicit drugs, and that begets violence," she said. "Such violence is gaining a foothold because it has the money for bribes and to resist law enforcement. The Colombian state must have control over those territories."
What Lies Ahead for Duque
Colombia is grappling with a stagnant economy, rampant corruption, social inequality and a crippling health care system. For some, things will not get any better in the next four years.
"Colombia's economy is bad and is going to get worse. Fiscal deficit is on the rise, and the health care system is on the brink of collapse because of corruption cases," Senator Jorge Enrique Robledo of the Alternative Democratic Pole, who chose not to support any candidate, told Newsweek. "I see myself pessimistic about our country. This is why I cast my 'none of the above' vote because none of the options convince me. The current Santos administration has left us with a disastrous economy since the 1990s."
Avella said the support Duque's presidential run received from old-guard politicians such as Liberal Party leader César Gaviria raises questions about true changes in Colombian society. "Now that Duque is the president-elect, Colombia will not see any progress, and this is all the more worrisome because he's a young man but controlled by the old political establishment that has enjoyed all kinds of privileges at the expense of disadvantaged Colombians," she said.
Nevertheless, members of the Democratic Center believed that Duque's youth will be his greatest asset. "Duque represents the advent of a new generation of politicians who have ruled this country for the past two decades," Valencia said. "He will not be subject to any sort of cronyism from those who support him. Duque will assume the presidency free from any strings, and this will help him push anti-corruption measures."
Guerra said Duque "will pay attention to critical sectors like agriculture and will return trust to our defense forces. He will also focus on sports, quality education and healthcare, and he is going to be closer to the population."
She later added that Duque "will also rely on the Democratic Center group in Congress, led by Uribe, to push our legislative agenda."
Some analysts believe the Colombian presidential elections stoked fear and division within a sector of the population, but some legislators indicate that this is the time for Colombians to coalesce. "I prefer not to fear a [Duque] administration, and I hope Colombians should not be frightened," Senator Antanas Mockus, former mayor of Bogotá, told Newsweek. "We must search what unites us because we all have economic, environmental and foreign policy challenges, and we must confront them."
This article contains updated information.