Who Will Win Colombia's Presidential Elections? What You Need to Know About The Battles To Come
Update | Presidential candidates Gustavo Petro and Iván Duque have won the first round of elections in Colombia Sunday, according to local reports. With 99 percent of the vote in, Duque from the center-right-leaning party Democratic Center obtained 39.1 percent, or 7,5 million ballots; trailed by left-leaning Petro from the Colombia Humana Movement with 25.09 percent, or 4.8 million votes. This is the first time Colombians exercised their right to vote in a post-war period, after more than 50 years of internal conflict.
The official results slightly reflect the voters' preference for weeks. Duque was leading the polls by 41.5 percent, while Petro had 29.5 percent. Coalición Colombia party alliance candidate Sergio Fajardo ranked third with 16.3 percent; followed by Mejor Vargas Lleras Movement runner Germán Vargas Lleras in a distant fourth position with 6.6 percent; and Liberal Party hopeful Humberto de la Calle, with only 1.3 percent.
Claudia López, Fajardo's vice presidential running mate, believed her ticket had a pretty good chance at making it to the second round. "Today we have reached this point trying to become the first alternative power in Colombia that doesn't belong to traditional families or political parties," López said in an earlier conversation with Newsweek. "We are sure that we can make it, our campaign is growing and we believe that Colombians will help us reach the second round where we'll defeat [Senator] Alvaro Uribe's candidate, Iván Duque, who is very likely to get to the runoff as well."
The Colombian constitution stipulates that the next president should be elected by the so-called "the half plus one," meaning that a candidate who surpasses the 50-percent threshold would assume power. If no candidate reaches this goal, only two candidates with the highest vote count are eligible to compete in a runoff, which will take place June 17. The president-elect will be sworn in on August 7.
Sunday marked the end of the first round of a hotly contested race, in which all candidates have traded barbs. Here are some of the challenges the top two winners will encounter.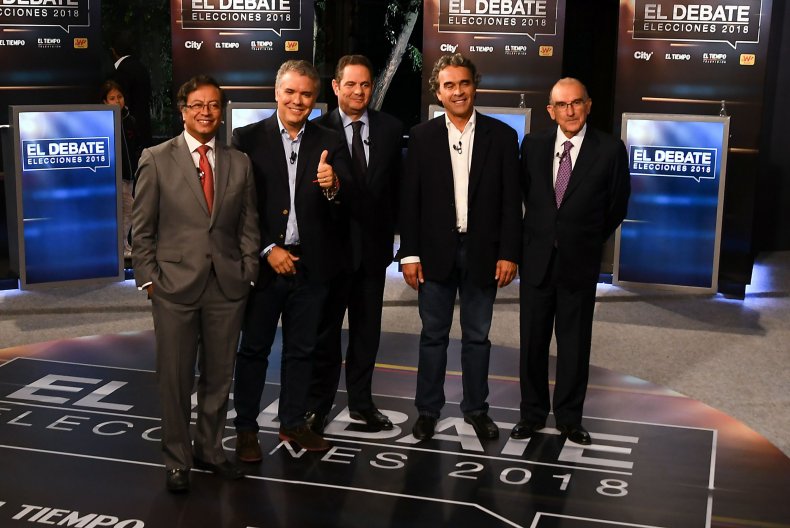 Corruption: Colombia's "Greatest Problem"
In recent years, Colombia has been mired in serious corruption cases. Corporate and government malfeasance have stalled progress in the construction, health care, energy and agriculture sectors. The most startling case comes from the so-called "cartel of the gown," in which members of the judicial branch received bribes in order to influence the Supreme Court and Attorney General's Office rulings. In light of these events, all presidential candidates have proposed a tighter control over campaign fundings, a merit-based process in the selection of judges and expand the bidding for a public contract so that other companies can participate.
"After decades of an internal conflict, violence has been substantially reduced. On the other hand, corruption and inequality are on the rise, so the Sergio Fajardo Presidente campaign believes that corruption is Colombia's greatest challenge," López told Newsweek. "Of course, corruption, violence and inequality are tied together, making Colombia one of the world's most unequal countries."
López added, "Our best bet is to continue the path of violence reduction by improving security, justice and complying with the Colombian peace process [with the Revolutionary Armed Forces of Colombia, FARC]. More than 10 million Colombians are abandoned in border zones and forsaken regions, living under conditions of extreme poverty."
Colombia's Peace Deal
The fragile peace deal reached with FARC in September of 2016 has been one of the hot topics throughout the presidential race. With the arrest of demobilized guerrilla leader Jesús Santrich on accusations of drug trafficking, critics of the peace deal reached in Havana, Cuba, allege that the peace treaty needs modifications. Duque, for his part, believes that some changes on the pact need to be made, adding that guerrilla members who committed crimes against humanity should not aspire to congressional seats. Other candidates agree the peace accords must be respected.
The future of the peace accord hinges on whether Petro or Duque wins the elections.
"Although the peace process is troubled and not widely supported in Colombia, it is likely that Petro or even Duque will stay within the parameters of the accord with the FARC," Michael Shifter, president of the Washington, D.C.-based think tank the Inter-American Dialogue, told Newsweek. "Petro, like Duque, will still have to face the mammoth task of effectively integrating FARC members into Colombian society and resettling the millions of displaced persons."
Other experts offer a slightly different view of what the accords would look like under the two leading candidates.
"I would not trust that implementing the peace accord is Duque's priority, and that is a big risk for Colombia. We've come a long way and we cannot risk destabilizing the country in such ways," Andrea Saldarriaga, an independent analyst, told Newsweek. "Gustavo Petro, on the other hand, has promised to implement the accord in full. But together with that, he has promised many other social and policy changes. It will be interesting to see how he will manage to implement all these campaign promises at a time of fiscal strain if he ends up being elected president."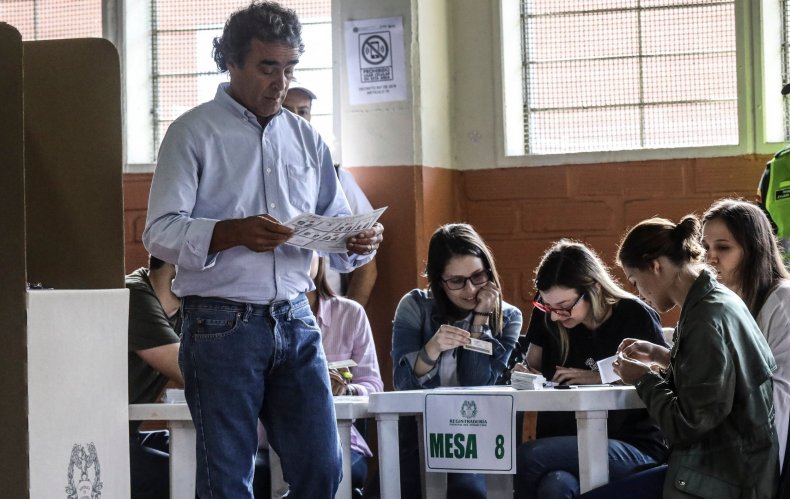 A Divided Country
Colombia's peace accord, which was rejected in an October 2016 plebiscite but ratified by Congress in November of the same year, even widened an existing political divide in the country. Hostility has increased among those who identify themselves as left-leaning or right-wing in recent weeks. If Petro wins, for instance, he will run into a political gridlock, given that the Congress is now controlled by right-wing forces, according to Reuters.
But if Duque clinches the presidency, experts believe that one of Colombia's most polarizing figures will emerge as a significant player in the country's destiny for the next four years: former president and current senator Alvaro Uribe Velez, who is also the leader of Duque's party. "A Duque presidency would probably have Álvaro Uribe playing a significant role in his administration, shaping key policy decisions and foreign policy stances and having a leadership role on legislative matters," Juan Felipe Celia, assistant director for the Washington, D.C.-based think tank Atlantic Council's Adrienne Arsht Latin America Center, told Newsweek. "If Petro wins, Uribe would continue to play a role he has excelled at for the last four years, that of opposition leader."
Roger Noriega, visiting fellow for the Washington, D.C.-based think tank American Enterprise Institute, told Newsweek that " there is a general recognition that the polarization in Colombia is unsustainable and most candidates will seek to address that in office." He also added, "The question is, whether the losing candidates and the parties that are out of power will also be willing to work to address the polarization, or if they will exploit it as a means to regain power."
Venezuela
The humanitarian crisis in Venezuela has spilled over Colombia, as 800,000 Venezuelans have crossed the porous border in the last two years. Many of them arrive penniless, hungry and in need or medical assistance, as Los Angeles Times recently reported. The recent victory of strongman Nicolás Maduro in a controversial election last week will likely represent an ongoing animosity from the regime toward Colombia, a country he accuses of destabilizing Caracas.
Venezuela's crisis has become a pivotal topic during Colombia's elections. Many fear that left-leaning Petro will transform that country into a "second Venezuela" due to his affinity with the Chavista regime that has ruled Venezuela for over a decade since 1999. In a revelatory interview with Newsweek, Petro said that "Chavez was not a dictator but Maduro is," and pledged to make Colombia "more productive" and supply Venezuela with more food. Duque, on the other hand, would assume a stronger position regarding Caracas.
"It is notable that Petro has refused to recognize Maduro's sham reelection last Sunday. Maduro is highly unpopular in Colombia, and any moves toward a Colombia/Venezuela alignment would deepen fissures in Colombian politics, risk continued cooperation with Washington, and put Petro's domestic priorities in jeopardy," Shifter said. "Duque's rhetoric against Maduro will be much tougher than Petro's, but he will also try to maintain a civil relationship with Venezuela and not let things get out of hand. Duque will not want to be a foil for Maduro as he pursues negotiations with the National Liberation Army [ELN], tries to live with a disarmed FARC, and deals with a flood of Venezuelan migrants/refugees. There is simply too much at stake."
Other experts believe that tensions with Venezuela will continue regardless of the winner. "Now, every candidate's approach to the issue is very different, and that will set the tone in the bilateral relationship moving forward," Saldarriaga said. "The priority in my view will be that Colombia remains in solidarity with the people of Venezuela who are suffering the consequences of Maduro's grip to power."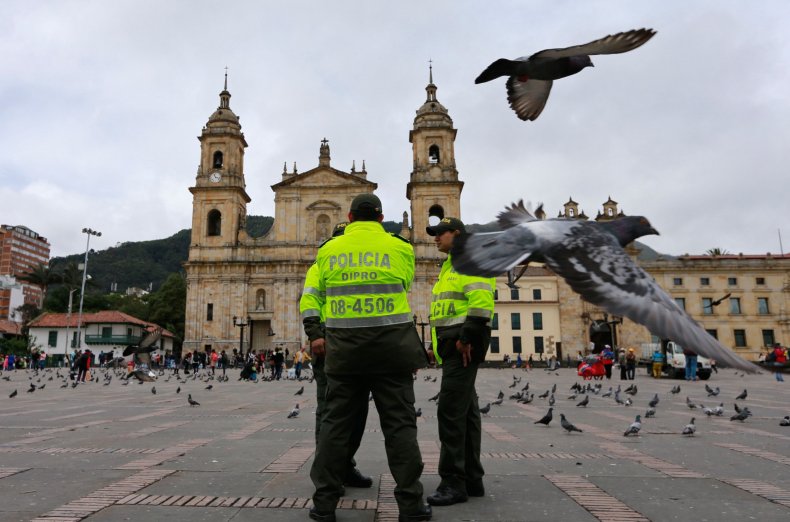 Political Alliances
As Petro and Duque are gearing up to compete in June's runoff, it remains to be seen who among the losing contenders will support the top two candidates. "There has been some talk of coalition building that hasn't gone far because of ideological and political differences and I wouldn't be surprised if some of them do not explicitly endorse a candidate for the second round," Noriega said.
Shifter underscored that "it is hard to imagine that any of these [losing] candidates would back Petro in a second round, especially if Duque can convincingly make the case that he represents a broad front."
Other analysts think that a coalition can be formed. "I would expect Fajardo and De la Calle to let their followers vote freely, rather than officially align with either Duque or Petro. They had already rejected an alliance with Petro during the first few months of the campaign, and it is hard to envision them campaigning for Petro in the second round," Celia said. "On the other hand, Vargas [Lleras] would likely align with Duque in the second round. Uribe and Vargas [Lleras] already flirted with a possible alliance a few months back, and Vargas's Cambio Radical party has enough seats in Congress for them to forge a Congressional alliance in a potential Duque administration in exchange for representation in several key ministries."
Finally, Saldarriaga summarizes what Colombia's presidential elections look like today. "Sunday will tell how the 'chess players' will reorganize. Colombia hadn't seen such a contested first round in quite a while."