Colombia Politician Trashes Country as Cocaine, Crime Hotbed at New President's Swearing-In, Sparks Outrage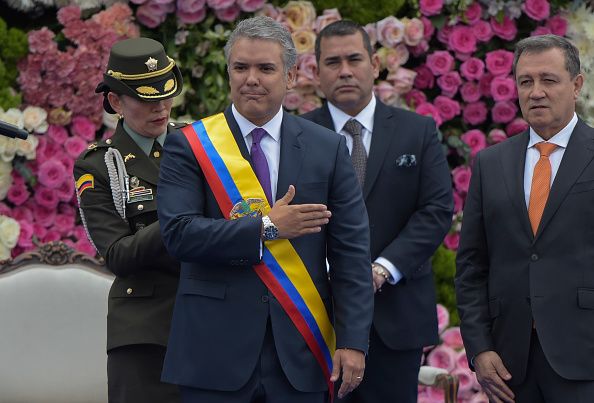 As Colombia's new president, Iván Duque, was sworn into office Tuesday, the newly elected Senate President Ernesto Macías sparked harsh criticism after giving a lengthy introductory speech that cast the country in a negative light.
Macías began his speech by informing the incoming president that "he is inheriting a country undergoing one of the most difficult moments in its history." He also noted that Colombia has the "dishonorable record" of being the world's largest cocaine producer, making 921 tons in 2017.
"Today, President Iván Duque, you receive a country with the most worrisome figures in history, social, economic and institutional. The former President Juan Manuel Santos, since the end of 2010 has abandoned the politics of security, of democratic security, and today hands over the country immersed in a war that to date has left over 300 officials dead in just the past two years," Macías began. "Today, President Iván Duque, you receive a country that is terrified [that] crimes will return."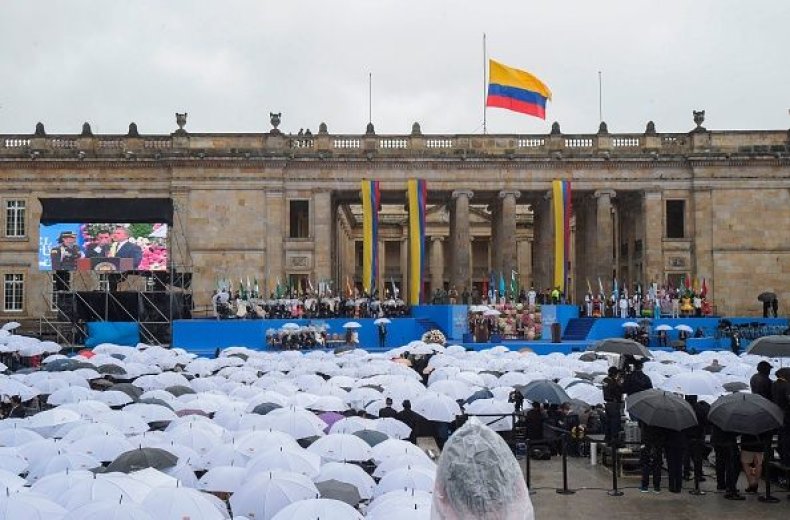 During the speech, Macías said that cases of extortion had increased 295 percent in the year 2016 alone, that sexual crimes had increased 319 percent, and that criminal organizations were growing exponentially. He noted that Duque is taking over a government whose public debt has reached above $440 billion.
The speech was punctuated by heavy wind and rainfall, causing spectators to whip out their umbrellas and Macías to struggle to pin his notes to the podium.
Many observers complained that Macías had used the speech as an opportunity to criticize outgoing President Juan Manuel Santos, and said it was inspired by partisan animus. The conservative Duque was elected president in June following a contentious race that led to the defeat of left-wing candidate Gustavo Petro. Macías's speech could undermine the new president's efforts to bridge partisan divides, experts say.
"The speech by Ernesto Macias, the newly elected president of the Colombian Senate, illustrates how difficult it will be for President Duque to reconcile the radical views of his party and his promise of unity and reconciliation for the country," Andrea Saldarriaga Jiménez, an international political analyst, told Newsweek.
"The citizenry has every right to be upset about Macias's divisive speech. It is precisely this sort of political confrontation that has driven Colombia, in previous decades, from political polarization to political violence. President Duque will need to distance himself from his party if he wants the other 40 million Colombians that did not or could not elect him, to believe in his ability to work for the whole country," Saldarriaga Jiménez continued.
Several Colombian figures have lambasted Macías's speech via Twitter. "Senator Ernesto Macías's discourse was partisan and deceptive," Senator Iván Cepeda Castro said. "His mediocrity is in contrast with Duque's speech, which encouraged a constructive dialogue. I hope he achieves this purpose."
Other Twitter users, however, supported the politician's views: "Did Ernesto Macías tell any lies? No. You're all disgusted because he told you the truth. We already know you don't like to hear the truth, but from now on you'll have to deal with it. The Senate president only revealed a country Santos left in ruins."
Meanwhile, others had a moderate approach. "The issue with Ernesto Macías's discourse, Congress president, is not whether it is true or false. The problem is that it was not the moment nor the audience [to address grievances], and it hurts Colombia, as well as the new President Iván Duque," Journalist Vicky Dávila wrote.
On Wednesday, Macías took to Twitter to defend himself from the outrage. "In my speech I didn't insult anyone, I didn't offend anyone. I simply read the outgoing government's figures," he tweeted. "It's the reality of the country."