Colombia Wrestling to Quell Local Drug Gangs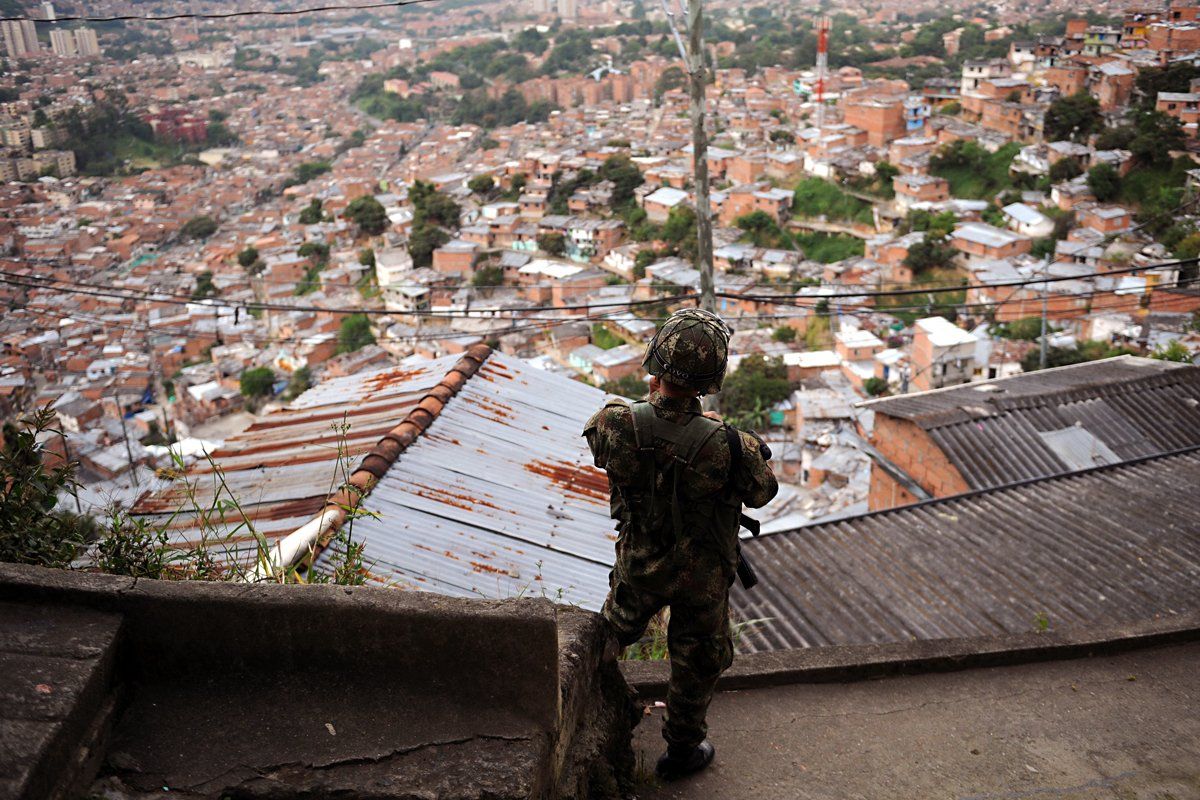 Although Colombia delivered some heavy blows in its war against the FARC guerrillas over the past decade, the country is facing violence on an entirely new front. Just three years ago, top U.S. officials were touring the city of Medellín to demonstrate how successfully then-president Alvaro Uribe had rescued the country from Marxist rebels and paramilitary drugrunners. But in August, Medellín's mayor took to the streets to march with protesters through ghettos racked anew by gang warfare. And just last week, Colombia's new president, Juan Manuel Santos, deployed troops to the city, where more than 1,200 murders have occurred so far this year, with 503 gang-related deaths in the first four months of 2010 alone—a 50 percent jump from the same period last year.
Alarmingly, Medellín is not alone. Across Colombia, cities that once served as symbols of the country's turnaround, such as Bogotá and Cali, are witnessing a drastic increase in violence. In mid-August, a car bomb in Bogotá's financial district injured nine people, and both the FARC and right-wing extremists have been blamed for the attack. The same week, three teens from the embattled Putumayo state in southern Colombia, whose names were on an online list, were shot dead, apparently the victims of gang violence. And Cali's mayor has called on the national government to address the city's spiking homicide rate.
Just as murders have increased, so have mass displacements: according to the U.N. High Commissioner for Refugees, some 3.3 million Colombians are now internally displaced, at a rate of 500 new people a day (that's the second-highest internally displaced population worldwide). Meanwhile, the number of Colombian refugees pouring into Ecuador has spiked to 1,000 a month, and aid workers say many are fleeing gang warfare in the cities.
So why the new uptick in violence? While Colombia's military has weakened the FARC, and the government has cracked down on the paramilitaries that once controlled the cocaine trade, these operations diverted focus away from local police forces, leaving a vacuum for opportunistic gangsters and loose criminal networks that rushed in to serve the ongoing demand for drug exports. "These successor groups have basically taken the reins of what the paramilitaries were doing," says Maria McFarland, a deputy director at Human Rights Watch. The new groups, which number somewhere between 4,000 and 10,000 members, are now operating in 24 of Colombia's 32 states.
The challenge now for Santos is to fight an increasingly local problem—and the way to do that is with intense local efforts, says Aldo Civico, co-director of the Center for the Study of Genocide, Conflict Resolution and Human Rights at Rutgers University. That means addressing issues such as the growing inequality gap and broken police and justice systems, which had been largely ignored in Uribe's FARC crackdown. Last week Santos offered the strongest proof yet that he might be up to the task by introducing a land bill that would return 4.9 million acres of land stolen by paramilitaries to displaced people, and seize up to 2 million acres currently held by narcotraffickers. It's a step in the right direction. Now Santos needs to follow up on it quickly, or else the investors who have flocked to Colombia over the past few years may soon turn their heels and flee, too.