Colombian Navy Finds Clandestine Cartel Shipyard With 2 Narco Submarines
The Colombian Navy says it has uncovered a clandestine shipyard housing two "semi-submersible" vessels and other equipment for shipping tons of illegal drugs in a rural village of a municipality along the Pacific Ocean.
The makeshift shipyard was located in a rural area of Tumaco in the Nariño Department, the Navy said in a statement that alleges the Ivan Rios dissident group of the Revolutionary Armed Forces of Colombia-People's Army (FARC) ran the operation.
The FARC had been involved in a conflict with the Colombian government that began in 1964. A treaty in 2016 called for the end of a decades-long war, and in June 2017, FARC officially ceased to be an armed group, supposedly disarmed and handed over its weapons to the United Nations.
But elements of FARC remain active and "drug trafficking, mainly cocaine, is almost certainly their largest income source," a report on FARC dissident groups by the WOLA (Advocacy for Human Rights in the Americas) organization said.
In the Tumaco discovery, the Colombian Navy said "units of the Marine Infantry Brigade No. 4, with the support of troops from the Battalion Against Drug Trafficking No. 4, carried out a military operation to search and control the territory in the village of San Jacinto, located at the mouth of the Mira River, where they located the Illegal shipyard of 380 square meters [4,090 square feet], used by the Farc dissident group 'Estructura Iván Ríos' under the criminal command of alias 'Uriel,' for the construction of semi-submersibles in the Colombian-Ecuadorian border area."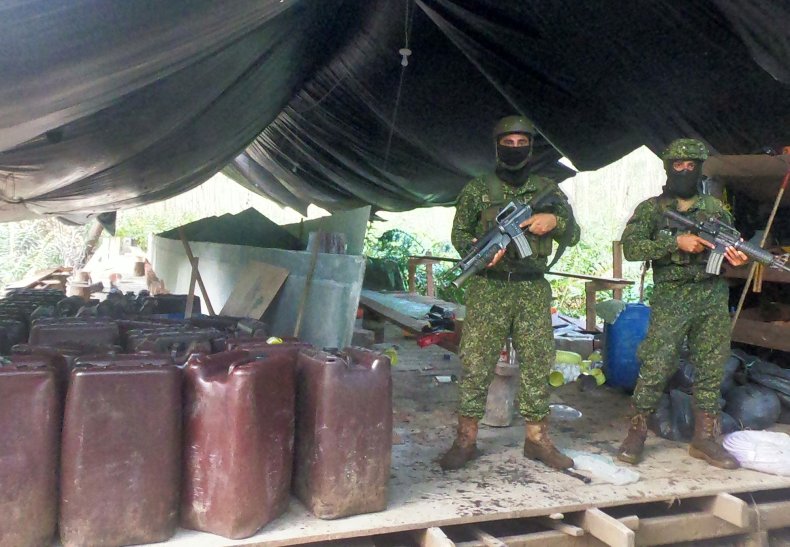 The Navy said the alleged drug traffickers were building two 82-foot semi-submersible vessels on the Colombian-Ecuadorian border and that they have a "capacity to transport up to four tons of narcotics each."
"The first one was 80 percent completed, and the second one was completely finished and ready to transport illicit drugs, which would be destined for drug trafficking cartels in Mexico," the Navy statement said.
The Navy said it seized a "boat, communication equipment and different tools used for the manufacture of these illegal means of maritime transport" and that the "material was destroyed according to established protocols."
"With this finding, the Colombian Navy manages to weaken the financial and logistical structures of the organizations at the service of drug trafficking that commits crimes in the Pacific of Nariño," the Navy statement said.
Nariño is considered Colombia's main coca-producing area, and therefore also the world's.
"Perhaps nowhere else in the country are the challenges of a post-conflict Colombia more evident, and perhaps no other part of the world is more indicative of how an economy can be fueled by the production and trafficking of cocaine," Insight Crime said in a 2017 investigative report titled "Nariño, Colombia: Ground Zero of the Cocaine Trade."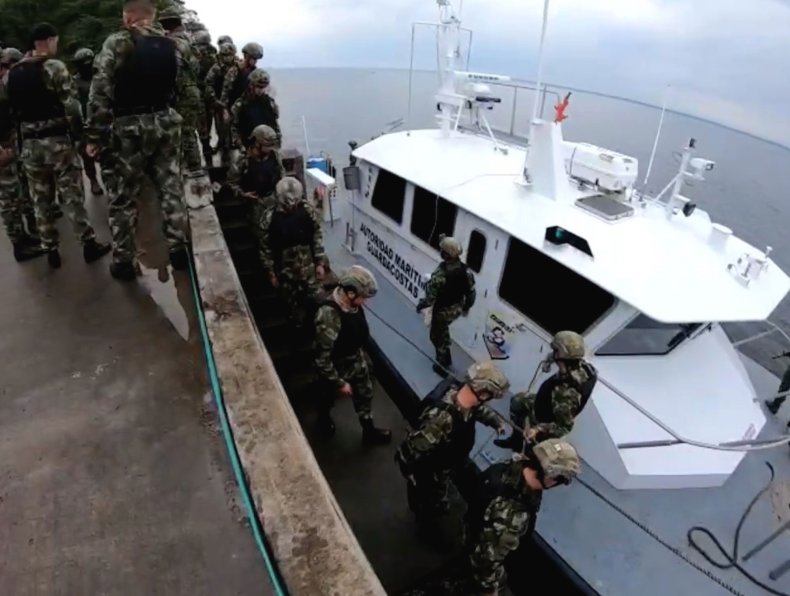 This story was provided to Newsweek by Zenger News.