Colombian Toreros on Hunger Strike to Protest Bullfight Ban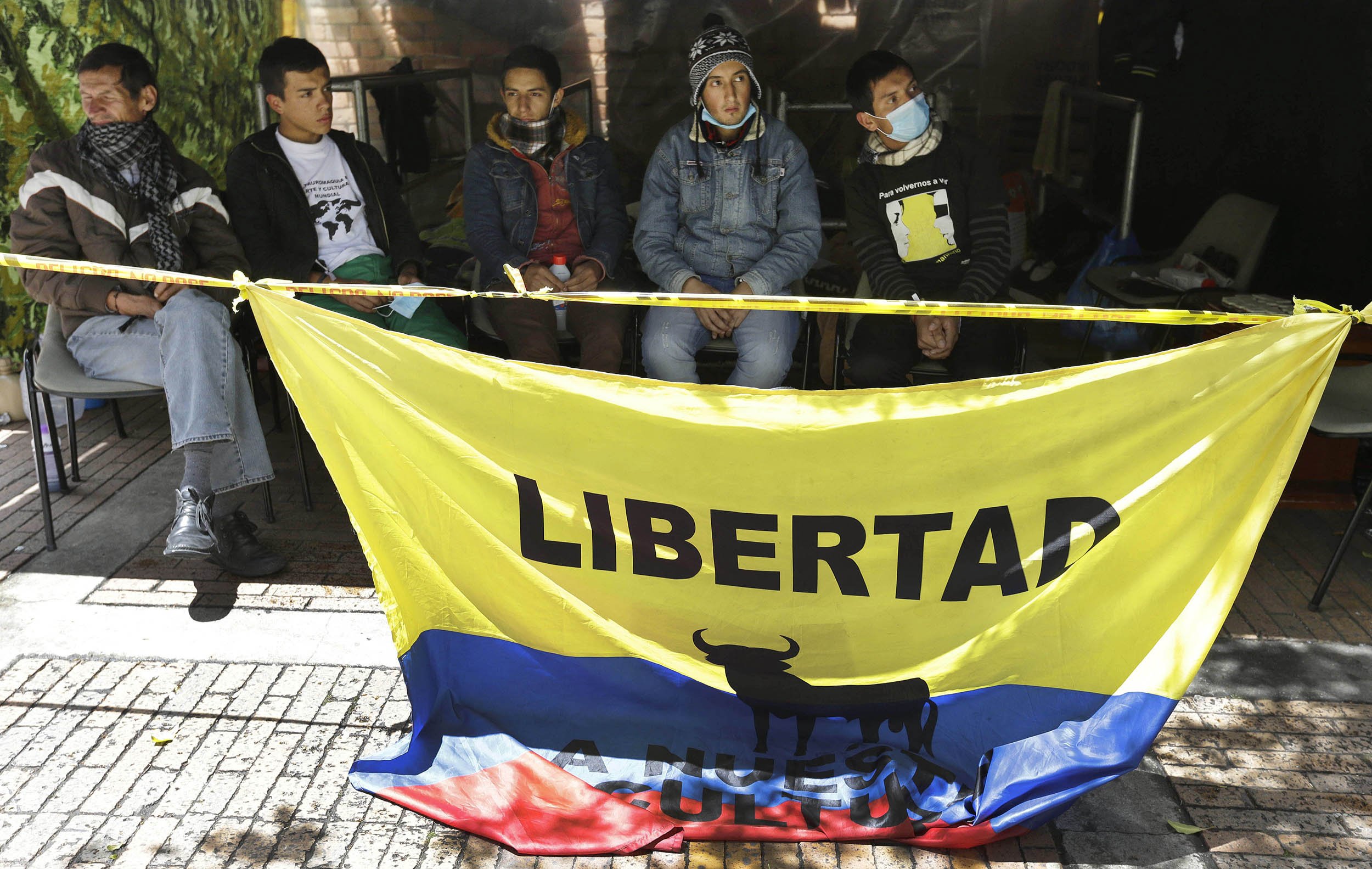 A group of apprentice toreros in Bogotá are nearly three weeks into a hunger strike demanding the reinstatement of bullfights, which the capital city's mayor banned in 2012.
Initially, there were eight novilleros, fighters who square off against young bulls, stationed outside the Santamaria Plaza, under a banner that reads "We do not want food, we are hungry for bulls." At least three of them, according to video interviews on El Espectador, have been taken to clinics for health complications related to their liquid-only diet and made worse by cold nights – temperatures have dropped as low as 46F this week – and one has been forced to halt his strike.
After Bogotá Mayor Gustavo Petro, whose government slogan is "Humane Bogotá," prohibited bullfighting in Santamaria Plaza, the venue became, essentially, a concert hall. The Bullfighting Corporation of Bogotá said there was no due process and began building a legal defense case. The country's Constitutional Court is expected to rule on whether the ban was a constitutional violation in the coming days.
Shortly after Petro introduced the ban, Felipe Negret Mosquera, president of the Bullfighting Corporation of Bogotá, sent a letter to the District Institute of Recreation and Sport saying that he "declined the invitation formulated by your branch to carry out 'blood-less bullfighting activities…'"
Petro referenced the abolition of slavery and the Olympic games in the Roman Coliseum as proof that suffering and sacrifice of living beings for the entertainment of others should be eliminated.
"I invite the people of Bogotá to mobilize in favor of a city without death spectacles," tweeted Petro last week, as the debate over the practice between supporters and animal rights activists continued to seethe.
On Wednesday, People for the Ethical Treatment of Animals, or PETA, sent a letter to the director of the Bullfighting Corporation of Bogotá offering to cover the costs of retraining the city's bullfighters in other occupations. "Since they are so comfortable with death, we suggest that they may do well in trades such as funeral attendant, mortuary cosmetologist, or graveyard security guard," wrote Ingrid E. Newkirk, president of PETA US. "Or, if they are ready for a total change, florist," added Newkirk.
Bullfighting has traditionally been part of national identity in Spain and its former colonies, especially Mexico, Colombia and Venezuela, and some of the most renowned artists, from Francisco Goya to Fernando Botero, have found inspiration in the spectacle. The fights have been something of a rite of passage for the elite in these countries, who often dress up in their Sunday best and rub elbows with local politicians at the plaza.
But the spectacle has come under pressure throughout the world in recent years; the Spanish region of Catalonia banned it in 2010, in the midst of a broadcasting ban by the national television broadcaster, RTVE (the ban was lifted in 2012). Anti-bullfighting movements in Venezuela and Mexico have been gaining momentum. Several states in the latter have already banned bullfighting.
During the ban in Bogotá, aficionados who used to flock to Santamaria Plaza, which opened in 1931 and sits 18,000, have been traveling to Puente Piedra, in the city's outskirts, to see bullfights. Tickets there sell for between $45, and $210.
The Constitutional Court is expected to rule in favor of the Bullfighting Corporation of Bogotá, according to the Associated Press and local reports.