Woman Visiting Doctor For 'Food Poisoning' Diagnosed With Stage 4 Colon Cancer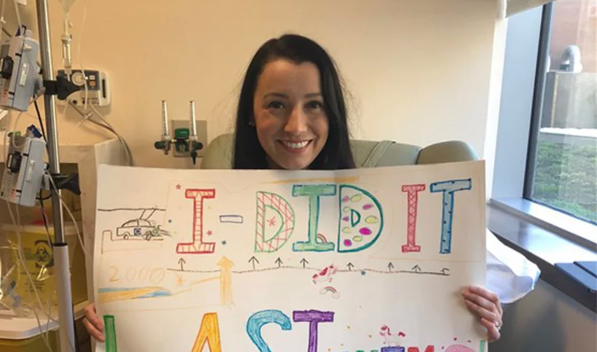 A 34-year-old Washington, D.C., woman went to her doctor with gas and cramps she believed were a result of food poisoning, but after her symptoms worsened, doctors discovered she had stage 4 colon cancer.
Diana Zepeda told People magazine she first went to the doctor in late 2016 thinking she had a dietary issue that was causing stomach pains. Zepeda's rapidly deteriorating condition and worsening symptoms led her through several diagnoses before doctors ultimately found a tumor blocking her colon.
"I thought I could eat anything and have a stomach of steel. I was getting what I thought was random food poisoning, but kind of often. A lot of gas, cramps and diarrhea," Zepeda tells People. "I just thought I had one of those stomach bugs and it would just last a couple of days."
"I thought I could fix it with diet, I thought that was my issue. So I did a whole month where I cut out grains and dairy and sugar," Zepeda continued. "And I'm like, 'This is what my body needs and it'll go away!'"
Zepeda initially said she was suffering daily diarrhea and she was finding blood in her stool. A gastroenterologist ran tests on her and found she had E. Coli. However, the antibiotics she was prescribed were not effective.
"First I was relieved that whatever it was could be cured with five days of antibiotics. I thought it was over…happily ever after. But that wasn't the case, unfortunately," she says. "I was dreading whatever the actual diagnosis would be."
Zepeda was suffering severe stomach cramping and nausea in the weeks leading up to her colonoscopy procedure, so doctors gave her a sigmoidoscopy, or partial colonoscopy, ahead of time. The doctors then discovered the tumor blocking Zepeda's colon, and she was diagnosed with stage 4 colon cancer.
"After the initial shock and disbelief, my first thoughts were, 'What did I do wrong to get this?' Because I think everyone thinks of colon cancer as an old people's disease," Zepeda says. "I thought, Was it all the microwaved Pop-Tarts I ate in college? Or all the microwave Lean Cuisines? Like, what did I do to cause this?"
The Mayo Clinic says colon cancer of the large intestine is typically found in the final part of one's digestive tract. Most cases of colon cancer begin as small, noncancerous (benign) clumps of cells called adenomatous polyps. But over time, some of these polyps can become colon cancers. The Colorectal Cancer Alliance says people under the age of 50 are four times more likely to be diagnosed with colon cancer than they were in 1990.
Zepeda spent the next six months undergoing chemotherapy and several more surgeries. The cancer had spread to her liver and Zepeda recalled to People feeling "completely depleted."
Zepeda marked her final treatment Thursday, which she celebrated with her husband, Alexander Sweeney, by wearing fancy outfits in her hospital room. Although she still has one more surgery to undergo, Zepeda said she's looking forward to getting back to her normal life.
"I really miss traveling and just being busy with friends," she told People. "I've been sitting everything out and I've had FOMO [fear of missing out] for like nine months. I'm excited to go back to normal as much as I can."