It's Colonel Sanders' Birthday, But KFC Has Had Its Fair Share of Scandals in the 40 Years Since He Died
Wednesday marks KFC founder Colonel Harland David Sanders' birthday. While Colonel Sanders remains the face of the fried chicken chain even 40 years after his death at age 90 in 1980, Kentucky Fried Chicken has had its image jeopardized by a few scandals, whether it's debunked rumors about mutated chicken or animal cruelty accusations from major celebrities.
KFC has long stood as a fast food staple, some of the scandals may make you want to rethink where you get your fried chicken takeout from.
Allegations of Racism from Colonel Sanders
While on a May 2018 conference call, Papa John's founder John Schnatter called out Colonel Sanders, accusing him of using racial slurs. According to a 2018 Forbes report, Schnatter said, "Colonel Sanders called blacks n-----s." (The same day that the Forbes report was published, Schnatter stepped down as chairman of Papa John's Pizza. In 2019, Schnatter filed a lawsuit against the marketing firm that was on the conference call in question, disputing Forbes' account of events.)
Sanders' grandson Trigg Adams told the Courier Journal that Schnatter's accusations were entirely false. "Because he's prejudiced, he's trying to say somebody else was, too. [Sanders] had absolutely no prejudice against anybody," Adams told the Journal. Sanders' great-granddaughter Cindy Wurster Sjorgen also said that the KFC founder never used racial slurs.
Mutant Chickens
While this veers more on the side of urban legend than real-deal scandal, it's incredibly likely that you've heard some variation of the tall-tale that KFC uses mutated chickens to make their signatures dishes. A variation of the rumor has been preserved on Snopes, which mentions an email hoax that claims the company's 1991 name change from Kentucky Fried Chicken to the shortened KFC is proof that the company doesn't use real chickens. "They actually use genetically manipulated organisms," the hoax claims. It also says that the company uses creatures that don't have feathers and beaks, and that they're kept alive by tubes that are attached to them that are then removed when it's time for them to be shipped to restaurants.
In 2016, Yum Brands Inc., KFC's parent company, sued three China-based tech firms for perpetuating the rumors, winning almost $100,000, according to Reuters. KFC shared a statement on its website, guaranteeing that the chicken it serves is real. "We can set the record straight: no mutated or genetically engineered chickens are involved in making our delicious KFC chicken. Just 100% real chicken from US farms, which have to pass over 30 quality checks and USDA inspection before being hand-prepared by one of our cooks," the chain restaurant said.
Using Human Antibiotics to Treat Chickens
While much less controversial than mutated chickens, KFC did change some of its practices after health officials found that chickens treated with human antibiotics can make bacteria that's more resistant to those antibiotics when they're used by people, according to the Associated Press. KFC decided to stop serving chickens treated with certain types of antibiotics by the end of 2017.
Pamela Anderson and PETA: "Kentucky Fried Cruelty"
In 2005, People for the Ethical Treatment of Animals teamed up with Baywatch star Pamela Anderson for a short PSA, claiming that KFC treated their chickens inhumanely. "You probably have heard of the Colonel's secret recipe, but you probably have no idea what goes into a bucket of KFC chicken," she said. "Sadly, the main ingredient is cruelty. The more than 750 million chickens raised each year for KFC are treated like meat machines, not animals." PETA launched the site KentuckyFriedCruelty.com, which is still active with Anderson's video as the feature.
In a statement to the Associated Press, Yum Brands' then-Vice President, Jonathan Blum, responded to the claims in the 2005 video, and said that the company had high standards for their treatment of chickens. "We have an independent panel of outside experts who set our high standards," Blum said, according to E! News. "They are the same standards that all our competitors use to [ensure] humane treatment around the country."
PETA has continued to campaign against the Colonel, running campaigns as recently as 2018.
Kentucky Fried Rats
This one will probably seem a little more gruesome than the mutant chickens. A man in California claimed that KFC served him a fried rat in 2015. He shared a picture of a piece of fried chicken that resembled a rodent on social media, sparking national attention. Even though KFC doubted the claims that it was anything but chicken, the fast food giant still tested the product for foul play. In a statement to ABC News, the company confirmed that it was all poultry. "On Friday, the customer's attorney turned over the product in question for testing at an independent lab, and the results officially confirmed what KFC knew all along—the product was chicken and not a rat as he claimed," the statement said.
KFC Exposed
A 2013 video that has made the rounds multiple times has led to people criticizing the Colonel over and over again. In the video, an employee at a KFC franchise shows products that went unsold being put back in bins and frozen to be resold the following day.
In a statement to International Business Times upon one resurfacing, a KFC spokesperson said that the employees' actions were inappropriate. "This video was filmed many years ago and does not reflect our standards or food handling procedures," the spokesperson said. "It, unfortunately, resurfaces online from time to time, often tagged as various locations inaccurately. The actions of those former employees was unacceptable."
Overseas Scandals
While so many of the scandals the company has faced in the United States have been the subject of rumors or misinformation, the company has faced more serious problems with international KFC franchises, such as high levels of fecal bacteria in U.K. KFCs, as reported by The Independent, or controversial ads in Australia, as reported by The Guardian.
In a statement to The Independent, a KFC spokesperson said the restaurants affected by fecal bacteria were immediately sanitized. "We immediately shut down the ice machines in the restaurants affected to conduct a thorough clean and inspection, and reinforced the importance of adhering to our strict procedures to all employees," KFC said.
As for the ads Down Under, KFC Australia said that the commercials were misinterpreted, and not intended for U.S. audiences. "The ad was reproduced online in the U.S. without KFC's permission, where we are told a culturally-based stereotype exists, leading to the incorrect assertion of racism," the company told The Guardian. "We unequivocally condemn discrimination of any type and have a proud history as one of the world's leading employers for diversity."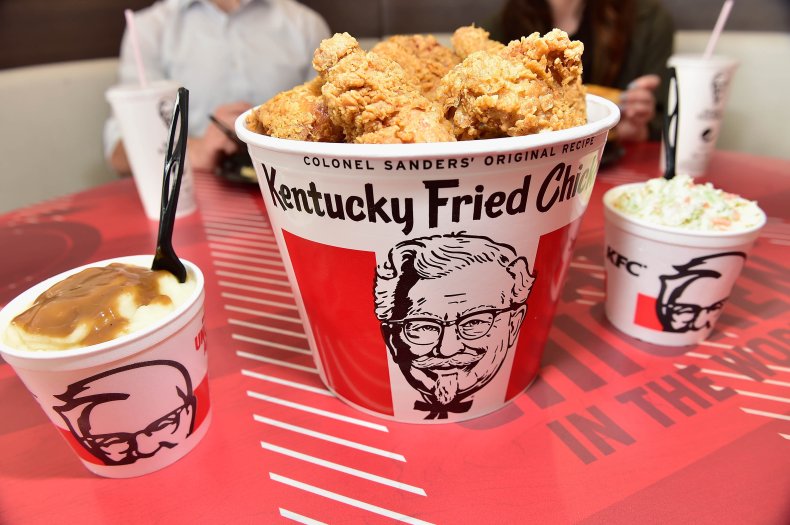 Correction 09/09/2020, 6:10 p.m. ET: A previous version of this story said that John Schnatter was facing backlash for using racist language at the time of the May 2018 conference call, and that he had called out NFL players for protesting the National Anthem. Schnatter was criticized for language used during that May 2018 call, and the statements he made regarding NFL protests were more directly aimed at NFL leadership.