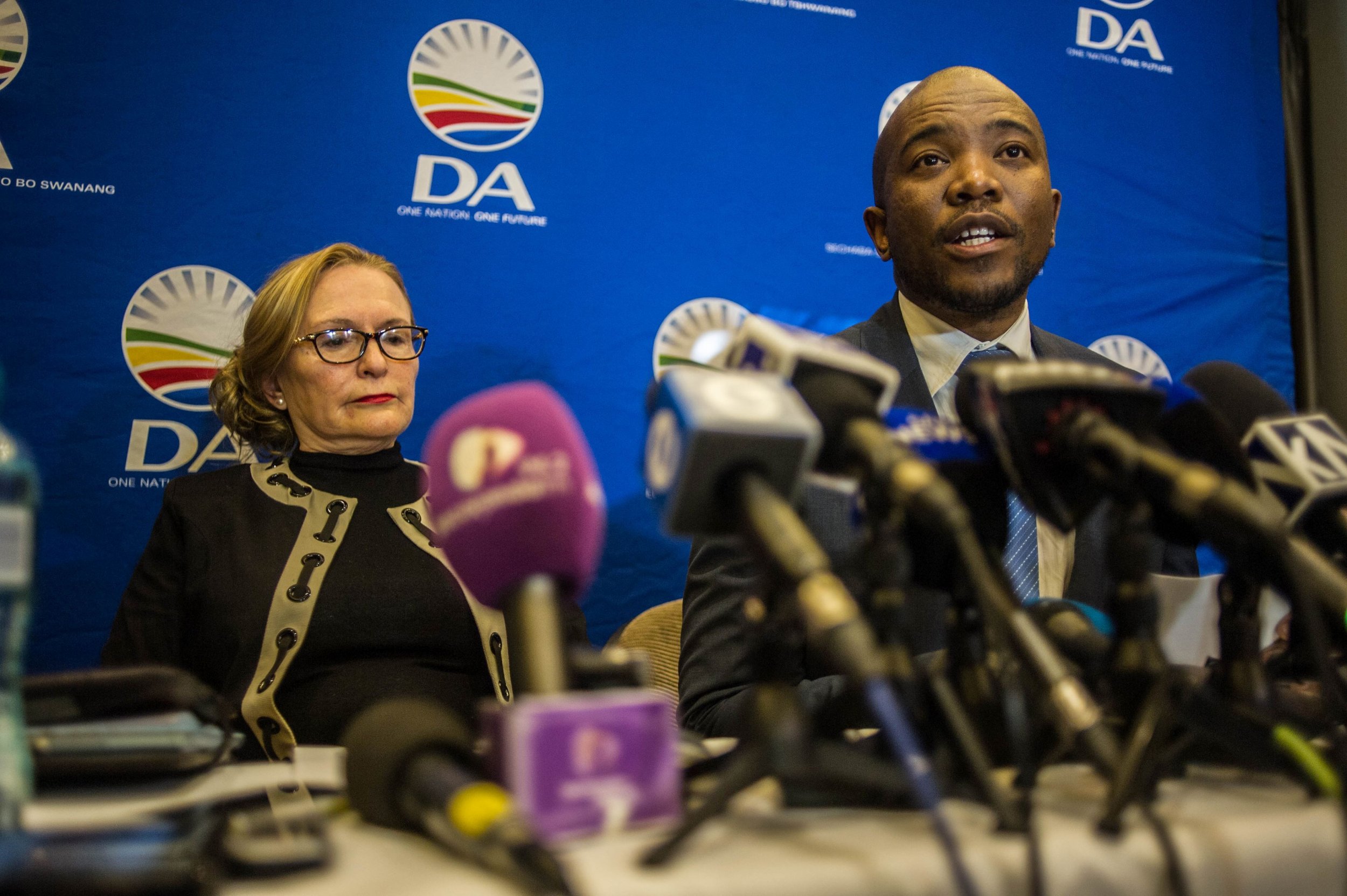 Colonialism is never the easiest subject for discussion—but it's particularly loaded in South Africa.
Africa's most industrialized state was for centuries ruled by a mixture of British and Dutch overlords, who oppressed the black African majority. Even after it gained independence in the early 20th century, the after-effects of colonialism spilled over into the policy of white minority rule—known as apartheid—which existed from 1948 until the election of Nelson Mandela, the country's first black president, in 1994.
So when Helen Zille, the white former leader of South Africa's main opposition party, the Democratic Alliance (DA), tweeted in March that colonialism was not entirely bad, she should have known she was playing with fire.
After first putting up a defense of her comments, then making a string of apologies, Zille's demise was complete on Tuesday. Appearing alongside Mmusi Maimane—the current DA chief and the party's first black leader—Zille apologized "unreservedly to the South African public who were offended" by her tweets and subsequent defense. Maimane announced that Zille would vacate all leadership positions she held in the party and would have to get permission from the DA before commenting on issues in the future as a representative of the party.
Read more: Is Mmusi Maimane the man to reform South Africa?
Zille remains in post as the premier, or governor, of the Western Cape province, but it appears likely that the incident may have significantly damaged her illustrious history in politics. Born in 1951 in Johannesburg to a pair of German nationals who had escaped the Nazi regime, Zille's early career was as a journalist and anti-apartheid activist. One of her most important achievements was an exposé on the death of Steve Biko, a prominent human rights activist, whom she reported had died from brain damage in his prison cell and not as a result of a hunger strike as the apartheid government had claimed.
Zille entered national politics in 2004 and took over leadership of the DA in 2007. She gradually grew the center-right party's support base, growing its vote share to 16.7 percent in 2014, the party's largest since it was founded in 2000. Zille also won a prize for being the world's best mayor in 2008 for her leadership as mayor of Cape Town, where successes included being part of the team that won the 2010 FIFA World Cup for South Africa.
But the DA has suffered from its reputation among some in the country as a white person's party. That reputation has not been helped by scandals involving DA members. In 2015, DA MP Dianne Kolher-Barnard sparked controversy by sharing a social media post that suggested life in South Africa was better under former apartheid leader P. W. Botha.
Zille herself has also courted controversy on several issues. HIV/AIDS activists criticized Zille after she suggested in 2011 that HIV-positive men who had multiple sexual partners and failed to use condoms should be charged with attempted murder. In 2012, Zille again came under scrutiny after describing school children leaving the impoverished Eastern Cape for the Western Cape as "refugees."
The current DA leader Maimane—who has been dubbed the Obama of Soweto for his oratorical style—succeeded Zille in 2015, leaving her to take a background role in the party. But her controversial tweets about colonialism have thrown her back into the spotlight—and could contribute to curtailing her political career.