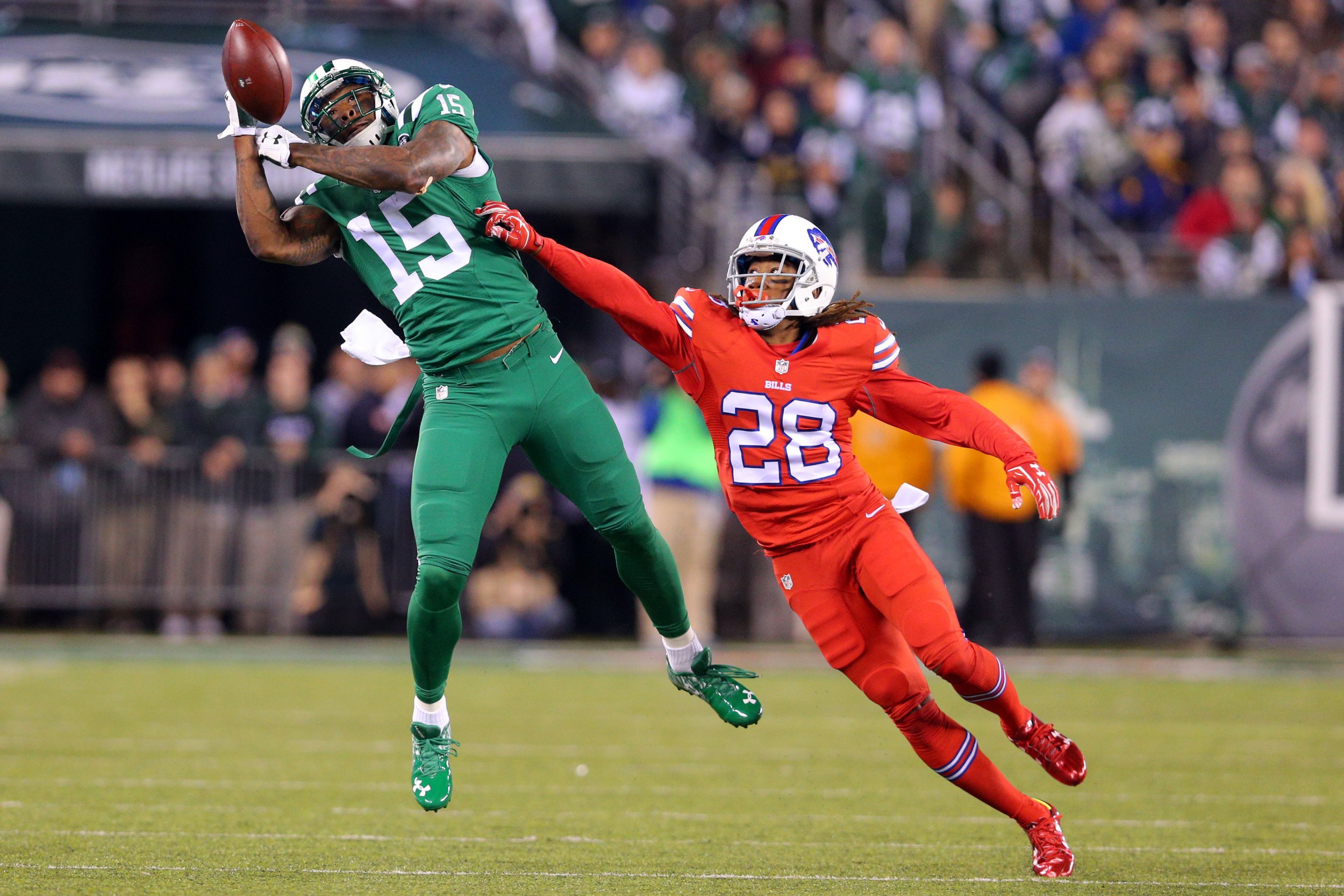 It seemed as if Christmas had come early at last week's Thursday night NFL matchup between the Buffalo Bills and the New York Jets. Each team was monochromatically outfitted from helmet to cleats and almost everything in between—the Bills in red, the Jets in green. The uniforms are part of the "Color Rush" NFL marketing campaign, which features teams dressed in a single color during four Thursday night games, the first of which took place in at MetLife Stadium last week. Created by Nike, the bold-colored uniforms are intended to stir up a sense of awe akin to that felt during the first NFL game broadcast in color on Thanksgiving Day 50 years ago.
But for any color-blind spectators, like longtime Buffalo fan Don Jay, it was less awe, more awful. "Trying to track plays live was really difficult," Jay tells Newsweek, explaining that the dark red and green uniforms had the same saturation, which caused them to blur together, especially during action. "Early in the game, a Bills defensive player [Manny Lawson] nearly intercepted a pass, and due to the nature of the play my first instinct was thinking it was a dropped pass by the Jets," says Jay. "Contested passes were tough too—it's just very difficult in real time to track who's who."
Red-green color blindness is caused by either protanomaly, a reduced sensitivity to red light, or deuteranomaly, a reduced sensitivity to green light (and the most common type of color blindness). Around 10 million Americans suffer from the condition in some form, and it's much more prevalent in men as it's linked to the X chromosome.
The day after the game, the NFL released a statement explaining that they "did test the jerseys this summer on field and on television. The standard television test did not account for color blindness for fans at home that became apparent last night." Going forward, the league will "enhance" testing, taking color blindness into account. Six more teams will be wearing the Color Rush uniforms this season: The Tennessee Titans will be in blue against the Jacksonville Jaguars in a sort of golden-yellow hue; the Carolina Panthers will also be in blue, taking on the Dallas Cowboys in white; and the Tampa Bay Buccaneers will face the St. Louis Rams in bright yellow. Next season, the league plans on having the uniforms for all Thursday night games.
Interestingly, this isn't the first time that a Bills' uniform change was mentioned in the same sentence as color blindness. In 1984, the Bills went from wearing white helmets to red, and a rumor went around that it was due to then-Bills quarterback Joe Ferguson not being able to tell the difference between players on the field due to his color blindness. In 1983, he threw a career-high 25 interceptions—perhaps, it was thought, it was because he didn't know who he was throwing to? It wasn't entirely true—Fergy wasn't color blind, but the helmet color change, according to former equipment manager Dave Hojnowski, was to help differentiate between players, as three out of four teams in their division sported white on top. With new red helmets, Ferguson threw 8 fewer receptions than he had the previous year—not a total success, but certainly an improvement.
There was, however, a famous Bills quarterback who actually was color blind—Hall of Famer Jim Kelly. Lucky for him, he retired before having to be sacked by the Color Rush.
Uncommon Knowledge
Newsweek is committed to challenging conventional wisdom and finding connections in the search for common ground.
Newsweek is committed to challenging conventional wisdom and finding connections in the search for common ground.