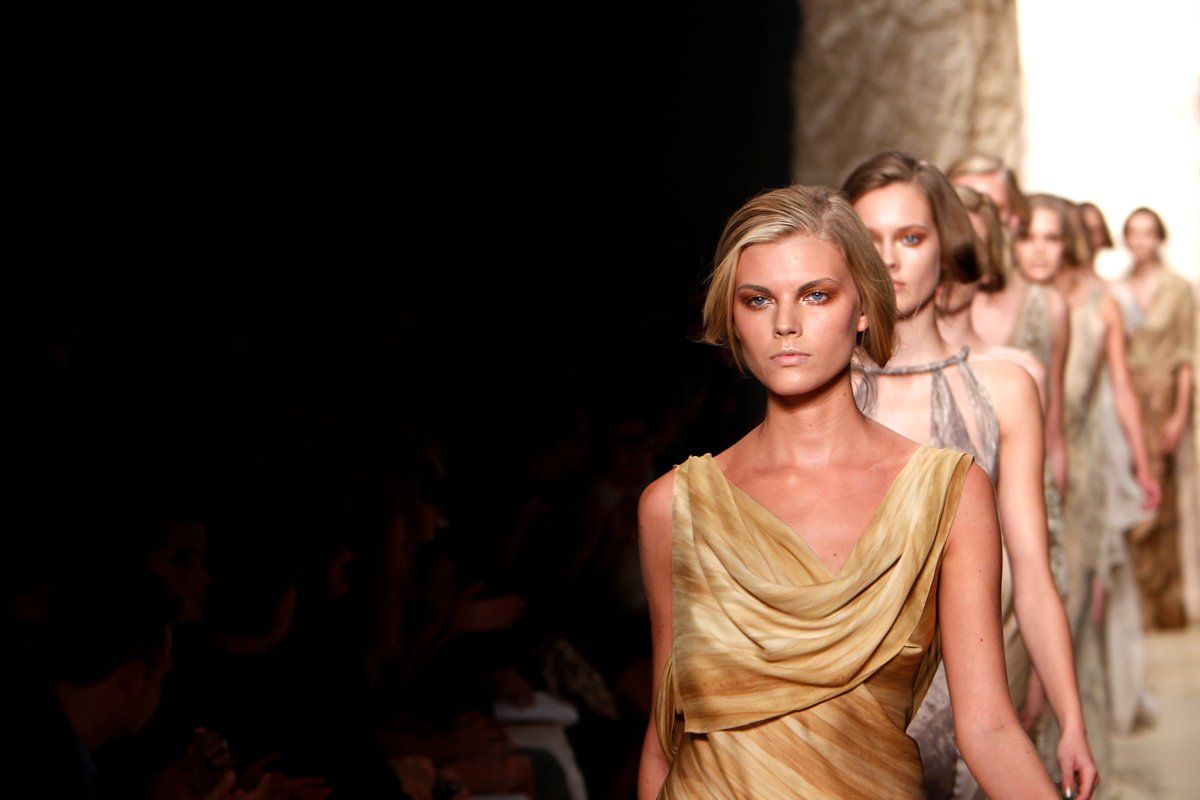 With New York Fashion Week now over, design houses have moved on to filling the orders buyers placed after viewing the trends that came down the runway. Critics have adjudicated the hits, the collection photos have been disseminated, and all the models are packed and ready for the next round of catwalk appearances. All, that is, except the dozens of black and other ethnic models, who are, as ever, unsure how much work they will get next season. It is a perennial issue—not just a seasonal one.
Fashion designers are notorious for excluding minority mannequins—male as well as female—from their runway extravaganzas. Not to mention the advertising campaigns that stuff the pages of magazines from Vogue to Elle to GQ with glossy, full-page spreads. Intermittently, there comes a wave of criticism and soul-searching that results in a brief flirtation with a new crop of "exotic" mannequins and even yields the occasional supermodel, whether Naomi or Chanel Iman.
And then things settle back into the same old ... same old. Bethann Hardison, a model turned fashion-industry entrepreneur and activist, says things have improved since 2007, when she held a series of seminars and discussions with design houses and agencies pressing for more minority models, but "we're still not where we need to be."
Edwing D'Angelo is a young black/Latino designer who recently presented his exuberant women's and men's collections at the Waldorf-Astoria in a show that featured a striking array of Asian, Hispanic, black, and white models. He says ethnic models face the same obstacles as minority designers, especially when it comes to being featured in print: "They suffer from the looking-alike syndrome," he says, referring to designers and fashion publications. "They'll say, 'We already have that look' ... as if you can only have one ethnic model—never mind the presence of a hundred blondes."
Everyone understands that change takes time, says Gate Haile, a New York–based model who is just completing an assignment for L'Oréal. "But I don't know how long they need," says the Ethiopian-born model, who got her start in Amsterdam. "Maybe they'll realize two years from now they need to shoot more black girls. They need to realize that there are beautiful black girls as well." She says almost all models struggle, "but there are a lot of black models who deserve more work."
As elusive as catwalk work may be for black and other ethnic models, landing an ad campaign is near impossible, even in a supporting role. "You might as well be asking if I can marry your daughter," Hardison told NEWSWEEK. That reality is obvious to anyone flipping through the pages of virtually any fashion magazine, from Details to W. Brands that are as beloved by ethnic communities as they are by the wider white fan base spend millions each year on ads mostly featuring white models. The names are familiar: Prada, Gucci, Dolce & Gabbana, Burberry, Versace, Dior, Donna Karan New York, even Calvin Klein. Many of these same houses don't send many ethnic models down the runway, either. "The runway is what starts the campaign. It's the birth of the blues," Hardison points out.
She and others also add, however, that the issue isn't really racism. Model agent Dave Fothergill, who does see a "larger sprinkling" of ethnic models these days, says it is simply a mindset, albeit a shortsighted one. "Fashion is just skewed and caters to Caucasians," he told NEWSWEEK. "They spend more dollars when it comes to retail, so they [designers] use those faces to attract and draw business."
Indeed, Americans spend some $326 billion a year on clothes and shoes, of which only about $27 billion comes from black customers. Ironically, many prominent black fashionistas are huge fans of some top designers who tend not to use nonwhite models. They include Halle Berry, who favors Elie Saab, and Oprah Winfrey, partial to a range of designers including Valentino and Prada. Hardison says many designers have some kind of "concept" that simply does not incorporate people of color. "Dolce & Gabbana—their whole aesthetic is south Italy," she says. "The customer in their mind is the southern Italian boy and girl. Italy doesn't have a huge amount of immigration, so that's not even interpreted in their mind ... the idea of working with people of other cultures."
Whatever the reason that white models sew up most of the best gigs in the business, the design houses are not eager to participate in the discussion. NEWSWEEK unsuccessfully sought comment from Prada, Dolce & Gabbana, Donna Karan, Burberry, and Gucci. In some cases, label representatives said the designers—apparently the only ones who can speak for the brands—were traveling.
Fothergill, who says bluntly that "Milan is notorious for not using ethnic models," notes that there's a kind of slavish devotion to the Caucasian ideal across the board, with the warped effect that Asian models, for example, have a hard time getting work—in Asia. "White models will be shipped off to Tokyo and they're going to make money, but trying to get an Asian model placed is like pulling teeth," he says.
An advertising executive in Singapore, who would not be identified discussing clients, confirmed that the preference within the market, among Asian advertisers, is for white models. The catwalk in New York—along with those in Milan and even Paris—is less inviting to ethnic models than in multicultural London, where minority mannequins are more visible on the runways of the legendary Vivienne Westwood and other British designers.
D'Angelo says he wishes minority customers in America would vary their spending more. "We're not asking them to stop spending on Prada and Klein," he says, "just spread it around. If they spend 10 percent with us on what they spend with high-end designers, we'd be OK." And, he adds, so would models. "I'm sometimes told, 'I like your designs, but they're a little too ethnic.' Which means I need to put them on a white model."
Right now, there's a fashion plate in the White House who might be able to help. Michelle Obama has emerged as an influential member of the fashion cognoscenti, with a fondness for young designers such as Jason Wu (who typically uses a handful of black and Asian models at his shows). She has also worn the work of black U.S. designer Tracy Reese. Many in the industry would be happy to see the first lady, Oprah, Halle, and others use their influence to help make modeling less of a tight fit for minorities.