Colorado 416 Fire Map Update: Massive Durango Fire 37 Percent Contained
More than 500 Colorado fire personnel are working to contain the 416 fire outside of Durango, Colorado. Management of the destructive fire shifted from the Rocky Mountain Type 1 Incident Management Team to a National Incident Management Organization (NIMO) team on Friday.
The 416 Fire, which ignited June 1 at the San Juan National Forest, was measured at 34,184 acres on Friday morning, officials said. Most of the fire's growth happened along its southwestern perimeter, The Durango Herald reported. A total of 548 personnel are working to contain the fire, which remained at 37 percent containment.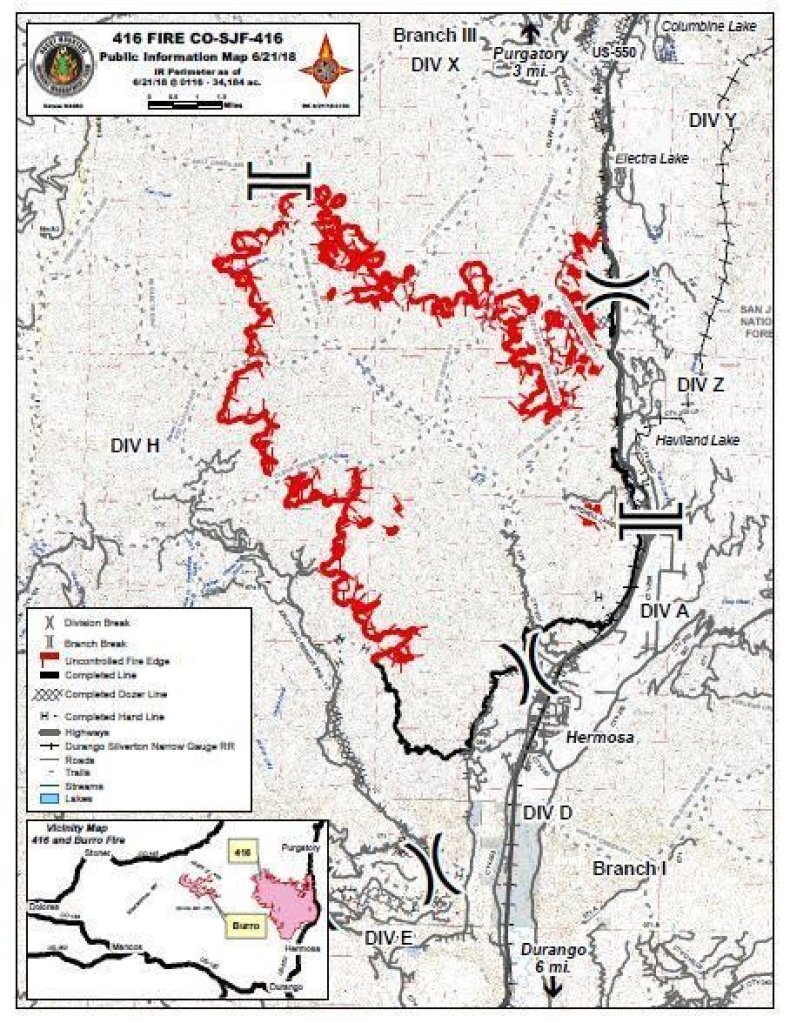 According to InciWeb, the region is under a red flag warning until 7 p.m. Friday for gusty winds, low relative humidity and dry fuels.
"Critical to near-critical fire weather conditions are expected in the vicinity of the 416 fire through this weekend," officials said. "Gusty west-northwest winds up to 30 mph are expected along the ridges, with gusts up to 25 mph in the valleys."
Relative humidity values are expected to drop below 15 percent, and poor overnight humidity recoveries are anticipated through Saturday.
The NIMO team from Portland, Oregon, shadowed the Rocky Mountain Type 1 Incident Management Team on Thursday before taking over the fire's management Friday morning, according to The Durango Herald.
Fire crews are also beginning rehab efforts on the eastern border of the fire along U.S. Highway 550.
"They'll go in and put water berms in where the line is steep and there's a chance of erosion," spokeswoman Jamie Knight said, according to The Durango Herald. "They will go in and start pulling the berm back in only if it's prudent to do so. It's really just mitigating some of the damage that occurred on the fire line."
The San Juan National Forest reopened Thursday with stage 2 fire restrictions, officials said. In a statement Wednesday, the San Juan National Forest announced that an area around the 416 and Burro fires will remain closed to the public, including the segments of the Colorado Trail from Molas Pass to the Junction Creek terminus.
Officials said that up to 1.5 inches of rain fell in some parts of the forest over two days, Colorado Public Radio reported. The remnants of Hurricane Bud, which brought in much-needed rain, helped dampen the fire.
All of the remaining evacuation orders have since been lifted.