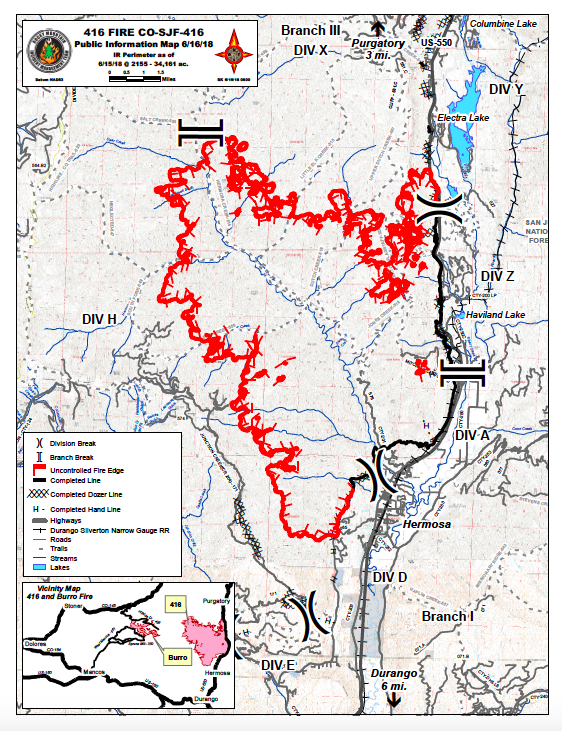 Colorado fire officials continue to battle the destructive 416 fire outside of Durango, Colorado. The wildfire has spread to more than 34,000 acres, with containment rising to 25 percent.
The 416 fire, which first ignited on June 1, was measured at 34,161 acres on Sunday morning. More than 1,100 fire crew are working to contain the fire, which is expected to be fully contained by July 31, InciWeb reported. The cause of the wildfire remains unknown.
Officials at La Plata County announced that U.S. Highway 550 is fully reopened between Durango and Silverton with normal traffic operations. On Friday, county officials announced that residents and business owners on both sides of U.S. Highway 550 from mile marker 46.5 north to the San Juan County line were allowed to return to their homes and businesses. This area continues to be under pre-evacuation orders.
La Plata County officials said Friday that 143 residences are still evacuated due to the fire, with 2,513 homes and businesses under pre-evacuation notice.
The affected area received a quarter of an inch of rain on Saturday, with remnants of Hurricane Bud expected to continue pushing through the Four Corners region unitl mid-day Sunday. The fire area is expected to receive rainfall totals of one-half to one inch, InciWeb noted.
Officials said temperatures will hit the upper 60s on the 416 fire, according to KDVR. "Relative humidity values will remain high with excellent recoveries Saturday night with minimums on Sunday in the 30-35 percent range," authorities said in an update. A drying trend is set to begin on Monday.
Meanwhile, the Burro Fire near Rico, Colorado has spread to 3,715 acres and 12 percent containment. The wildfire, which began on June 8 about 14 miles south of Rico, is expected to be contained on July 15. Officials said the fire appeared to grow Friday due to the high winds from the Hurricane Bud-related storm system.
According to InciWeb, Highway 145 to Rico and over Lizard Head Pass was open Saturday, with no closures listed for Sunday. The Dolores/Norwood road is also open. San Juan National Forest remains closed as fire crew continue to battle the wildfires.