Colorado Baker's Protagonist Allegedly Requested Satanic Cakes That Other Bakeries Wouldn't Create
The same day the U.S. Supreme Court ruled in favor of Denver-based baker Jack Phillips for dismissing a gay couple's cake order based on religious grounds, a new customer reached out.
But this customer claimed to be a devil worshipper and wanted the devout Christian to create a cake to celebrate Satan's birthday, according to court documents reviewed by Newsweek.
The "member of the Church of Satan" made several unorthodox requests:
"I'm thinking a three-tiered white cake. Cheesecake frosting," the customer wrote in the June 4 email, according to Phillips' lawsuit filed in Denver's federal court on Tuesday. "And the topper should be a large figure of Satan, licking a 9" black Dildo. I would like the dildo to be an actual working model, that can be turned on before we unveil the cake."
The email continued: "I can provide it for you if you don't have the means to procure it yourself," according to the civil complaint.
Philips "politely declined."
"This cake and the others were tied to a message of a celebration that I couldn't support," Phillips, owner of Masterpiece Cakeshop, based in Lakewood, Colorado, told Newsweek in an interview.
Newsweek reached out to a few prominent Denver-based bakeries, and while all said they would be ok with the transgender blue-icing cake with pink batter, all but one said baking Satan licking a dildo was going too far.
"Oh my God," gasped Diana Ayala, founder of Mermaids Bakery. "I think that's pretty crazy; I don't think I could make that even if I wanted to."
Another bakery owner was stumped by not just the naughtiness but the specifications.
"I don't know why someone would want Satan on a cake," the baker, who asked to remain anonymous to address a controversial topic, told Newsweek. "This is a three-tiered cake with cheesecake icing? I don't even know what that means."
The baker suspects the caller meant to request "cream cheese icing."
Even so, the baker, said that the bakery routinely supplies rainbow-layered cakes for people who are having coming-out parties. "Those are joyous occasions."
But the baker drew the line when it came to Satan.
"We do not do anything that is hateful or sexual or write anything that is derogative," the baker said.
To assess the legitimacy of a cake request like this one, the baker would require the customer to complete a homework assignment.
"I would ask them, 'You need to send me over an exact image of what you're looking for so we can see if we can do it.'"
The indirect support gives Phillips rare affirmation. For years, he feels, his beliefs have been met with scorn.
Most notably, Phillips refused to bake a wedding cake for a gay couple in 2012 and engaged in a protracted legal fight that went on for years and reached all the way to Supreme Court victory.
The baker was recently cited by the state of Colorado for wrongly denying a transgender customer's birthday cake request—the same person that Phillips suspects requested the Satan cakes.
Phillips is fighting back and argued in a civil lawsuit that he's the victim of "Colorado's unconstitutional bullying" by stripping his rights to freedom of speech, religion, equal protection and due process.
"I know I wasn't alone, and I know we all have the right to decline a message that we don't support," he told Newsweek. "The Supreme Court told the Colorado Civil Rights Commission that they were hostile to my space, and they can't do that. And here they are again showing hostility against me and my patrons."
Dessert for the Devil
The Satanist cake request wasn't the first.
In fact, Phillips claims in the lawsuit that he's routinely receiving similar orders.
Weeks following the three-tiered dildo cake, Phillips recalled how two people ventured into his Masterpiece Cakeshop and asked for a cake to be emblazoned with "a pentagram."
When Phillips asked for their names, one of the customers responded "Autumn Marie." The complaint suggests that the customer wasn't a Satanist, but rather a local attorney named Autumn Scardina, according to the complaint.
Scardina, who is transgender, has a history with Phillips.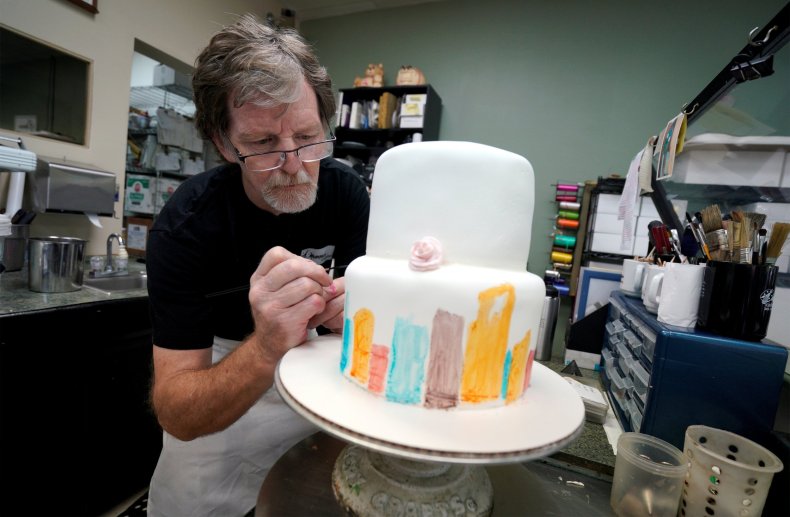 Last September, Phillips received an email requesting a cake for Satan's birthday to include "red-and -lack icing" and "an upside-down cross under the head of Lucifer," the complaint states.
Phillips answered back saying he was not going to bake it because it would have "expressed messages in violation of his religious beliefs," according to the complaint.
Then came another order by telephone.
The complaint suggests that Phillips took note of the "caller-identification screen" reading "Scardina."
In that call, the complaint states, Phillips "believes that the caller was Autumn Scardina" who wanted a red-and-black theme cake with "an image of Satan smoking marijuana."
The risqué fare wouldn't fly for baker Ayala of Mermaids Bakery, mostly because her shop is "a fishbowl" and it wouldn't be a good look decorating the devil or dope or both while families and girl scout troops patronized the space.
"The minute they come in, they're seeing us," she said.
It's not uncommon for there to be occasional orders requiring discretion. In those cases Ayala said she will "hide" in the back of the shop where she assembles a cardboard enclosure.
She's made cakes for bachelorette parties or births, when one edible creation involved legs wide-open where a baby's head is crowning and coming into the world.
"We do stuff to make people happy, so if it's a positive thing, we're down," she said. "If it's only doing something to invoke hate in any way, we won't have it."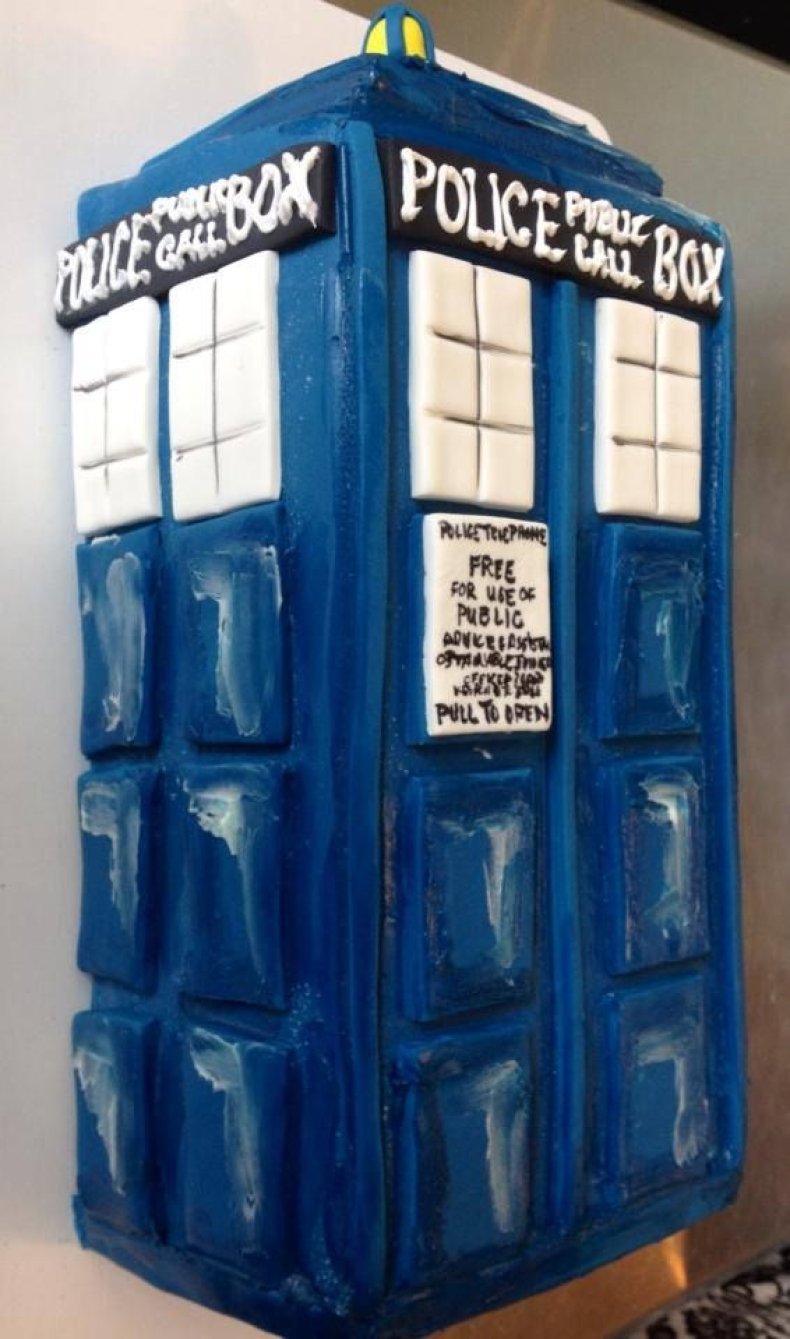 She's been tested before.
Back in 2015, Ayala said a customer in a plaid suit and dark-horn eyeglasses came into her shop and pushed her to bake a cake shaped like the Bible.
"He said he wanted it to say, 'Homosexuality is an abomination!' and on the other side he wanted a same-sex couple crossed out."
Ayala said the man asked for the cake at the exact moment while a loyal gay customer was standing at the counter.
"I told him, 'That's the most hateful thing I've been asked to make, and I won't do it.'"
The man protested, telling her, "I'll pay you anything to do it."
But Ayala held firm.
She believes the same man stormed off to other bakeries with the same order and was turned down.
The sort of cakes that Phillips has been asked to bake would be hard for her to hide.
"Making a little dildo is one thing, but I need a lot more space for something like these; and I couldn't have the kids seeing me make these things," she said.
The baker who requested anonymity was flat-out repulsed by the devil dildo cake and this week warned bakery's staff that the situation with Phillips "is going to blow up" again.
Still, not everybody is offended by the orders of weed, dildos or the devil.
For 37 years at le' Bakery Sensual, it's been anything goes.
The establishment's owner, John Spotz, told Newsweek that the cakes Phillips refused to bake—and specifically the Satanic dildo one, "wouldn't raise an eyebrow here."
"We would definitely do that," he said, but noted he would ask for an advance.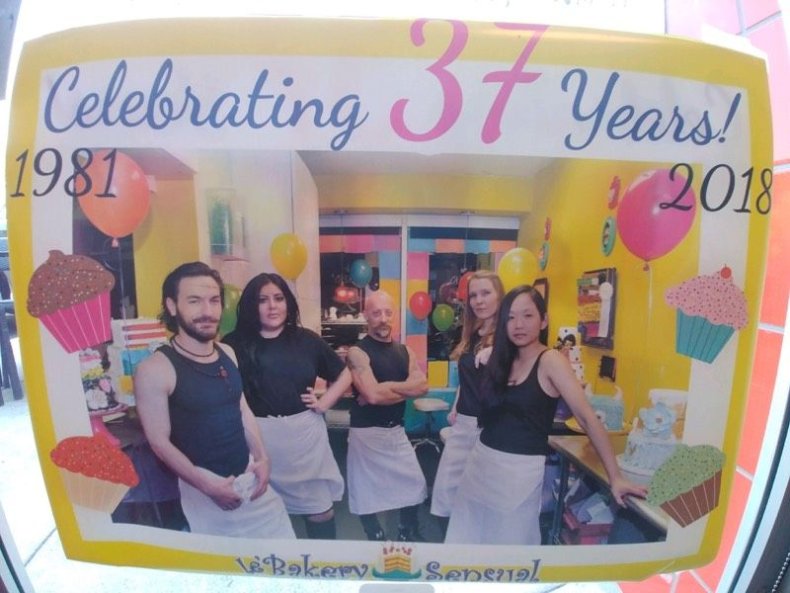 His shop is known for pushing the envelope. On the bakery's website is an entire "Erotica" section with a smorgasbord of edible XXX fare.
"We did a Satan baby for a baby shower once," he said. "They were telling us, 'We're going to have a Satan baby!' and it was baby with horns and a tail.
It was just a joke. It was funny."
But Spotz said in this case if there is some hesitancy about the customer's agenda, he might take some precautions.
"Seeing how they're trying to rile some feathers I would take half-down on a deposit," he said.
Spotz estimates a cake with the details recounted would run $278 and take "a couple hours to make."
For Spotz, there is not much that is too taboo. "I don't really care as long as nobody is doing anything to hurt or be hateful," he said. "I would do anything, especially if it's a joke. I would do Satan licking a dildo as well."
The bakery has made all kinds of cakes. "We've got a unicorn sitting in a wheelchair and a cat hanging on one of its legs and he's surrounded by Lego pieces," Spots said. "The family only orders unicorn cakes."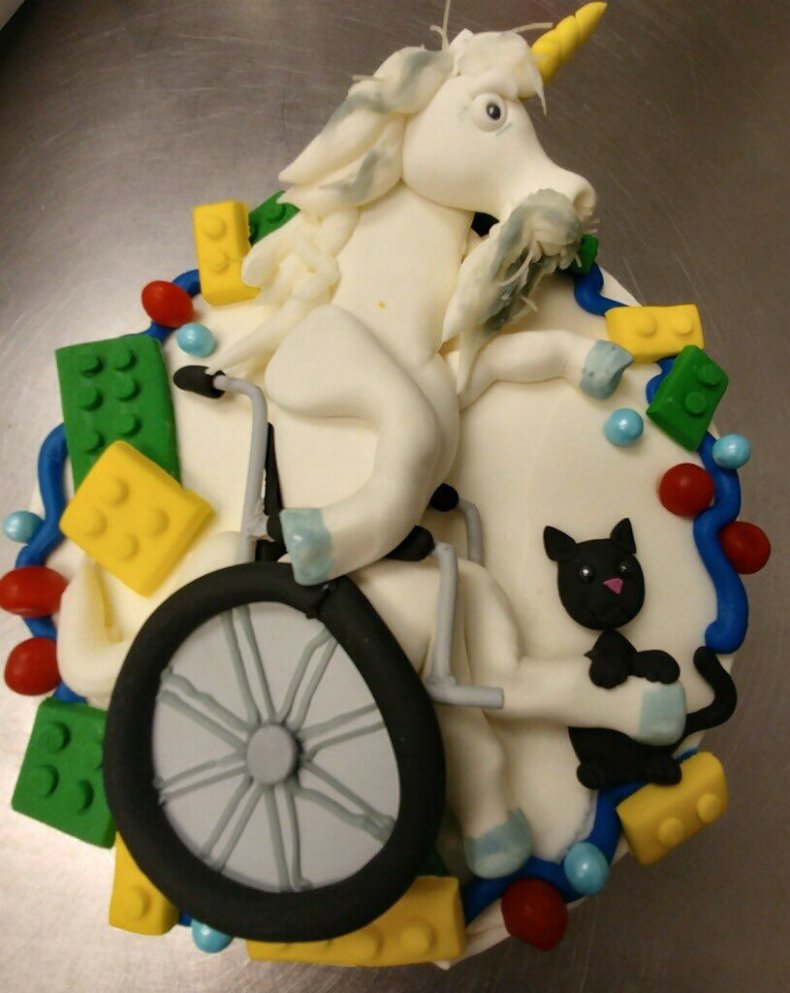 The Pink and Blues
The unorthodox cake orders often go nowhere, and have increased in number. Phillips suspects Scardina is targeting him.
"Phillips believes that many of these requests are not genuine, rather, they are setups designed to get him to decline the desired message," the complaint states. "Phillips believes that the originator of a number of these requests is attorney Autumn Scardina."
Months earlier, Phillips claims it was Scardina who reached out to his shop with another bake order.
It was June 26, 2017, the same day that the nation's highest court agreed to hear the Masterpiece Cakeshop v. Colorado Civil Rights Commission case, referring to the 2012 incident when Charlie Craig and David Mullins filed their complaint with the Colorado Civil Rights Commission for being turned away by Phillips because they were gay.
On this particular phone call, Scardina said she fancied a cake with "a blue exterior and pink interior" to "reflect...the fact that [the lawyer] transitioned from male to female and that [the lawyer] had come out as transgender," according to the Commission's June 28 decision.
Phillips "politely declined" to bake the transgender-themed pink-and-blue cake, the complaint states.
The Commission, which falls under the Colorado Department of Regulatory Agencies or DORA, and is tasked with "enforcing the state's anti-discrimination laws" opened an investigation.
It formally determined there was probable cause that Phillips discriminated against Scardina based on gender identity.
By turning away Scardina, Phillips "denied her equal enjoyment of a place of public accommodation," Aubrey Elenis, director of the Colorado Civil Rights Division wrote in her ruling.
A DORA spokeswoman refused to comment when reached by Newsweek citing "pending or active litigation." The lawyer, the complaint reads, then allegedly "asked the shop's representative to repeat that statement so that someone listening over the speakerphone could hear it."
It's unclear if Scardina was recording the call. Scardina did not respond to Newsweek's calls or emails requesting comment.
But if she was recording it would be legal, since Colorado state law requires just one party's consent to record phone calls.
In the complaint, Phillips contends to bake such a cake was would have been pure heresy and undermined his faith that "sex—the status of being male or female—is given by God, is biologically determined, is not determined by perceptions or feelings, and cannot be chosen or changed."
Still, Phillips makes it known that he's not about banning homosexuality.
The baker, who convenes prayer sessions at the workplace, closes shop on Sundays to respect God's day of rest, doesn't bake any off-putting cakes; even festive money makers like Halloween cakes aren't on-the-menu.
"Because of Phillips's religious beliefs, he will not design or create custom cakes celebrating Halloween," the complaint suggests.
"I won't bake any cake that denigrates any people," he told to Newsweek. "Like if someone wanted me to bake one that was against LGBT, I wouldn't.
"If you want me to write something denigrating to the gay community, I won't do it. It doesn't have to be that far over the top for me to say, 'No!'"
Victory's Toll
The Supreme Court decision, in which justices ruled in favor of Phillips by 7-2 essentially instituted precedent and empowered other business owners to be buttressed by the law if they choose to invoke their religious beliefs.
Justice Kennedy, who announced he will be retiring this summer, warned at the time that "all in the context of recognizing that these disputes must be resolved with tolerance, without undue disrespect to sincere religious beliefs, and without subjecting gay persons to indignities when they seek goods and services in an open market."
With the law on his side at least earlier in the year, hasn't turned into success for Phillips's Masterpiece Cookshop.
Phillips says the bakery has struggled. He said he had to cut a staff of 10 workers down to four. Because, he feels, locals are skipping his store in favor of competitors.
"The state ruled that if I'm going to be in the wedding business, I have to change my practices and serve to gay couples as well," Phillips chagrined. "They took 40 percent of my business away."
Aside from the bleak balance sheet, Phillips said he and his family have been living in constant fear and have received death threats.
One caller to told Phillips he wanted "to cut me up with a machete."
Another threat came while his daughter and granddaughter were visiting the cake shop.
"I was concerned enough that I had to go and hide them in the back and told them they could not come back out until it was clear," he said.
A few weeks back in the middle of the night his security system sounded an alarm after vandals launched rocks at his bakery.
"Somebody was trying to break stuff," he said.
The baker has the backing of the Christian legal nonprofit Alliance Defending Freedom or ADF. One of the organization's attorneys is working on-site at Phillips's cake shop along with his scratch staff when Newsweek reached him.
He admits that after weathering the constitutional duels—toil is settling in.
"It's been tough to make everything work."