Colorado Bill Aims to Remove 'Fear' From Voting by Banning Guns at Polls
Citing acts of armed-voter intimidation, a group of Colorado lawmakers advanced legislation that would ban the open-carry of firearms near ballot drop boxes, polling locations and vote-counting facilities.
A legislative panel on Monday held a hearing on the "Vote Without Fear Act," a bill sponsored by Democratic legislators who say it's needed to allow voters to safely cast their ballots in response to what they say is the daunting and increased presence of gun-toting observers.
The bill would make it a misdemeanor to openly carry a firearm inside or within 100 feet of a location used to cast or count ballots, punishable by up to a $1,000 fine, 364 days in jail or both. It includes exceptions for those who own private property nearby, law enforcement and those with concealed-carry permits.
Denver state Representative Jennifer Bacon told the House Committee that the presence of armed people near polling areas has historically been used to deter Blacks and other people of color from casting their votes. She pointed to an incident in Mississippi after World War II that involved a mob of armed white men preventing Black veterans from voting.
"Just as we have had questions on where firearms can be, from everywhere from schools to postal offices to airports," she told the House State, Civic, Military, and Veterans Affairs Committee. "This is an important conversation for us to have, again, to ensure that all those who want to vote here in this state regardless of ZIP code should be able to do so without fear."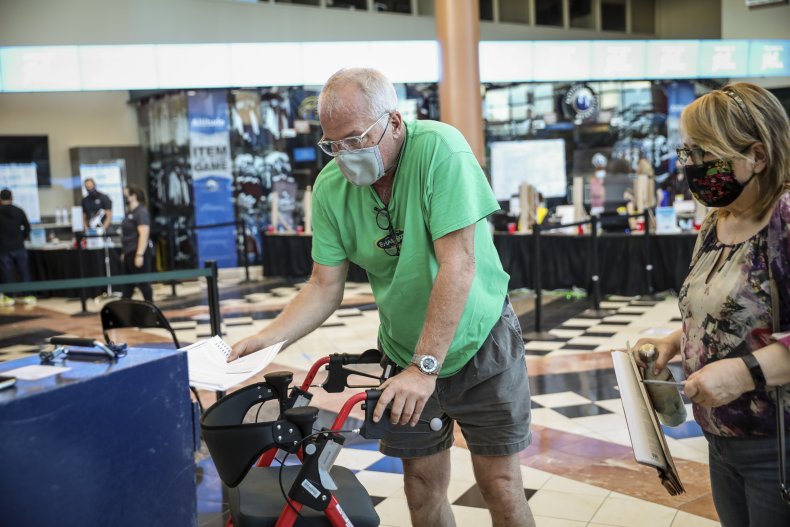 Bacon pointed to incidents in Georgia and Texas where "armed supporters of a particular party" have harassed voters in line and circled around polling sites. She also referenced a resolution from the American Bar Association that called for bans on firearms at polling places. The resolution cited how political protests in recent years have become more volatile because of the presence of guns.
Colorado has also seen similar events. Bacon mentioned how during the contentious 2020 election, police were called in response to two armed men standing outside a ballot drop box filming voters as they cast their ballots.
The committee heard from gun-rights advocates who questioned the bill's constitutionality and effectiveness. Multiple people referenced a 2008 incident of voter intimidation by members of the New Black Panther Party at a Philadelphia polling place as a reason why guns were needed at polling places.
"We believe the right to keep and bear arms is as important as the right to vote," Robert Edmiston, representing the Firearms Coalition of Colorado, said. "The mere fact that someone is open-carrying the firearm for self-protection and for the protection of others should not be considered a cause for alarm by a rational person."
The committee's minority Republicans also pushed back on the legislation.
State Representative Patrick Neville said the bill effectively seeks to create gun-free zones, which he said have been proven to be ineffective in stopping shootings at schools and elsewhere. Representative Mary Bradfield said that voters who felt uncomfortable around the presence of firearms had the option to mail in their ballot or go to a different polling facility.
Democratic state Representative Tom Sullivan, a sponsor of the bill, responded, saying the bill addresses situations where people with firearms stand by ballot drop boxes and ask voters who they chose. He also said that while voters had the option to cast their ballots elsewhere, election workers don't have that choice. Sullivan added that 11 states, the District of Columbia and Puerto Rico prohibit open-carry around polling places.
"Unfortunately, in the past several years, we have seen a rise of violent rhetoric and armed intimidation at protests and polling places," Paul López, clerk and recorder for the city of Denver, told the committee. "The former president called for an army of poll watchers to monitor the polls for him and we saw photos of armed groups surrounding Arizona vote-counting facilities after the 2020 election."
López said that American democracy is already under attack "in ways not seen in centuries," citing disinformation around elections. He referenced a report by the Brennan Center for Justice that found one in three local election officials are concerned about facing harassment or pressure.
He said he gets a weekly notification from the U.S. Department of Homeland Security warning of people who are threatening violence against election workers, referring to the poll workers as "soft targets."