Boulder, Colorado Fire Evacuation Map as Marshall, Superior Blazes Spread Out of Control
Hundreds of homes have been destroyed and tens of thousands of people have been evacuated due to wildfires that have been described as Colorado's worst ever.
Some 580 structures had been burnt during the blazes that have ravaged around 1,600 acres southeast of Boulder, prompting the evacuation of about 30,000 residents.
The blazes are thought to have been caused by sparks from power lines and transformers toppled by high winds across the Front Range.
Of two wildfires burning, the most significant, the Marshall Fire, was first reported after 11 a.m. on Thursday.
Boulder County Sheriff Joe Pelle told a briefing on Thursday that while there are no reports yet of deaths, the magnitude of the fire in a heavily populated area meant that "we would not be surprised if there are fatalities."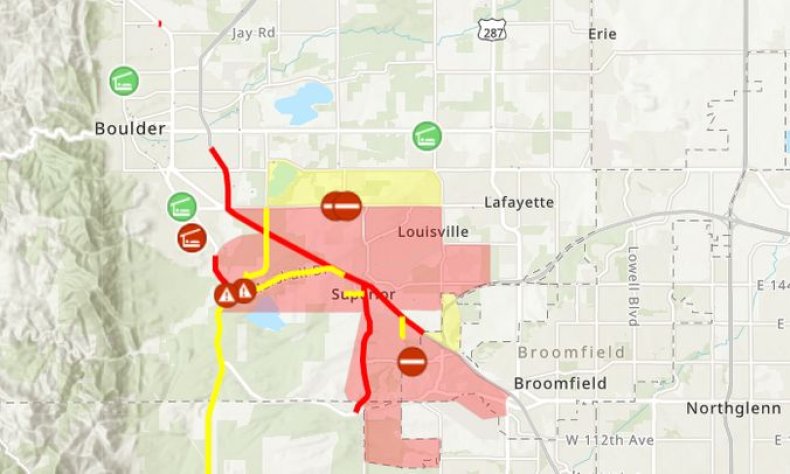 Six people injured in the fires are being treated at UCHealth Broomfield Hospital, ABC News reported.
Pelle said that 370 homes were burnt in the Sagamore subdivision just west of Superior, where an evacuation order of its 13,000 residents was ordered. Also lost were 210 homes in Superior's Old Town area.
The 18,000-strong population in the adjacent municipality of Louisville were also ordered to evacuate. Part of Westminster, Colorado, is also under a mandatory evacuation order.
Three evacuation centers have been set up at North Boulder Recreation Center, Longmont Senior Center, and the YMCA in Lafayette.
The Target shopping complex in Superior was on fire and the Element Hotel in Superior was "fully engulfed" according to Pelle, Wildfire Today reported. Centura Health's Avista Adventist Hospital in Louisville evacuated its patients, ABC News reported.
People shared images and videos of the devastation on social media. One picture posted on Twitter showed a house in Louisville completely engulfed by flames within 20 minutes.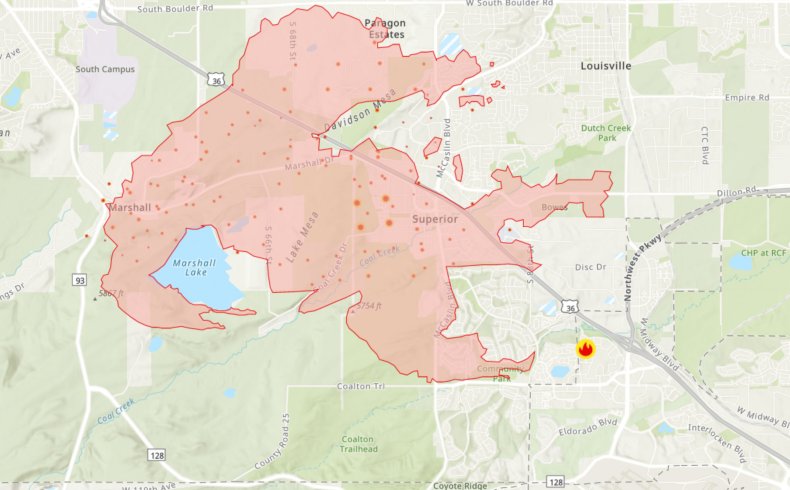 An entire row of houses was seen burnt beyond repair in another video posted by the account US StormWatch. Video shared by Broomfield Police show flames tearing through houses.
Local authorities are arranging for meals to be provided and those with large animals are being urged to take them to Jefferson County Fairgrounds.
"These are unprecedented wildfires that have just created a level of devastation and destruction that our state has not experienced before," Joe Neguse, Democratic representative for Colorado's second congressional district, told CNN.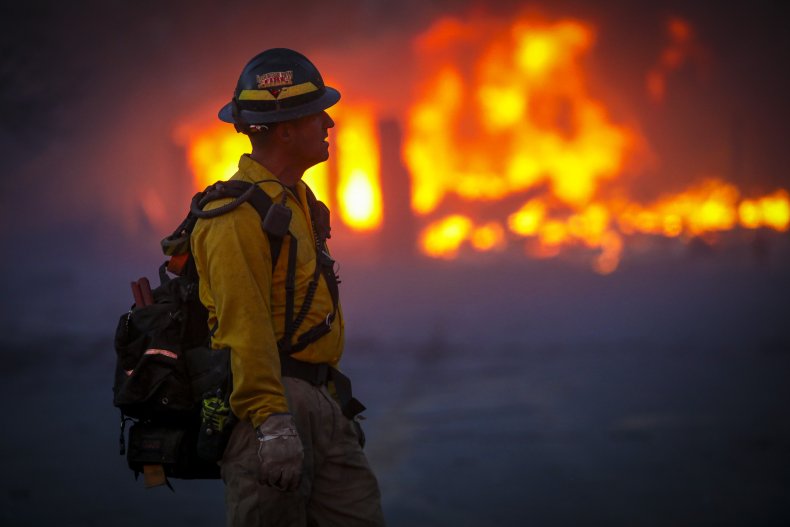 There is hope that record-breaking winds, which pushed the fires into residential communities, will die down and the flames will be dampened by snow which is expected on Friday.
Colorado monitoring stations across Jefferson, Boulder, and Larimer counties had recorded preliminary hurricane-force wind gusts, with some exceeding 100 miles per hour on Thursday afternoon, CNN reported.
Daniel Swain, a meteorologist at the University of California, said it was "genuinely hard to believe this is happening in late December." He tweeted that the fires were exacerbated by a "record warm & dry fall" combined with "an extreme (100mph+) downslope windstorm."
However, there was the prospect that the weather conditions would offer a reprieve, with the National Weather Service saying that "gusty" and "variable" winds were likely but canceled its high winds warnings.
Colorado Governor Jared Polis has declared a state of emergency, allowing the deployment of emergency funds and resources including the Colorado National Guard.
Polis described the fire as a "force of nature," and told those affected "we will be there for you to help rebuild your lives." Early Friday morning, there were nearly 19,000 customers without power in Boulder County.
"Prayers for thousands of families evacuating from the fires in Superior and Boulder County," Polis tweeted.