Colorado Buffaloes Mascot Shoots Himself in the Groin after Pointing Cannon the Wrong Way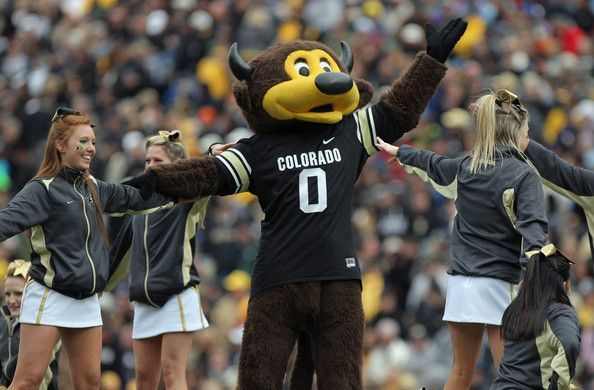 Mascots are a staple of sporting events. Regardless of whether you are waiting for a local college football matchup, the first game of the Stanley Cup or a crucial Game 7 in the NBA playoffs, mascots are as quintessential to U.S. sports as fantasy leagues and queues at the concession stands.
Most mascots try to whip up the atmosphere, pose with young ones for a few pictures and goof around with fans of the team on the road. Recently, however, mascots have also taken on a commercial role, including firing T-shirts, caps or other paraphernalia from novelty canons and into the crowd.
And that's when things can go wrong. Badly wrong, in fact. The Colorado Buffaloes mascot found out for himself on Saturday, when he accidentally shot himself in the groin with a T-shirt cannon that was facing the wrong way.
Instead of aiming the cannon towards the crowd, Chip the Buffalo had accidentally pointed the cannon towards his groin region. As a result, instead of the expected result of T-shirts landing onto the stands, he only succeeded in inflicting some serious damage onto himself.
A clip that was posted on Twitter and quickly went viral shows the unfortunate incident. Poor Chip went down like the proverbial sack of potatoes and had to be carted off to the locker room to receive treatment.
It wasn't all bad news, though, as the intrepid (or foolish, depending on one's point of view) buffalo received a standing ovation as he was being stretchered off and the Buffaloes then secured a 45-13 win over New Hampshire.
Chip wasn't the first mascot to be involved in an on-field incident.
In 2003, Harvey the Hound, the Calgary Flames mascot, decided to make his way towards the Edmonton Oilers bench. While fans revelled in the bonhomie of it all – particularly as the Flames were 4-0 in front in the third quarter – Oilers coach Craig MacTavish did not and reached out to Harvey's tongue, ripped it off and tossed it into the crowd.
The massive 6'6 mutt, however, would have the last laugh as he borrowed a scarf from a fan to use as a tongue and returned to the rink to show it off.
A year later, Bucky the Badger, Wisconsin's mascot, was arrested for crowd surfing in the student section during a football game and was issued with a $181 ticket. It wasn't the first offense of its kind either, seeing Bucky had been fined $141.5 for the same infringement eight years earlier.
And in 2010, the Cincinnati Bearcats' mascot was arrested and ejected from the stadium before a game against the University of Pittsburgh for throwing snowballs into the crowd.
Killjoys.