Snake Eats Golf Balls Thinking They Were Chicken Eggs, Gets Stuck in Fence
A snake had to be rescued by a Colorado wildlife center after it apparently mistook a pair of golf balls for chicken eggs and ate them both.
The incident was reported by the Northern Colorado Wildlife Center on Monday, which said staff members were called out to help the snake after it had gotten stuck in a fence.
"Well you don't see this every day," the center wrote in a Facebook post. "Our team was called to help this bullsnake who became stuck in a fence after swallowing two golf balls within a chicken coop; it had mistaken them for edible chicken eggs."
Staff retrieved the snake and found that the golf balls were causing a serious blockage in the snake's intestines. They, therefore, began the slow process of helping the snake regurgitate the balls using special techniques.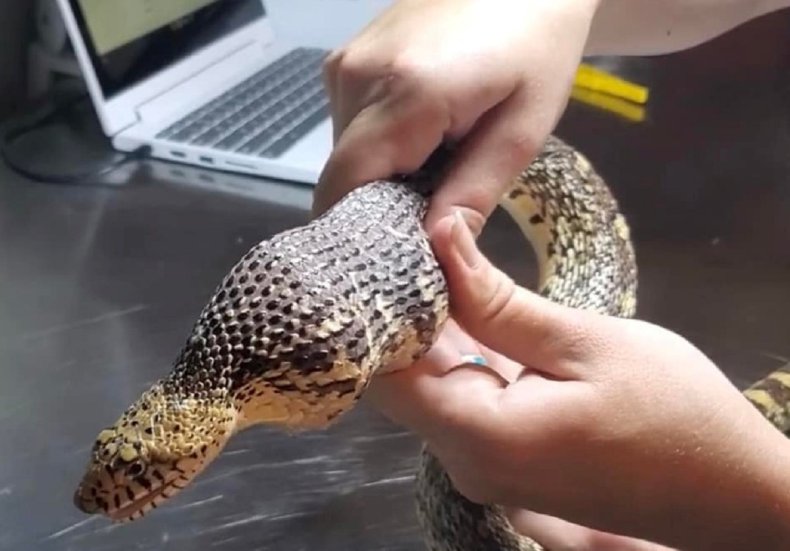 "All in all, the slow, careful process took Kate and Michela approximately 30 minutes to complete," the center wrote.
Photos show how the golf balls caused visible bulges at a couple of points along the snake's body. A final photo also shows the two golf balls after they had been removed from the snake, which looked to be in better condition.
"As of now, the snake is doing very well and only has minor soreness and scale damage," Northern Colorado Wildlife Center wrote. "It was hungry, of course, and has already eaten a small meal from us."
"Remember, if you ever find a wild animal in need of help, never provide it with food, water, or medical assistance. Simply contact your local licensed wildlife rehabilitator and follow their instructions."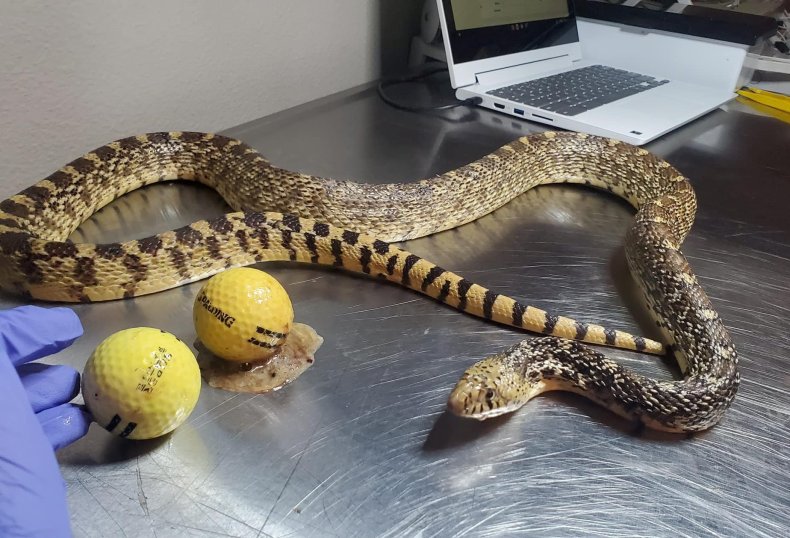 Tallon Nightwalker, director of Northern Colorado Wildlife Center, told Newsweek: "Typically we would advise folks to pick up their litter, but these golf balls were intentionally placed into the chicken coop to play the part of fake eggs; making the chickens lay less eggs because they think they already have a nest going. However, we always advise people build their chicken coops in a way that prevents any wildlife from entering.
"Most people only build their coops with excluding large predators in mind, such as raccoons, mountain lions, hawks, coyotes, or bears, but it is important that they build it in a way that also keeps smaller birds, snakes, and lizards from going in as well. Without those improvements, not only could we run into situations like this bullsnake, but we also see situations where the chickens are attacking and killing native wildlife."
The bullsnake can be found in several states around the U.S. and is one of the most pervasive snakes in Colorado, according to the University of Colorado Boulder Museum of Natural History. The bullsnake is not venomous, Texas Parks & Wildlife states.
Typically the bullsnake's diet consists of small mammals like mice and squirrels, though they also eat birds and eggs. Due to its ability to kill crop-destroying rodents, the Missouri Department of Conservation states that the bullsnake is "a valuable neighbor to farmers" and should be protected.
It's not unheard of for snakes to suffer blockages, and these may be referred to as impactions. Symptoms of an impacted snake may include a lack of appetite as well as a lack of bowel movement for many weeks, according to the Long Beach Animal Hospital in California.
Impaction is a serious condition that if left untreated can lead to the death of a snake. In some cases, surgery may be the last resort to remove blockages.
Update 7/27/22, 10:54 a.m. ET: This article was updated with comment from Northern Colorado Wildlife Center director Tallon Nightwalker.