Colorado CEO Pulls Gun on Couple For Accidentally Turning Onto His Driveway
Paul Favret, the CEO of Resource Energy, an oil & natural gas company, allegedly brandished a firearm at 26-year-old Chris Ochoa and his girlfriend when the young couple accidentally drove into a wealthy neighborhood in Sedalia, Colorado, roughly 30 miles south of Denver.
Ochoa and his girlfriend were driving a rental car to a friend's wedding rehearsal when the Apple Maps led them to Favret's driveway in an area named the Elk Ridge Estates.
Not seeing any other cars around, Ochoa backed his vehicle out of the driveway and then contacted their friends to help navigate them to the rehearsal. Unbeknownst to the driving couple, however, pulling into the driveway triggered an alarm that alerted Favret to the car in front of his home.
Favret jumped into his truck and then chased the couple down. Ochoa says that his girlfriend managed to call 911 despite the couple keeping their hands up. Ochoa later told officers with the Douglas County Sheriff's Department that he and his girlfriend remained as still as possible, believing that Favret's rage could compel him to shoot the couple at any moment.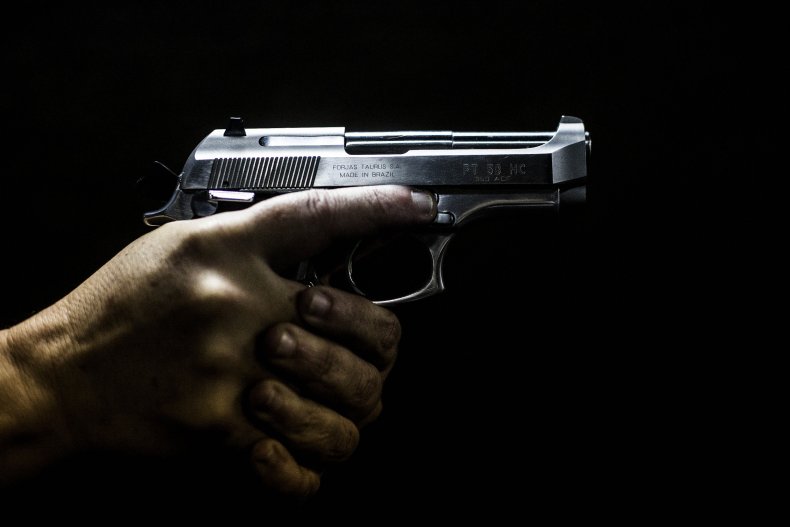 When police arrived on the scene, Favret denied having pulled a gun on the couple. But Ochoa's girlfriend had used her phone to take photos of Favret holding the gun.
After police showed Favret the photos, he said he hadn't remembered pulling out the gun and blamed his bad memory on medication painkillers he had taken for a recent shoulder surgery.
According to police reports, Favret's actions constituted felony menacing, and he could've been arrested on the spot had Ochoa and his girlfriend decided not to press charges.
The couple made the decision after their friend's aunt threatened to cancel their wedding being held at her house if Ochoa "disrupted her community," Ochoa wrote in a public Facebook post.
Although Ochoa's friends appeared to help accompany him to the right location for the wedding rehearsal, Ochoa believes Favret's actions were racially motivated. Ochoa has since decided to press charges.
Ochoa ended up not attending his friend's wedding the following day out of fear of being in Favret's neighborhood again.
"I want people to see this man's face because he got away with putting my and my girlfriend's life in danger, and members of this community supported him in doing so," Ochoa wrote on Facebook.
If Favret doesn't turn himself to local police, a warrant will be issued for his arrest.
Newsweek reached out to the Douglas County Sheriff's Department for comment.