Colorado Cop Put on Leave For Saying He Was Ready to Quit So He Could 'Hurt' Democrats and BLM Protesters
A Colorado police officer was placed on administrative leave on Wednesday after suggesting that he was ready to quit his job so he could "hurt" Democrats and Black Lives Matter protesters, amid the ongoing results of the 2020 presidential election.
Platteville Police Department Chief Carl Dwyer told the Denver Post in an email that he became aware of Officer Jason Taft's comments made in a Facebook post on Wednesday afternoon. Dwyer told the Post that Taft was placed on administrative leave immediately after, and an investigation into the incident was ongoing.
In an email sent to KUSA News in Denver, Dwyer wrote, "I'm working with town management this morning to discuss things in more detail," adding that a further update on the situation will be provided "when possible."
On Wednesday, Taft published a post to his Facebook account that read, "If for some reason we lose do we get to be little b****** and beat the hell out of the other party like they did. Because they don't believe in what we do. In fact in case we actually let Biden win. There will be far fewer results than this year because we'll help them find God."
His post, which was still publicly visible as of Thursday evening, continued, "Democrats you were scared of Trump now's the true time to be afaird [sic]. We will do what you have done to our city's and prevail p.s. please meet me at the battle grounds."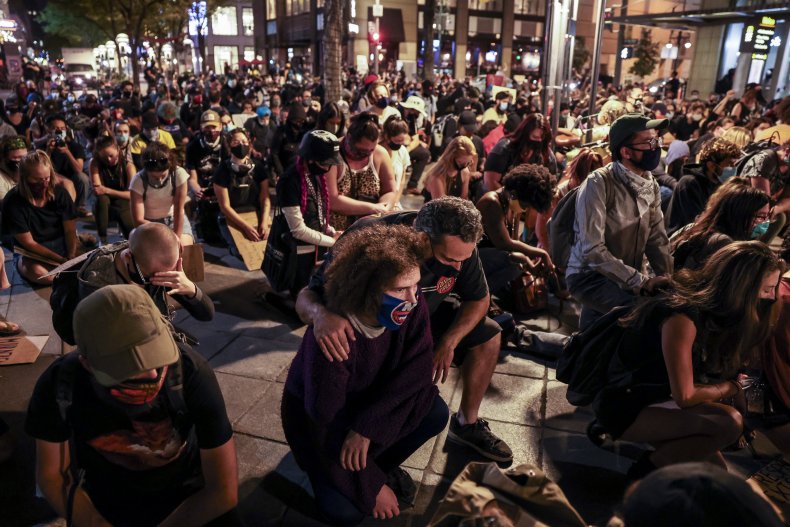 According to the Post, Taft added a comment to his own post, which was later deleted. He wrote, "I'm ready to leave my job just so I can hurt these people that act like they know what real life is about. They are a bunch of time out in the corner billy people. They have no clue of the true rath [sic] thats coming. Dems you thought you made a scene or statement with BLM just wait this it will be fun!"
The Post also reported that on Wednesday afternoon, Taft published several other posts on Facebook suggesting that those who voted for Democratic presidential candidate Joe Biden should unfriend him, as well as criticizing the former vice president's supporters.
Newsweek reached out to the Platteville Police Department, Chief Dwyer and Taft for comment but did not receive a response in time for publication.
Taft's comments on Facebook come amid protests in Colorado and several other states over the ongoing results of the 2020 presidential election.
According to the Denverite, Black Lives Matter and anti-police protesters marched to Colorado's state Capitol Building.
The Post reported that the Denver Police Department arrested eight people during Wednesday night's protests.