Colorado Republican House Candidates Sue Over Mask Policy: 'Healthy People Do Not Spread SAR-CoV-2'
Two Republican candidates in Colorado have taken legal action against orders for people in the state to wear masks in public spaces to prevent the spread of the coronavirus.
Donna Walter and Mark Milliman claim that neither Governor Jared Polis, nor the state's health departments, had the authority to order people to wear the masks and claim that the order is unconstitutional.
Earlier in the month, Polis announced that those aged 10 or older in public indoor spaces would have to wear the coverings to turn around the progress of the pandemic in the state. "We're really on the knife's edge," he said.
The lawsuit has been filed in a federal court by attorney Mark Patlan. In a press release, the Republican candidates say such a measure is not effective in stopping the spread of the coronavirus.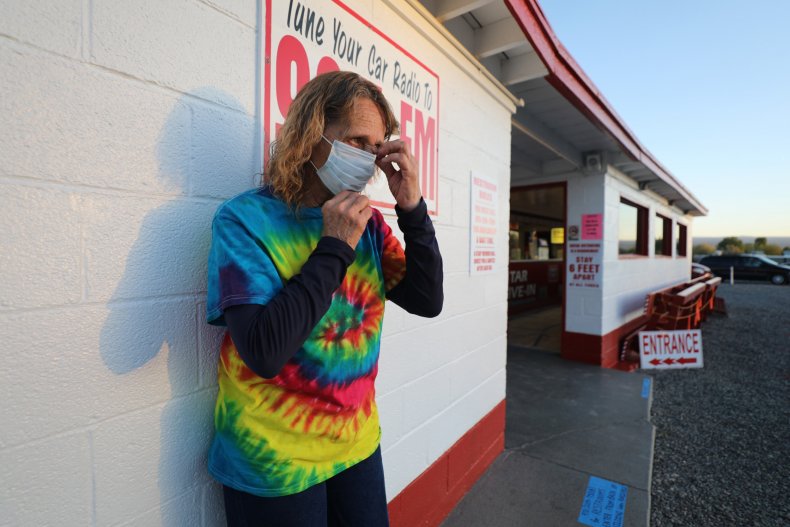 "Healthy people do not spread SAR-CoV-2. Science doesn't support the governor's assertion that it does either," said Patlan. "Transmission from healthy people is extremely rare at worst and does not justify forcing the healthy to wear masks that are ineffective, in any case. This is symbolic."
It said that the orders are compelled speech, which the Constitution's First and Fourteenth Amendments protect against.
"Forcing already struggling businesses to enforce compelled speech mandates is worse because it exposes them to potential liability under federal civil rights statutes."
Milliman is running to represent House District 11 in Boulder County while Walter is running to represent House District 52 in Larimer County, Fox 31 Denver reported.
The U.S. Centers for Disease Control and Prevention (CDC) says masks are an effective means to stop asymptomatic people from spreading the virus and that "it's important for everyone to wear cloth face coverings in public settings and practice social distancing."
Milliman says that the World Health Organization says there is "a big open question" over asymptomatic spread.
"Public health data doesn't justify mask mandates for healthy people. The Governor promised data-driven policy but gave us, instead, arbitrary and capricious policy based on hunches, wild exaggerations, and politics," Milliman said in the press release.
As well as Polis, Boulder County Public Health executive director Jeff Zayach, Larimer County public health director Tom Gonzales and Fort Collins City Manager Darin Atteberry are named as defendants in the suit.
Both county health departments named in the suit rejected the claims that masks, did not help with asymptomatic transmission. Boulder County health department spokeswoman Chana Goussetis said according to Colorado Home Town Weekly that the order for coverings was "an effective and necessary tool" when used with other actions like social distancing, regular handwashing, testing and contact tracing.
The graphic below, provided by Statista, illustrate the percentage of people wearing a mask in public places in the U.S.