Colorado Day Care Owner Allegedly Used 'False Wall' To Hide 26 Toddlers In A Basement
The Colorado Department of Human Services has suspended the license of a day care center in Colorado Springs after they discovered 26 children hidden behind a false wall in the basement, according to a statement from police.
Parent complaints about Play Mountain Place had led the DHS to conduct a child welfare check on November 13. They requested police officers accompany them to the scene.
When investigators arrived at the day care center, they were surprised to not see a single child in attendance. They located the owner of the business, 58-year-old Carla Faith, at her residence on the same property and questioned her as to where the children were.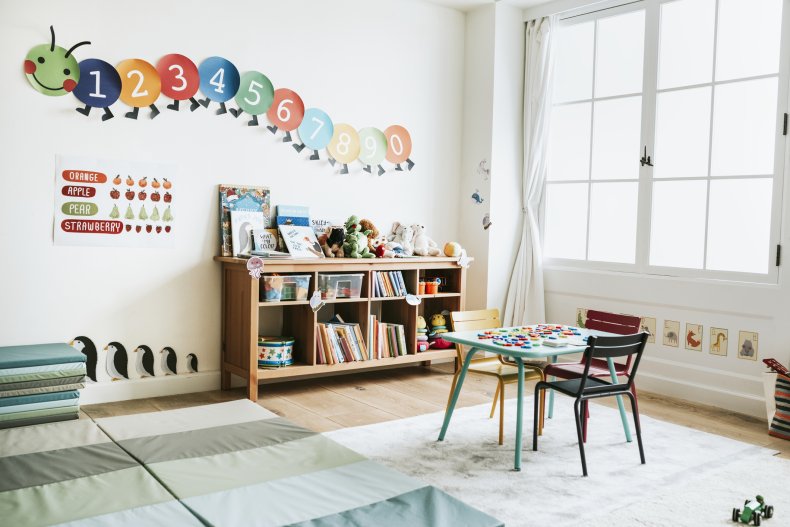 Faith refused to cooperate, but sharp-eared officers could hear the sounds of children coming from somewhere inside her home. After searching Faith's residence, they discovered a false wall in one of the rooms. Breaching it led to a staircase to the building's basement, where they found a furnished room containing 26 children under the age of three, as well as two child care workers.
The Play Mountain Place facility was only licensed to serve six children or less. DHS employees immediately began contacting parents to inform them of the situation and have them pick up their children.
One of the parents gave a statement to KKTV. She said "I was one of the first two parents who were on the scene and would never have believed the state of things if I had not seen it with my own eyes. Prior to yesterday, my experience had always been dropping off and picking up my child in a clean, pristine, and loving environment.
"Yesterday, I picked my child up from a small, dingy room in a basement that I had never before seen where 26 children were crowded together amidst empty juice box containers, graham cracker crumbs, and various children's blankets and lovies. The room smelled of unchanged diapers and several of the kids were crying—everything was the exact antithesis of everything I had been led to believe my child was experiencing during the days they spent at Play Mountain. My immediate hope was that this was a one-time thing, but in the corner of the basement there were cubbies with children's names on them holding diapers, including my own child's, leading me to believe this is a place they had regularly spent time.
"This was nothing at all like the level of care I had been led to believe my child was receiving, and the amount of deceit that took place to convince parents otherwise is completely mind-blowing. To say I am shocked, overwhelmed, and feeling utterly betrayed is an understatement as prior to yesterday I had nothing but rave reviews for this place and the caregivers."
The three day care workers on the scene were arrested on charges of misdemeanor child abuse relating to neglect, but those charges were later dropped following further investigation. Faith was not arrested pending charges.
According to the Los Angeles Times, this was not Faith's first run-in with regulatory authorities.
In the 1990s, she was the proprietor of Faith Family Day Care in Culver City, California. After similar complaints, police investigated and discovered that she was enrolling more children at each location than she was licensed to do.
On one occasion, officers raided a day care center she operated and witnessed employees frantically rushing down a nearby alley with 31 children they were trying to hide.
Faith's California businesses were shut down, leading her to relocate to Colorado.
Day care license applicants in Colorado are not required to provide information about previous licenses in other states.