Colorado Elections are a Home Run | Opinion
While I am thrilled that Colorado will host the 2021 Major League Baseball (MLB) All-Star Game, the anticipation and excitement of this announcement was tempered by the reason for MLB's decision to move the game from Atlanta to Denver—the new Georgia law that limits voting access and disproportionately impacts communities of color in the state.
I am a Coloradan and a Rockies fan, but I am also a fierce believer in providing more Americans access to the ballot regardless of where they live and vote. Laws like the one in Georgia, and those under consideration by state legislatures across the country, seek to disenfranchise Americans based on the big lie that the 2020 election was stolen.
Given the tremendous work the state of Colorado has done to expand voting access, earning us accolades from voting experts and our own citizens, I was disappointed to hear in the wake of MLB's decision, misleading and false claims asserting Colorado's voting laws are as restrictive as Georgia's. This couldn't be further from the truth. That's why I feel it's important to clear up the claims that have been made regarding Colorado's election model.
Colorado is the gold-standard of accessible and secure elections in this country, with one of the highest voter turnout rates through vote-by-mail for all, hundreds of drop boxes, early voting, in-person vote centers, automatic and same day voter registration and guaranteed vote centers and drop boxes on all tribal lands and public colleges.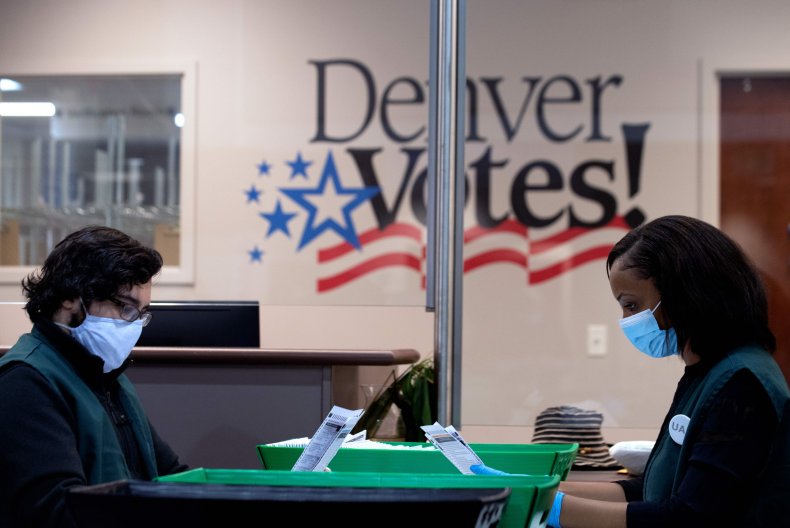 In Colorado, we believe voters should have the access they need to cast a ballot. That's why, even though every voter is mailed a ballot and over 94 percent of voters chose to vote their mail ballot last election, we had over 340 vote centers open statewide for in-person voting and a minimum of 15 days for early voting. We also provided over 390 secure ballot drop boxes in 2020, providing voters with another convenient option for returning their mail ballot. Coloradans love the ease with which we are able to vote.
Others have asserted that similar to Georgia, Colorado requires a photo identification to vote. This is misleading and inaccurate on two fronts. First, Coloradans voting in person must present identification, but this identification does not need to include a photo as it does in Georgia. Of the 16 types of identification accepted to vote in person in Colorado, many do not have a photo, like tribal identification. With a mail ballot, identification is only required the first time voting a mail ballot for voters who did not register with a driver's license or state ID. After that, identify is confirmed by signature verification.
Finally, Georgia elected officials went so far with their new law that they criminalized providing food and water to voters waiting in line to vote. This provision is particularly egregious because it is all too common to see 8-hour-plus voting lines in Georgia, a direct result of their election laws. Not only does Colorado allow water and food to be given to voters waiting in line, we also had a 7 minute average wait time for voting in person this last general election, which undercuts the necessity of providing water and food.
This goes further than a comparison between Georgia and Colorado.
States across the country are facing the same attacks on the franchise that we are seeing in Georgia, including Arizona, Iowa, Michigan, Pennsylvania and more. Every American deserves the same access to vote that Coloradans have, including vote by mail, same day voter registration, early voting, ample drop boxes, vote centers and automatic and online voter registration. That's why I support the For the People Act: In addition to ensuring access to the vote for all eligible Americans, it would stop political corruption through campaign finance reform and ethics reform.
Although I can't wait to watch the All-Star Game here in Denver, this is about more than just baseball. When the game is over and the fans go home, Georgia's restrictive voting laws will still be in place. I am hopeful those who intend to restrict access to the ballot box will learn from what happened in Georgia. Baseball is America's favorite pastime, but democracy is my favorite American institution and I will do all that I can to protect and defend it. Go Rockies!
Jena Griswold is Colorado's secretary of state.
The views expressed in this article are the writer's own.