Colorado Fires July 2018 Update: 416 Fire, Spring Creek Fire and Others Still Burning
UPDATE: July 4, 2018, 2 p.m. EDT—The Spring Creek fire continued to grow Tuesday, expanding to 94,093 acres, The Denver Post reported. The week-old fire, which remains 5 percent contained, has destroyed at least 104 homes.
According to KKTV, pre-evacuation orders have been issued in Las Animas County. Pre-evacuation orders are in place for south of the Huerfano/Las Animas county line south to County Road 42, east to CR 21.7 and west to Highway 12, the Huerfano County Emergency Management said. The pre-evacuation order also includes the Cuchara Pass Ranches, Timber Creek Ranch, Timber Ridge at Cordova Pass and Spanish Peak Ranch Estates.
Original story: Colorado fire officials continue to battle several large wildfires, including the 416 fire outside of Durango and the rapidly growing Spring Creek fire near Fort Garland. On Saturday, the Costilla County Sheriff's Office announced that a 52-year-old Danish man had been arrested on arson charges for starting the Spring Creek fire.
416 Fire
The 416 fire has been raging in the western part of Colorado since June 1. Since then, the fire at San Juan National Forest has expanded to 49,301 acres and remains at 37 percent containment. As of Monday, 363 fire personnel were working to contain the fire.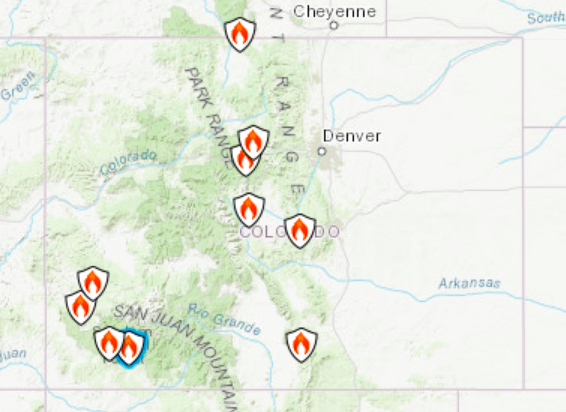 According to The Durango Herald, efforts to contain the 416 fire shifted to the northeast perimeter in order to enhance fire lines guarding Purgatory Resort. "We completed firing operations along the south end, and that's a critical piece of the puzzle for us," Don Ferguson, a public information officer for the fire, told the newspaper.
On Sunday, Incident Commander Joe Reinarz said in a statement that cooler weather has slowed the fire's progress in the north and northwest, while allowing firefighters to tackle the south and southwest portion along Forest Road 171. However, a change of wind direction will likely result in an increase in smoke to the area along the Highway 550 corridor.
Spring Creek Fire
The Spring Creek fire first ignited on June 27, around 9 miles northeast of Fort Garland, Colorado. It has quickly expanded to become the largest wildfire currently burning in the state.
As of Monday, the Spring Creek fire measured 56,820 acres and was only 5 percent contained. Officials announced that 550 fire crew were working to contain the human-caused fire. The Rocky Mountain Incident Management Team announced that hundreds of residents have been evacuated and an undetermined number of homes have been burned, The Denver Post reported.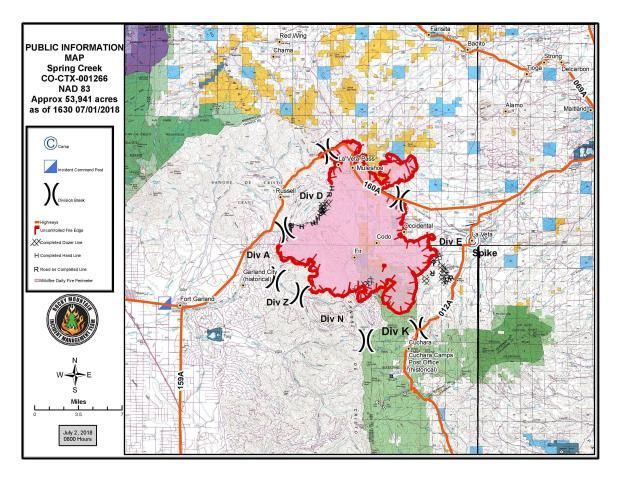 Residents east of Trinchera Ranch Road and south of Highway 160 in Fort Garland are under a mandatory evacuation, the Costilla County Sheriff's Office said. According to The Denver Post, the Blanca Fort Garland Community Center has been designated a shelter.
Navajo Ranch residents living along County Road 350 and south of Highway 160 are also being asked to evacuate, according to the Huerfano Emergency Dispatch.
The Costilla County Sheriff's Office said Saturday that 52-year-old Jesper Joergensen was arrested on arson charges in connection to the Spring Creek fire. Joergensen, who is Danish and not a U.S. citizen, did not intentionally start the devastating fire, police told residents during a meeting Sunday.
Weston Pass Fire
The Weston Pass fire was ignited on June 28 by a lightning strike about 9 miles southwest of Fairplay, Colorado. On Monday, officials measured the fire at 6,417 acres. The fire, which is 10 percent contained, is expected to be fully contained by July 29.
According to KDVR, Park County officials were forced to shut down a large portion of Highway 285 on Saturday. The highway was closed in both directions between FairPlay and Antero Junction. Over 300 fire crew are working to contain the fire.
Officials expect the fire to grow due to winds out of the west, with gusts reaching 25 mph.
The Colorado Department of Public Health and Environment said smoke from the fire is causing issues for residents of Fairplay and Hartsel. In a statement, officials urged residents to relocate if smoke was present indoors and was making them sick. "If visibility is less than 5 miles in smoke in your neighborhood, smoke has reached levels that are unhealthy," the statement said.
High Chateau Fire
Another fire ignited 7 miles northwest of Cripple Creek, Colorado, on June 29. Officials said the High Chateau fire has spread to 1,328 acres and remains at 0 percent containment. According to The Denver Post, more than 1,000 homes have been evacuated or are under pre-evacuation orders due to the fire.
Burro Fire
The Burro fire, which has been burning since June 8, reached 4,415 acres and is 40 percent contained. Only 27 fire crew are assigned to contain the fire. Officials said the northwest side of the fire is active again and that growth on the southern side of Bear Creek is moving slowly down drainage toward Highway 145.
Badger Creek Fire
The Badger Creek fire in the northern part of Colorado has reached 21,190 acres and is 80 percent contained. Some 150 fire crew continue to work to fully contain the fire.
Authorities announced that Highway 230 and Highway 10 have been reopened to all traffic. However, the Albany County Emergency Management issued a pre-evacuation notice for residents along Highway 10, north of New Jelm to Woods Landing, and along Highway 230 from Woods Landing to the Fox Creek Road turnoff, as well as north along Fox Creek Road to Forest Road 311A.
Colorado Fires July 2018 Update: 416 Fire, Spring Creek Fire and Others Still Burning | U.S.